Suicide Rates In Greece For Working-Age Men Spike As Economy Crumbles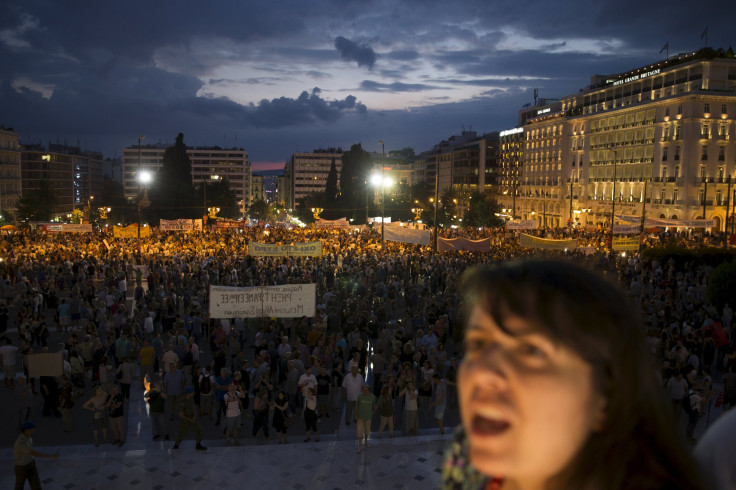 Suicide rates in Greece have spiked by 35 percent in a little less than two years due to their tough financial austerity measures, Medscape reports.
"After 2010, when harsh austerity measures were implemented in Greece, we noted a significant increase in suicide rates for the years 2011 and 2012 in comparison to the period between 2003 and 2010," said George Rachiotis, MD, PhD, assistant professor at the University of Thessaly, Larissa, Greece, to Medscape.
Due to the nation's mounting debt, Greece implemented severe austerity measures in 2010 as part of a deal to receive a series of bailouts from the European Commission, the European Central Bank and the International Monetary Fund. These severe austerity packages included cuts to public sector jobs, salaries and pensions as well as increases in indirect taxes and the privatization of state-owned industries.
Greek Birth and Death Rates Over Time | FindTheData
"In addition, we found that there was a significant correlation between suicide rates with an increase in unemployment in Greece, where unemployment has almost doubled [since 2009] and is now approaching 30 percent,"Dr. Rachiotis said.
Suicide rates increased from 6.56 to 8.81 per 100,000 for working-age men between 20 to 59 years old in 2011- 2012, Medscape reports. "Austerity heightens suicide risks directly by creating job losses -- especially among public sector workers -- and by increasing economic insecurity," Dr. Rachiotis said.
The spike in suicide rates in Greece is similar to the spike in suicide rates for Russian men between 1989 to 1994 when "shock therapy" programs were being implemented, according to Medscape.
On Monday, thousands of anti-austerity protestors rallied in Athens, Greece, before crunch talks between Greece and its creditors occurred, The Telegraph reported. Greek Prime Minister Alex Tsipras has faced criticism within his coalition government over compromise proposals that would increase pension contributions, phase out early retirement and raise corporate taxes, according to The Guardian. A deal between Greece and its creditors has yet to be reached.
© Copyright IBTimes 2023. All rights reserved.