Super Bowl 2012 Twitter Statistics: Two New Records Set After Giants vs. Patriots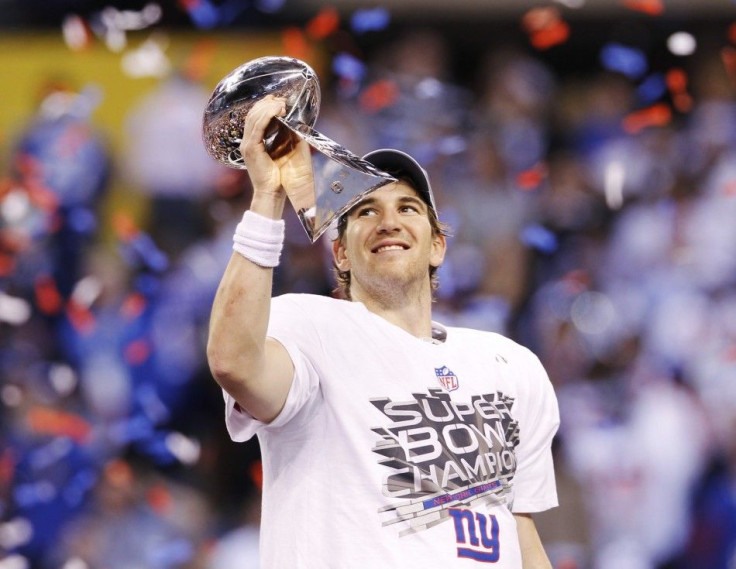 The Super Bowl may be known as the biggest sporting event of the year, but last night's match up also shattered social media statistics. According to PC Mag, the televised event set two new records on Twitter for the number of tweets per second. After the Giants' victory, Twitter traffic reached 12,233 tweets per second and 10,245 during Madonna's half-time performance.
These numbers come second and third in Twitter's overall history, with Japan's airing of anime film Castle in the Sky holding the number one spot of 25,088 TPS.
But the real question: Why did so many fans tweet during this year's Super Bowl as opposed to last year's big game? The answer comes from the fact that tablet use has increased over the past year, with non-computer Internet traffic recorded at 6.8 percent in August 2011 according to Signal News. Statistics from Nielsen also showed that 70 percent of iPad use occurs in front of a TV, and 57 percent of iPad use takes place in bed.
Tablets changed the world because of the way people are using them constantly, Adam Cahan, chief executive officer at Yahoo's screen application IntoNow told Bloomberg Businessweek. The iPad experience is one that marries itself incredibly well to television.
This turns major televised events such as the Super Bowl into a two-screen experience.
Especially for event television, we find the No. 1 thing that people are doing online is some form of social-media engagement, Radha Subramanyam, Nielsen's senior vice president, told Bloomberg.
The New York Times reported that last year's Super Bowl peaked at 4,064 TPS, which was a record at the time.
Since Twitter has emerged nearly every TV tent-pole event has had larger social engagement and bigger ratings year over year, owner of social measurement firm Trendrr Mark Ghuneim told The New York Times.
But for advertisers, nothing beats a good old fashioned Super Bowl commercial slot. According to statistics from Altimeter Group, only 16 percent of Super Bowl ads used social media, and 32 percent didn't include any online references.
You can't have a conversation without context, and I think that brands restraining themselves from using social media hooks and tricks as a way to seem cool is a good thing, social media news source The Next Web's Drew Olanoff wrote. These are 'display' ads after all, and not interactive ones.
© Copyright IBTimes 2023. All rights reserved.