Super Typhoon Haiyan Update: Death Toll Could Surpass 1,000; Millions Evacuated As Storm Devastates Tacloban
Typhoon Haiyan, also known as Typhoon Yolanda, devastated a number of coastal cities in the Philippines on Friday. According to initial reports, the death toll was above 100, and it was expected toll to climb past 1,000 total. According to CNN, coastal cities such as Tacloban and Danang were hit hard on Friday, and neighboring Vietnam began its own evacuation of more than 100,000 people who are in the storm's projected path.
Typhoon Haiyan was expected to be an unprecedented storm, with some news sites predicting the storm could be the strongest cyclone to make landfall in history. According to CNN's report, nearly every building in the city of Tacloban, the capital of the Leyte province in the Eastern Visayas region, was damaged, and fallen trees and downed power lines littered the streets. Supplies and food were ferried to the city early on Saturday as crews worked to clear out the airport, which opened later in the day. An assessment team from the Red Cross is already in the city, but the organization has been unable to send aid workers, reports CNN. According to the Red Cross, more than one million evacuees were housed in 353 emergency centers as Typhoon Yolanda made its way across the Philippines.
The Philippines Air Force started sending aid, supplies and rescue crews to the city late Friday, reports the Philippine Star. The military has sent 15,000 soldiers to affected cities while the Philippine National Police, PNP, has sent 150 officers to Tacloban. More troops and police are expected to be deployed to the city as reports of looting.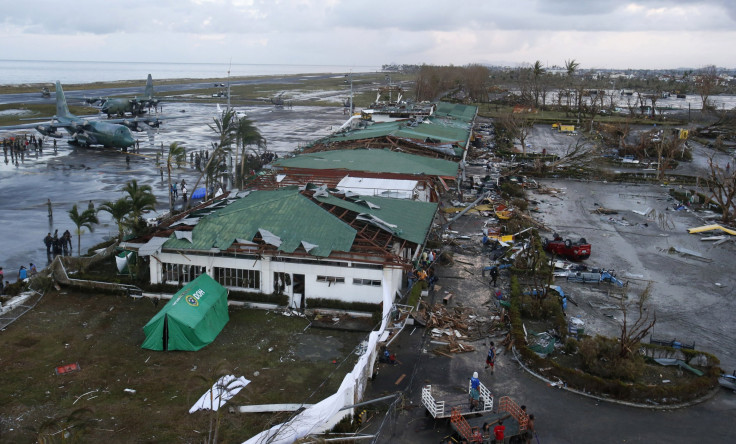 According to the New York Times, citing the Philippines Social Welfare and Development Department, said Typhoon Haiyan affected more than 4.28 million individuals in 270 different towns and cities. During a press conference, President Benigno S. Aquino III said he was going to visit the affected cities on Sunday and confirmed to reporters that the official death toll, currently at 140, will rise as communication is restored in more remote locations. Aquino said, "We are not prepared to say how much more at this point in time, because that is also being collated," reports NYT.
The Associated Press reports Typhoon Haiyan had sustained wind speeds of 235 kilometers per hour, 147 miles per hour, wind gusts were measured at 275 kilometers per hour, 170 mph. Based on these measurements, Typhoon Yolanda would be classified as a Category 4 hurricane, almost reaching Category 5, based on the Saffir-Simpson Hurricane Wind Scale. Typhoon Haiyan is expected to reach the Vietnam coast by Sunday afternoon, traveling north before weakening to a tropical storm, reports AP.
© Copyright IBTimes 2023. All rights reserved.