Swiss Pilots Begin Attempt To Fly Around The World In Solar-Powered Plane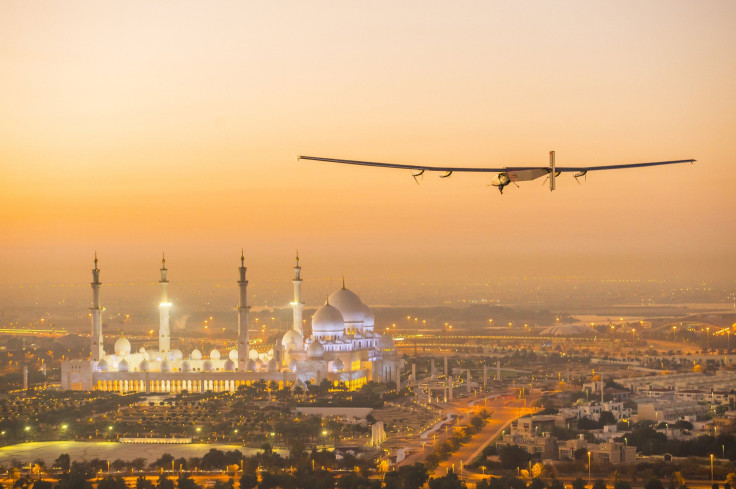 Early on Monday, two Swiss pilots launched an attempt to break the record in circumnavigating the globe -- in a solar-powered plane. The aircraft, named Solar Impulse-2, took off from Abu Dhabi, heading east to Muscat in Oman, according to media reports.
The founders of the Solar Impulse project -- Swiss businessman André Borschberg and his compatriot Bertrand Piccard -- will take turns piloting the aircraft during the 21,747 mile-journey that will take five months to complete. The Swiss pilots say that their aim is to create awareness about "clean and efficient technologies," according to media reports.
"By writing the next pages in aviation history with solar energy and voyaging around the world without fuel or pollution, Solar Impulse's ambition is for the world of exploration and innovation to contribute to the cause of renewable energies, (and) to demonstrate the importance of clean technologies for sustainable development," the project team said, in a statement published on its website.
The Solar Impulse-2, which is a lightweight version of the prototype Solar Impulse-1 aircraft that was first tested in 2009, is made entirely of carbon fiber and has a 236-foot wingspan, which is longer than that of the Boeing 747. It is powered entirely by an array of 17,000 solar cells built into the wings that will also recharge the lithium-ion batteries it will use to sustain night-time flying. However, because the aircraft has an average speed of just over 43 mph, it would take the two pilots several days and nights of non-stop flying to complete the journey.
After Oman, the plane will head to India, where it will make two stops, then to China and Myanmar, before heading across the Pacific to Hawaii. Then it will stop at Phoenix, Arizona, and New York's biggest airport, John F. Kennedy International.
"I am confident we have a very special aeroplane, and it will have to be to get us across the big oceans … We may have to fly for five days and five nights to do that, and it will be a challenge," Borschberg told BBC, before taking off.
Currently, the aviation sector is one of the fastest-growing sources of anthropogenic greenhouse gases. However, Bill Read, the deputy editor of Aerospace magazine, reportedly said that solar-powered flights are "not yet even remotely ready for any applications in commercial flights."
"The Solar Impulse is only able to fly using solar power because it is specially constructed to be very light weight and with a huge wingspan. Unless there is a quantum leap forward in solar cell technology, solar cells cannot yet be considered as a sole power source for aircraft," Read told The Guardian.
© Copyright IBTimes 2023. All rights reserved.