Swiss Real Estate Developer Hopes To Cash In On North Dakota Oil Town's Growth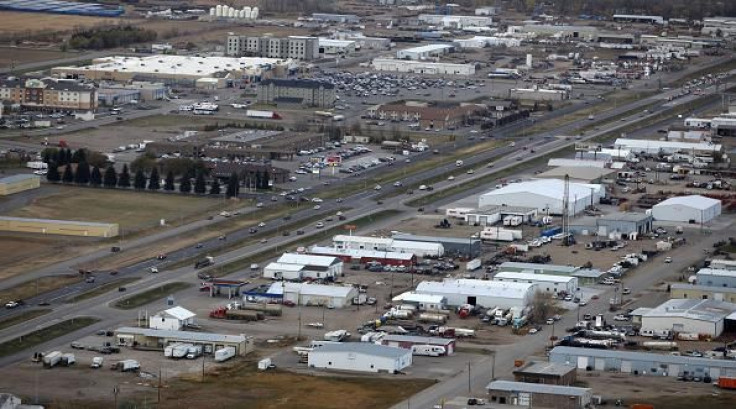 It took five years for Williston, North Dakota, to morph from a drowsy farm town into one of the nation's fastest-growing small cities, attracting people from all over the world seeking jobs and high wages in town's Bakken oil field.
The influx of workers has more than doubled the area's population (counting temporary residents) since 2010, causing a housing shortage with rents that rival Manhattan apartments and a shortage of retail within an hour's drive.
Terry Olin plans to change that. As the cofounder of Switzerland-based investment company Stropiq LLP and a North Dakota State University alum, Olin is building a $500 million real estate project in the center of town. Named Williston Crossing, the center will carve out 1 million square feet for retail space, entertainment, a hotel, an office complex and multifamily buildings. Already, Stropiq is polishing a 93-unit apartment complex in the city whose apartments will be available to rent in August.
IBTimes talked with Olin about Stropiq's interest in and plans for the Williston area.
So you went to college in North Dakota and then left. When did you first become interested in investing in North Dakota?
I was a stock broker after college and went to Russia as an investment banker. I left Fargo in 1993 and went to Russia thinking nothing interesting would ever happen in North Dakota. Twenty years later, it seems like the most interesting place in the world. When did I first get interested? I don't even know what the answer is ... Friends in the area would send little clippings of news. I've always been hearing about it, but when the western part of the state was suddenly inundated with new people, with new work, that's when I reached a breaking point and had to come back. That was about a year ago. My partner is German … we first came over to look at the Bakken in early 2013, three to four months after they got jet service in Williston.
Is your Williston project, Williston Crossing, similar to projects you've done in Russia?
In Russia, we were doing city-centered projects. They are similar in that we did some landmark things that changed the face of Moscow, but we built vertically. In Williston, we'll be building over a large area.
What are some of your better-known projects?
The Geneva House in Moscow, a beautiful landmark building. And Turandot Residences on Arbat Street, an iconic pedestrian street in Moscow. Jade Jagger, a pretty well-known designer, did that one.
The apartments you're opening this month in Williston aren't luxury apartments right?
Oh no, not luxury. It's a market-commodity building spread over two city blocks. It definitely is on the better end of what's being produced in town but not luxury. Williston Crossing will be a destination.
Do you have retailers lined up for the Crossing? Can you name any?
We are comfortable with retail anchors to fill the first 430,000 sq. ft. but at this point, we can't name them.
Is whether or not families are moving to Williston a big consideration?
Absolutely. There's a leap of faith involved because many retailers expect to see a mixed customer base. The population growth was at least in the first phase predominantly men. And that's not the ideal customer base for a retailer. We can't fill a retail center with male-oriented shops.
But families are moving in. We see it happening. Just imagine that your significant other brought you and you have to drive two hours to a shopping center. The only retail you've got is a Wal-Mart, and that's if you live in Williston. We will be lowering that bar. As projects like this take place, more families will move in. There's a rec center in town now, it cost north of $73 million, and it's always full of people.
What's the timetable for Williston Crossing?
We're breaking ground next spring. Most of next season, that year will be spent prepping, putting in infrastructure, and the following year we'll be going vertical. Realistically, probably 2017, Williston crossing [will exist]. That will be a pretty brilliant delivery. We're not building for the population that's there today, we're building for the population that's going to be there three years from now.
Are you considering other investments in the U.S. or is Williston an outlier for the company?
We might do something else in the Bakken. This is a once-in-a-lifetime opportunity. I'm not sure that's even putting it quite strong enough. There's a monumental population shift, and the technology has created an industry that wasn't here before. The Bakken is the center of that. Today, we have the only place in the U.S. and maybe in the developed world where a population of 50,000 is a minimum one hour away from a Target or similar retail. We're in the center of 150,000 people who have to drive hours to get to retail. There's so much to be done. We really don't need to look at other markets. We just hope we get to know our own.
© Copyright IBTimes 2023. All rights reserved.
FOLLOW MORE IBT NEWS ON THE BELOW CHANNELS