Syria News: Kerry Assures Senate Foreign Relations Committee That Attack On Syria Will Not Be Like Iraq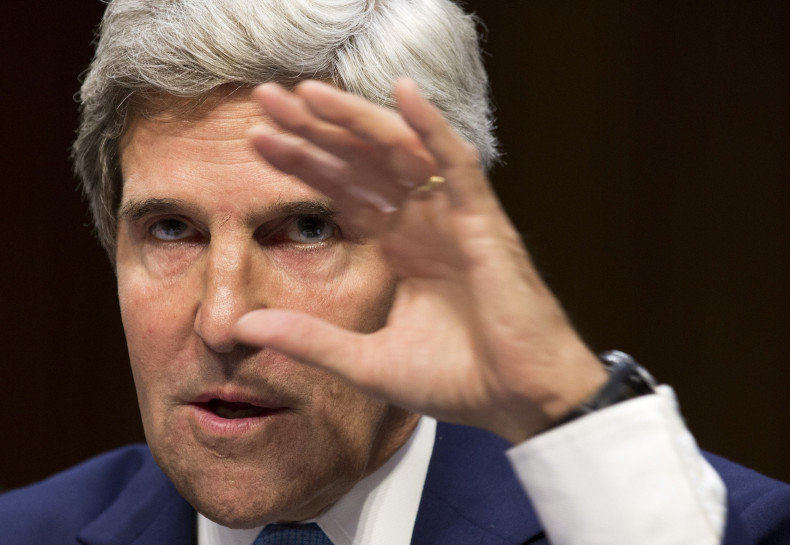 Update 8:30 p.m. EDT: The leaders of the Senate Foreign Relations Committee have reached agreement on a resolution authorizing military force against Syria, the Associated Press reports, citing unnamed staff aides.
The panel reportedly will consider and vote on the measure Wednesday. The resolution would limit the duration of any U.S. military action and explicitly bar U.S. ground troops from Syria.
Sen. Robert Menendez, D-N.J., the committee's chairman, and Sen. Bob Corker of Tennessee, the panel's top Republican, reached agreement on the resolution late Tuesday, the AP reports.
Original story:
The memory of the Iraq War hangs over the Obama administration's push for a military strike in Syria. And the administration is pushing hard to debunk the comparison.
Secretary of State John Kerry made a passionate case for a military strike against the Assad regime in Syria at a Senate Foreign Relations Committee hearing Tuesday, promising that the action proposed by President Barack Obama would constitute a limited strike -- nothing like the Iraq War that so many Americans fear repeating.
"I remember Iraq," Kerry said at the beginning of his remarks, sitting beside Defense Secretary Chuck Hagel, a fellow Vietnam veteran who served with Kerry in the Senate during the Iraq War. "Secretary Hagel and I and many of you sitting on the dais remember Iraq in a special way because we were here for that vote. We voted. And so we are especially sensitive, Chuck and I, to never again asking any member of Congress to take a vote on faulty intelligence."
Unlike in Iraq, Kerry promised that the proposed military action in Syria would not put U.S. troops on the ground or mean that the country is assuming responsibility for Syria's civil war. "President Obama is not asking America to go to war," he said.
Kerry went on to lay out evidence that he said proves "beyond any reasonable doubt" that the regime of Bashar al-Assad attacked Syrians with sarin gas last month. The Assad regime "prepared for this attack, issued instructions to prepare for this attack, warned its own forces to use gas masks; that we have physical evidence of where the rockets came from and when," Kerry said.
Sen. Barbara Boxer, D-Calif., thanked Kerry during her questioning for addressing the comparison between Syria and Iraq. "I believe it's a totally false comparison," she said.
Still, the conflicts in Iraq and Afghanistan, which have kept the U.S. involved in wars overseas for more than a decade now, were present in the hearing. Sen. Dick Durbin, D-Ill., said he was concerned about the mission in Syria expanding to mean more than a limited strike, the same way the war in Afghanistan evolved into a prolonged military campaign. "We will work with you very, very closely … in shaping this resolution," Kerry told Durbin. "There's no hidden agenda."
At another point, Kerry stressed that Syria is different because, as he put it, "here we have weapons of mass destruction that we not only know they exist but they have been used." But this comparison doesn't take into account the fact that Saddam Hussein used chemical weapons in the 1980s, years before the second U.S.-Iraq War began in 2003.
Kerry also made the argument, as he has in the past week, that deciding not to respond to the use of chemical weapons would invite Assad, as well as ruthless leaders in other countries, to use such weapons. "Assad would read our stepping away or our silence as an invitation to use those weapons with impunity," Kerry said. The United States needs to send the message that "never means never."
After Kerry's remarks, a member of the audience from the anti-war group Code Pink interrupted the hearing, shouting "We don't want another war."
Kerry responded as the woman was led out of the hearing. "You know, the first time I testified before this committee, when I was 27 years old, I had feelings very similar to that protester," Kerry said of his testimony as a leader of Vietnam Veterans Against the Vietnam War four decades ago.
"And I would just say that is exactly why it is so important that we are all here having this debate, talking about these things before the country and that the Congress itself will act representing the American people. And I think we all can respect those who have a different point of view, and we do," Kerry said.
Kerry, Hagel and Gen. Martin Dempsey, chairman of the Joints Chiefs of Staff, will return to the committee for a closed session on Wednesday morning. Menendez said the panel may vote on a resolution the same day.