Syria-Turkey Relations Worsen After Second Plane Attacked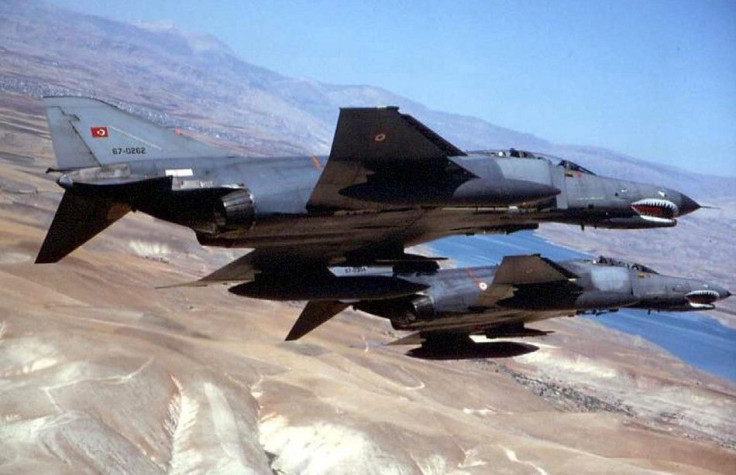 With Syria firing at a second Turkish plane on Monday, Ankara is determined to retaliate against its neighbor and former ally.
On Friday, Syria shot down a Turkish F4 Phantom jet, claiming that the American-made warplane had violated its airspace in a clear breach of Syrian sovereignty. Two pilots -- Capt. Gökhan Ertan and Lt. Hüseyin Aksoy -- are still missing, but when Turkey sent another search and rescue mission to find their remains, that plane was also shot at by Syrian forces.
The two countries have been at odds since early into the 16-month-old crisis in Syria, but Damascus said that it didn't know the nationality of the jet and would have shot down its own planes if they flew over the country unauthorized. But Ankara insists both that the plane was over international waters and that Syria knew the jet's exact origins. This, according to officials, gives Turkey the right to retaliate.
Syria shot down our unarmed jet in a cold-blooded and hostile way in international airspace. International law is on our side. Turkey will not hesitate to take its steps to this end, Deputy Prime Minister Bülent Ar?nç told a press conference after a seven-hour cabinet meeting.
We would have shot down 114 planes if every aircraft that violated a country's airspace were shot down without questioning, Turkey's General Staff told the Milliyet daily.
Yet, despite a call to action, Turkey's desired response is still unclear.
Ar?nç said on Monday that we have no intention of going to war with anyone, adding that whatever is needed to be done will definitely be done within the framework of international law. The government spokesperson did suggest that new sanctions could be an option, as could some political option, but also said that retaliation would be proportionate.
World leaders have yet to come to a unified response to the crisis in Syria, but Europe and the United States are hoping to avoid any military intervention.
What happened is to be considered very seriously, [but] we do not go for any interventions, stated Dutch Foreign Minister Uri Rosenthal.
Meanwhile, the European Union's foreign policy chief Catherine Ashton warned Turkey to keep its response restrained, while German Foreign Minister Guido Westerwelle stated that it is still important that we continue to work on a political solution.
Likewise, NATO, of which Turkey is a member, will seek to prevent any military confrontation, and has so far made no indication that it wants to repeat what happened in Libya last year, when alliance jets helped rebels fight Moammar Gadhafi's forces.
Under the current circumstances, it is difficult for NATO to agree on a military intervention in Syria, Özdem Sanberk, a former diplomat and head of the Ankara-based International Strategic Research Organization, told Today's Zaman. Turkey is not going to give up on this matter, but it will also not allow the situation to spiral out of control.
After the incident on Friday, Turkey called for an emergency meeting of NATO under Article 4 of its founding treaty, which allows consultations when a member state feels its security threatened. According to reports, Turkey will push NATO to invoke Article 5 during the emergency meeting on Tuesday. Under Article 5, an attack on Turkey will be considered an attack on all member nations and could pave the way for military action. Turkey previously pushed for Article 5 in April to protect itself in case violence spilled across the border from Syria.
A few days ago a military option was not on the cards. Now it will be discussed in a way it hasn't been for the past year and a half. It activates NATO, which we haven't seen before, Salman Shaikh, director of the Brookings Doha Center in Qatar, told the Washington Post about the meeting.
Still, a military response is unlikely. Article 5 has only been invoked once -- after the Sept. 11 attacks -- and an armed response could be seen as a violation of the United Nations charter. Additionally, Shaikh said that the preferred option for everyone including the United States is still a political solution.
© Copyright IBTimes 2023. All rights reserved.