Syrian And Russian Airstrikes Target Hospitals: Medical Relief Organizations Stage Mass 'Die-In' Demonstration Blocks From UN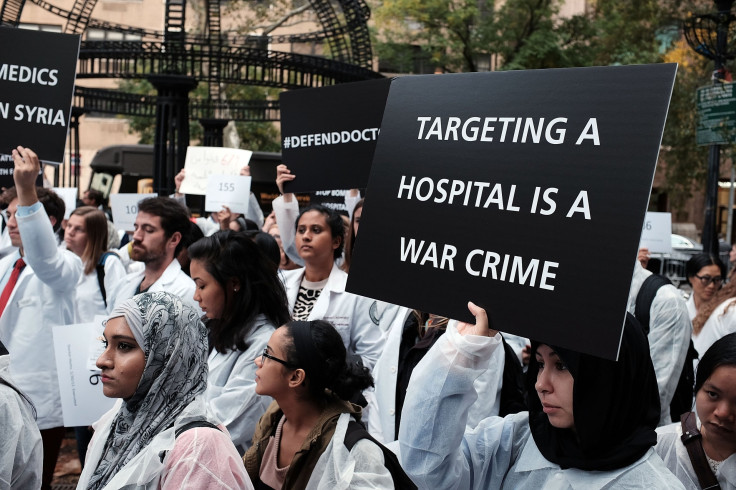 Several hundred demonstrators wearing white lab coats dropped to the ground blocks away from United Nations headquarters in New York City Thursday evening, each carrying a card with information about an individual medical professional killed in Syria. The event was meant to highlight the nearly 700 health workers who have died since the Syrian civil war broke out more than four years ago.
"We've been concerned that with all the news coming out of Syria, almost all of it uniformly bad -- the issue we focus on gets lost," Widney Brown, director of programs for Physicians for Human Rights, one of the organizations that planned the event, said. "When you kill one doctor, it's not just the loss of that doctor, but it also impacts everyone who can't get healthcare because there's one less doctor."
Demonstrators called on the U.N. to enforce resolutions that prohibit the targeting of hospitals and other civilian infrastructure.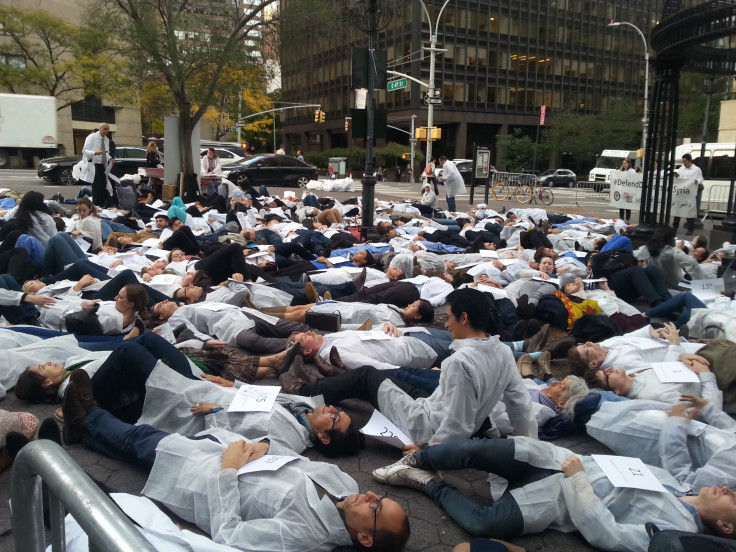 The demonstration was organized as Russian military intervention, which began late last month, has further exacerbated an already dire situation for Syria's healthcare. At least eight hospitals were believed to have been targeted by Russian airstrikes, adding to the more than 300 hospitals that have been attacked since war broke out in 2011. Representatives from major international medical relief organizations, including the Syrian American Medical Society and Doctors Without Borders, spoke at the event, as well as several Syrian doctors who came to New York in hopes of raising awareness about the state of medical care in Syria.
"This event's very important," said Majed Abo Ali, a Syrian doctor who has been based in southern Turkey since last year and spoke at the event. "We must not be disappointed, we can't stop ... the Syrian people know many are standing with them, but no [governments] in the international community have done anything for us."
Attendees and organizers, including Physicians for Human Rights and the Syrian American Medical Society, held the Syrian government and a Russian airstrike campaign responsible for intentionally targeting Syria's healthcare facilities, as they have said such airstrikes are meant to weaken civil society in areas held by rebel opposition groups. Russia has launched an aggressive campaign to help bolster the Syrian government, and although government officials originally said they were targeting extremists, many of their airstrikes have been focused on rebel groups, including some supported by Western governments.
"I support the rights of humans to exist and live," said Kim Behrens, a New York City nurse, explaining why she decided to attend. "Bombing hospitals is pretty bold, even for a dictator," she said, referring to Syrian President Bashar Assad.
To protect their hospitals, medical organizations have begun to build parts of their facilities underground, or have spaced units throughout cities to minimize damages. Demonstrators called on the U.N. Security Council to enforce resolutions that prohibit the bombing of health facilities in Syria. Many said they were disappointed by the lack of attention toward the issue, and the lack of progress that has been made since the resolution was passed two years ago.
"How much more evidence do you need of failure of compliance before you act?" Brown asked.
Angela Fiorentino, a Bronx native who works in the beauty industry, said she just happened to be passing by as she saw hundreds of people laying on the ground, and was captured by the sight. "It was very powerful -- that people so highly educated and devoted are this passionate," she said.
She said she planned to go home and read more about the issue, and was looking for informational pamphlets from the demonstration to take with her. She said she was eager to discuss the demonstration with her customers and friends in the coming days.
© Copyright IBTimes 2023. All rights reserved.
FOLLOW MORE IBT NEWS ON THE BELOW CHANNELS