Tahoe Plane Crash: One Dead, One Injured; NTSB And FAA Investigating Cause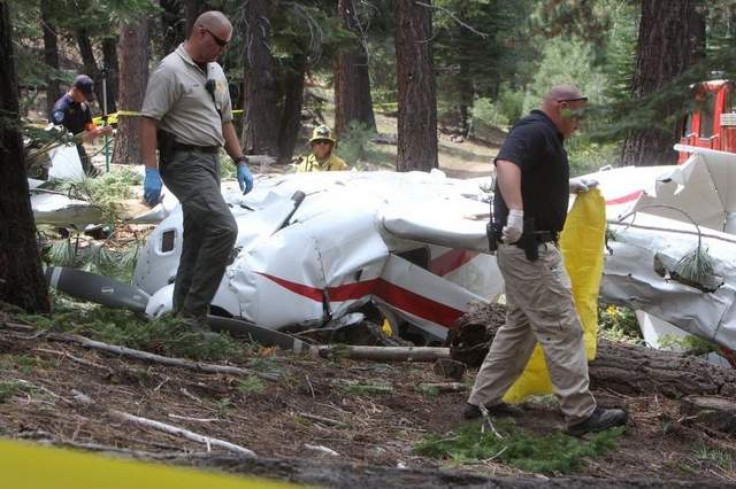 The National Transportation Safety Board and the Federal Aviation Administration are investigating a plane crash near Lake Tahoe which claimed the life of Steven Lefton, the 67-year-old pilot flying the plane. His wife, Karen Lefton, 67, was transported to Renown Regional Medical Center in Reno, Nev., with minor injuries.
According to CBS, Lefton, of Palo Alto, Calif., died on impact after his single-engine Mooney M20C crashed in the woods on Monday morning shortly after taking off from Lake Tahoe Airport.
"Several witnesses said that the aircraft was having difficulty getting lift as it was taking off from the airport and then it veered to the east and started losing altitude and went down in a forested area near a meadow area, crashed and flipped over," Lt. Pete Van Arnum of the El Dorado County Sheriff's Office said.
According to the San Jose Mercury News, Beth Frisby, an off-duty California Shock Trauma Air Rescue flight nurse, happened to be walking her dog when she stumbled onto the scene of the accident. Frisby immediately went to work, watching over Karen Lefton until medics and firefighters arrived.
Van Arnum said firefighters were forced to use fire retardant after a fire erupted from leaked fuel in destroyed wings of the plane. Once the fire was extinguished, authorities were able to rescue Karen Lefton, who had been pinned in the wreckage.
The Mercury News points to Steven Lefton's LinkedIn profile, which indicates he worked for Intertek-Aptech in Sunnyvale, Calif. He earned a bachelor's of science degree in chemical engineering from the University of Arkansas in 1969. According to the Examiner, Lefton had more than 20 years of flying experience.
"You can never take flying for granted," pilot Steve Mohn, who has experience flying in the area, told ABC 7. "Since it has a high altitude there, there's a spiral route to come in and out of the airport because of the Sierras right there," said Mohn.
The NTSB and FAA are currently looking into the cause of the crash.
© Copyright IBTimes 2023. All rights reserved.