Takata Air Bag Crisis Widens, First Fatality Reported In India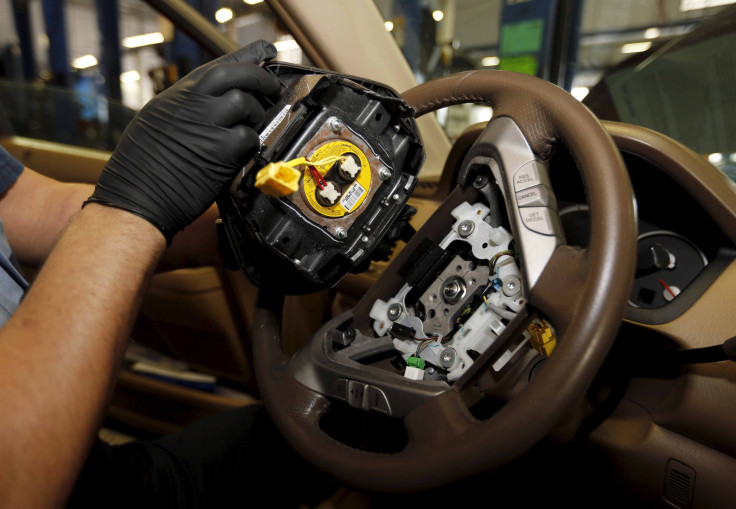 The safety crisis surrounding the Japanese air bag maker Takata Corp. worsened Tuesday after Honda Motor reported the first death involving a malfunctioning air bag in India. The accident, which occurred last April, showed that a Takata air bag had deployed and ruptured in a 2007 Honda Civic, Honda spokesman Ben Nakamura reportedly said.
The death in India marked the 11th fatality worldwide involving Takata's air bags and the second outside the U.S. Honda, which learned about the incident three months later, however said that the cause of the person's death has not been determined, Bloomberg reported. The automaker said it found through investigations that the air bag manufactured by Takata had deployed and ruptured after the vehicle, traveling at high speeds, rolled over and crashed.
In addition, Takata's troubles only grew larger after U.S. auto safety regulators said Tuesday that the company's ongoing recalls — mostly from older models — would now have to include some 2014 models.
Takata reportedly said that newer vehicles remain under "investigation and could be subject to recall at a later date." U.S. regulators now expect the number of recalls to reach roughly 5 million vehicles.
Meanwhile, Ford Motor Co. announced a recall Tuesday after a coroner determined that a rupture of the air bag contributed to the death of the driver of a 2006 Ford Ranger pickup in South Carolina in December. The carmaker said it expects 391,394 vehicles to be recalled for driver-side air bag replacements.
Honda has previously recalled about 6.28 million vehicles in the United States for air bag inflators. Other automakers involved in the recall are BMW AG, Volkswagen AG's brands Volkswagen and Audi, Daimler AG's Mercedes-Benz, Mazda Corp. and Saab AB.
U.S. regulators from the National Highway Traffic Safety Administration did not specify how many, and which automakers were involved with recalls for 2014 models in Tuesday's announcement. Takata plans to chart out its business plan to major automakers at a meeting this week, to explore the possibility of extending financial aid to the company.
© Copyright IBTimes 2023. All rights reserved.