Tesla Motors 2014 Annual Report: Here Are Eight Of Tesla Motors' Most Significant Risks To Its Future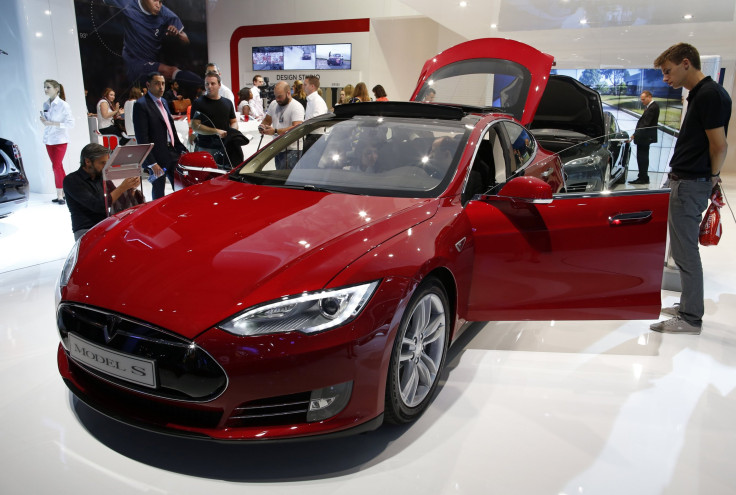 Tesla Motors Inc. CEO Elon Musk wants to be a key player in the future of zero-emission motorized transport. It's been his stated goal all along for the company to become a maker of modestly priced electric cars.
But, to get there, Tesla has to move from being a boutique maker of expensive electric cars for wealthy American buyers to a company that churns out hundreds of thousands of electric cars a year -- a project so rife with peril that automotive history is littered with failed ventures.
Late Thursday, the maker of the critically acclaimed Tesla Model S released its 2014 annual report, which in accordance with U.S. disclosure laws, outlines potential pitfalls the company could encounter as it embarks on an effort to grow annual vehicle production from 35,000 last year to "a few million" annually within a decade.
That pace of growth would be unprecedented in the automotive industry, and Tesla is attempting to do it while simultaneously building out its manufacturing capacity, global showrooms and marketing, as well as a massively expensive network of Tesla charging stations and a $5 billion so-called gigafactory to produce batteries in Nevada. And it has two new models in the works, the Model X crossover, planned for launch this year, and the $35,000 Model 3.
Tesla is frequently compared with technology companies that outsource production of small gadgets. But the reality is much different.
"We believe it is important for investors to remember that Tesla is an auto manufacturer, first and foremost, which is an inherently capital-intensive business," Bank of America Merrill Lynch analyst John Lovallo wrote in a note to clients Thursday. "In our view, the gigafactory investment will translate to even more capital intensity and add further pressure to margins and returns."
Lovallo is one of the few Wall Street analysts raising these kinds of warning flags, but Tesla's leadership is also aware of the risks that could cause the company to hit a wall in its automotive ambitions. Its 2014 annual report has a lengthy section devoted to outlining risks to the firm's future success. Among them are the usual cautionary statements one would expect from an automaker, such as the risk to its reputation should its cars be subject to a product-safety recall or the hazard of unexpected increases in operational costs. Delays feature prominently in the company's risk assessment, too, as it has a series of deadlines approaching in the next five years.
Below are risks outlined in Tesla's 2014 annual report that underscore the unique challenges facing the company.
Used Tesla Model S sedans may wind up being worth less than expected. Tesla began a leasing program in the U.S. in 2013 that it expanded to Europe last year. Under the company's resale value guarantee, customers have the option of selling their used cars back to the firm after 36-39 months of use. Tesla is betting it can sell these cars for a set price, but how much one of these three-year-old models will be worth in the aftermarket is a big unknown right now.
"The introduction of our resale value guarantee and leasing programs may result in lower revenues and profits and exposes us to resale risk to the extent many customers elect to return their vehicles to us and the residual values are lower than our estimates," Tesla says in its annual report. "If we fail to effectively manage the residual, financing and credit risks for our recently launched Model S leasing program, our business may suffer."
Customers might modify the Model S in a way that harms its performance. Most automakers aren't concerned with the way customers change their cars after they've been purchased. But Tesla is a new company with an innovative vehicle that's being closely watched, so it's very particular about what customers do to it.
Here's what Tesla says about customization:
"If our vehicle owners customize our vehicles or change the charging infrastructure with aftermarket products, the vehicle may not operate properly, which could harm our business. ... Unauthorized control or manipulation of our vehicles' systems may cause them to operate improperly or not at all, or compromise their safety and data security, which could result in loss of confidence in us and our vehicles and harm our business."
Tesla needs government-mandated incentives. Because Tesla makes only electric cars, it benefits more than other automakers from carbon trading. The company receives credits for every Model S it sells. These credits are sold to other automakers, which buy them to comply with regulations aimed at lowering carbon emissions. The aim is to incentivize manufacturers to build cleaner cars. During the past three years, Tesla has earned a total of $451.2 million from regulatory carbon offset credits in 10 states, including its key California market. The income from carbon trading has increased more than 400 percent, to a little more than $216 million last year. The company also benefits from state and federal tax incentives provided to electric-vehicle buyers, which lowers the cost of the Tesla Model S. If those laws were revoked, then the firm's income would fall.
"The unavailability, reduction or elimination of, or uncertainty regarding, government and economic incentives in the U.S. and abroad could have a material adverse effect on our business, financial condition, operating results and prospects," Tesla says in its annual report.
Tesla's battery packs lose range over time. Just like your smartphone or tablet device, the capabilities of Tesla's lithium-ion batteries erode over time. The company is working to improve the technology with its battery supplier Panasonic, and it says its gigafactory will advance the technology. The firm offers no estimated loss of charge over time for the Model S, but claims the packs in the Tesla Roadster -- produced from 2008 to 2012 -- lose 30 percent of the vehicle's 244-mile range (to about 171 miles) after 100,000 miles or seven years. It says these batteries also lose as much as 10 percent of their range "when operated continuously in 0°C temperatures."
"The range and power of our electric vehicles on a single charge declines over time, and this may negatively influence potential customers' decisions whether to purchase our vehicles," Tesla says in its annual report.
Customers have to learn how the Model S handles braking. One of the more interesting features in the Model S is one that requires consumers to relearn how to carry out acceleration and braking. Because of the car's advanced regenerative braking ability (with stopping energy being harvested and sent to the battery), the car decelerates as the driver lifts his or her foot off the acceleration pedal. The brake pedal is only there for use when the car needs to be stopped immediately. Drivers thus have to get accustomed to using the gas pedal for both acceleration and deceleration.
Here's how Tesla describes the risk: "The operation of our vehicles is different from internal-combustion engine vehicles, and our customers may experience difficulty operating them properly, including difficulty transitioning between different methods of braking."
Tesla could be exposed to consumer-privacy protection laws. The automaker collects data on driver usage and sends over-the-air updates to the vehicle's operating system. While it assures customers that this data is solely used internally to improve the customer experience and to diagnose technical issues, it could be exposed to future privacy-related issues.
According to Tesla's annual report, "We retain certain personal information about our customers and may be subject to various privacy and consumer protection laws."
FOR FREE to continue reading
✔️ Unlock the full content of International Business Times UK for free
offer available for a limited time only
✔️ Easily manage your Newsletters subscriptions and save your favourite articles
✔️ No payment method required
Already have an account?
Log in
© Copyright IBTimes 2023. All rights reserved.