Tesla Pickup Design Shocker: Elon Musk Calls Vehicle 'Cybertruck'
Our vision or idea of what Elon Musk's new Tesla pickup could look like may actually be more extreme than what we are now led to believe.
This is based on the Tesla CEO's recent statement that the actual pickup, which has not been seen in the public since it was teased early this year, is now being referred to as "cybertruck." According to a report, Musk tweeted the latest clue of what the new Tesla pickup would look like.
"Cybertruck doesn't look like anything I've seen bouncing around the Internet. It's closer to an armored personnel carrier from the future," Musk said on Twitter.
The enigmatic CEO gave the statement after browsing through some of the concept designs created by various visual artists who are trying to visualize Musk's clues about the upcoming electric utility vehicle. Although Musk did not mention any specific design, it can be remembered that comedian Joe Rogan showed Musk an illustration created by Turkish designer Emre Husmen.
According to Rogan during his podcast, "Joe Rogan Experience," Musk said that the actual Tesla pickup is going to be "even more 'Blade Runner'-esque." Rogan himself liked Husmen's design but after Musk's comments, he believes that the Tesla pickup is going to be much better.
A quick search of armored personnel carriers shows tank-like vehicles or RPGs. If this look comes into fruition, then we have ourselves a game-changing picture of what pickups could look like in the future.
Some analysts believe that the Tesla pickup will be the foundation of space vehicles that will be used on the surface of Planet Mars once SpaceX launches its mission to the Red Planet. If so, then Musk's "armored personnel carrier from the future" would fit right in the terrains of Mars.
The Tesla pickup is notably the most interesting vehicle in the electric vehicle brand's lineup even if we've yet to see an actual full image of the truck. The only clue we have seen so far is an obscure teaser that was showcased in March this year.
Musk's controversial "cyberpunk" description of the truck has inspired various concept designers to come up with their own versions of the futuristic vehicle. The utility vehicle is expected to have three kinds of trims in terms of design. The base model will have a price tag of around $49,000 to $50,000. It will also be a vehicle of power since Musk already claimed that it will have a total towing capacity of 300,000 pounds and could run up to 500 miles on a full charge.
The Tesla pickup is expected to be launched in November this year.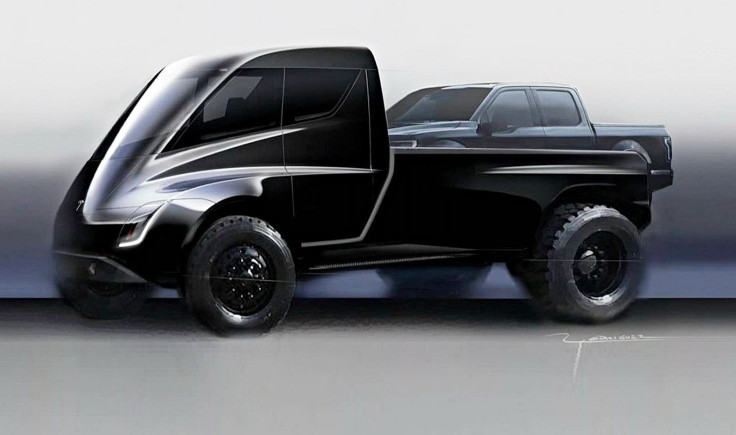 © Copyright IBTimes 2023. All rights reserved.