Tesla Pickup Is Tesla Model B? Did Elon Musk Tweet Its Release?
Tesla CEO Elon Musk posted a couple of odd yet intriguing posts which got some analysts and fans speculating that it could be a teaser of the company's next EV -- the Tesla Model B.
Musk has tweeted several memes about Queen Elizabeth II and the children's show, "Telletubbies." He has also been posting a few cryptic messages alluding to bees, so naturally, Tesla fans have been speculating that the enigmatic CEO could refer to a new Tesla Model B. Or Musk could just be trolling his 27 million followers.
Some have regarded the tweets as "Cool but why." Apart from the Queen and "Telletubbies" tweets, Musk has released five other posts which all refer to some kind of bee reference.
An interesting speculation is how one follower suggested that the bee tweets, which could very well be teasers of the Tesla Model B, is actually the Tesla pick up -- the company's mysterious electric utility vehicle that no one has actually seen yet.
"Pickup Truck will be called the Model B. Tesla —B S3XY R. B Semi S3XY R if you count the semi?@elonmusk will this (bee) the case," user @tesla_truth said.
The Tesla pickup truck is one of the most interesting vehicles of Elon Musk's company today. And it's not because of some groundbreaking features that can be found in the EV utility truck but because the automobile is already gathering phenomenal interest even if the vehicle is yet to be released.
Hours after the Tesla CEO revealed a few exciting details regarding the Tesla pickup in the podcast Ride the Lightning, Twitter data revealed that Americans are already showing interest to the vehicle more than the classic Ford F-150. The company, however, has remained mysterious about the vehicle and showed only an obscure teaser to give us a hint of what it would look like.
The pickup is expected to be an exciting addition to the Tesla line, with Musk describing the vehicle as "cyberpunk" and would feel right in place in a "Blade Runner" movie. Musk's Twitter account has been the company's most powerful marketing tool so far. Tesla and SpaceX insiders have gotten some exciting information courtesy of Musk's tweets and it seems that won't change anytime soon.
The social media account has also gotten the company in trouble several times. For example, Musk once tweeted that he was taking Tesla private and that he has found a way to ensure his company's funding is secured.
The tweet turned out to be not truthful which led to the Securities and Exchange Commission suing him and the company which resulted in a $20 million settlement and Musk stepping down as the chairman of Tesla's board of directors.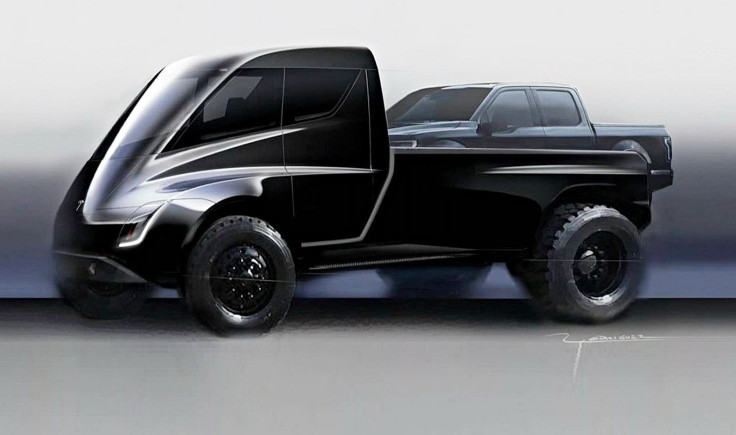 © Copyright IBTimes 2023. All rights reserved.