Tesla's Bulletproof Truck Doesn't Have Bulletproof Glass
Tesla unveiled its new "Blade Runner"-esque electric pickup truck called the Cybertruck very recently. The new vehicle was designed to be tough and capable of withstanding even the harshest of conditions. But while the truck's body was really tough, it obviously appears that the glass windows weren't.
Elon Musk, Tesla's CEO, was onstage in an event in L.A. On Thursday evening to officially unveil the Cybertruck: a $39,900 futuristic-looking polygonal truck that looks like it was pulled out from a low-resolution PlayStation 1-era video game, Live Science noted.
The truck, which "lo oks like an animated armored vehicle whose pixels are taking a while to render, " was met with "rapturous whoops" from audience, The Guardian noted. The vehicle was, according to Musk, bulletproof to a 9mm handgun. Tesla staff even demonstrated its durability by hitting it with a sledgehammer – an act that didn't even cause a dent.
The interesting thing about the unveiling, however, happened after Tesla chief designer Franz von Holzhausen asked Musk if he could throw a metal ball at the Cybertruck's window.
Musk gave Von Holzhausen some room on the stage in front of an excited crowd. To their surprise, however, the window simply broke when the metal ball hit the glass. "Maybe that was a little hard," the shocked Tesla CEO said.
Von Holzhausen, wanting to prove that the shattered glass was just an accident, asked Musk if he could try throwing a metal ball at the rear door's window. He also smashed it, in the same way he did the first window.
Musk, doing his apparent best to shake the shame off, emphasized that the metal ball didn't go through the broken windows that featured what his company called "armor glass." He simply said the upcoming pickup truck, which is slated for release years from now, still has "room for improvement."
Wired gave an excellent explainer as to how the Cybertruck's armor glass window broke. It has something to do with the glass not being able to move when hit by the metal ball. Tesla still has some time to look into the issue and find solutions. That way, spending that much on the vehicle will be worth it.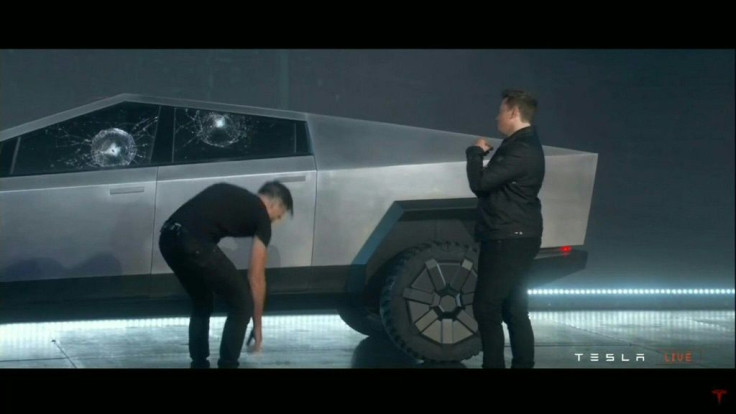 © Copyright IBTimes 2023. All rights reserved.