Thailand Encourages Couples To Wear Face Masks During Sex On Valentine's Day
KEY POINTS
Thai couples have also been advised to avoid face-to-face positions while having sex
Couples are also advised to get a rapid antigen COVID-19 test done before they meet up with their dates.
Thailand has fully vaccinated 70.7% of the country's population as of Friday
Couples in Thailand are being encouraged to wear face masks during Valentine's Day sex to prevent a COVID-19 infection as cases continue to climb nationwide.
Thai health authorities have recommended that couples wear face masks, avoid "face-to-face" positions and deep kissing while having sex to reduce their risk of getting infected with COVID-19. In addition to observing preventive measures, couples are also advised to get a rapid antigen COVID-19 test done before they meet up with their dates.
"Covid isn't a sexually transmitted disease, but catching Covid is possible through close-contact breathing and exchanging saliva," Bureau of Reproductive Health director Bunyarit Sukrat said Friday. "If possible, wearing face masks while having sex can help reduce Covid risks."
Authorities also advised couples to use a COVID-19 tracking app that marks which restaurants are safe to dine in.
The guidance from the Bureau of Reproductive Health comes after Thai health officials recorded 25 additional COVID-19 deaths and 16,330 new infections Friday. The numbers were the highest recorded since Aug. 29, 2021.
Of the 25 people who died of the virus, 13 were men and 12 were women. All 25 fatalities occurred in people aged 40 to 100, with a median age of 71.
Vaccinations are continuing to progress in Thailand. As of Friday, 70.7% of the country's population aged 5 and older was fully vaccinated, 75.8% received at least one shot and 25.2% of the population was boosted against COVID-19.
Despite the high number of vaccination across the country, 45.5% of parents said they were skeptical about the effectiveness and long-term side effects of the COVID-19 vaccines on children aged 5 to 11. Only 19.5% of parents said they were not "particularly worried" about the shots, according to The Thaiger.
Thailand has recently opened its borders to foreign travelers in an effort to revive tourism. Starting Feb. 1, foreign tourists are required to register for a pass to enter the country. They must also have an RT-PCR test taken 72 hours before boarding their flight and health insurance with a coverage of at least $50,000.
Since the beginning of the pandemic, Thailand has recorded a total of 2,577,445 COVID-19 cases and 22,412 deaths. At least 354,010 cases and 741 deaths have been recorded in 2022 alone.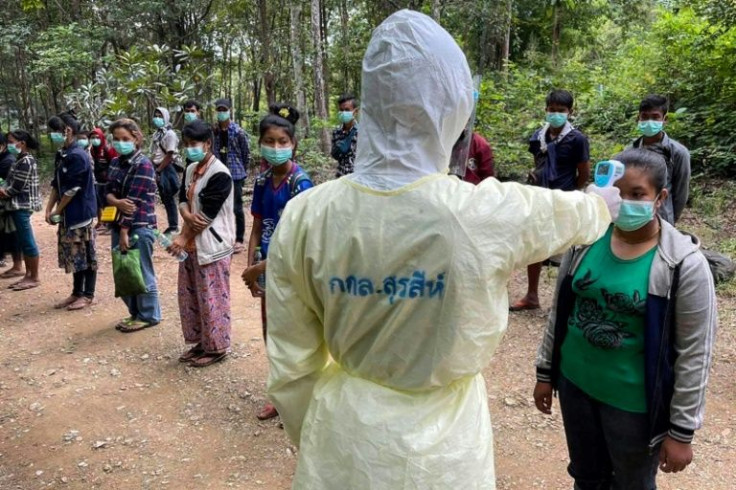 © Copyright IBTimes 2023. All rights reserved.