Thanksgiving dinner may cost a mite more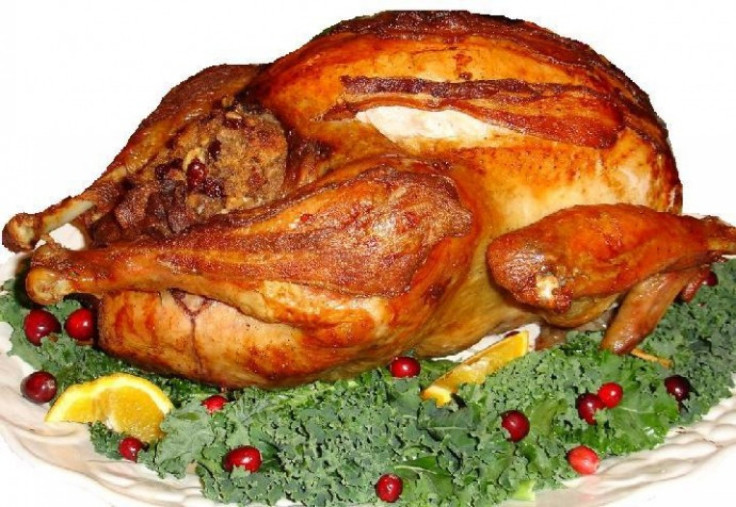 Thanksgiving traditionally means a celebration of plentiful harvest, but people this year may end up spending a little more on the thanksgiving dinner than before according to the 25th annual survey done by the American Farm Bureau Federation.
The AFBF says the average national cost of Thanksgiving dinner for 10 people this year is $43.47, a 1.3-percent increase and in real terms a 56-cents rise.
The items covered by the survey for the traditional Thanksgiving menu are turkey, bread stuffings, sweet potatoes, rolls with butter, cranberries, pumpkin pie with whipped cream, assorted vegetables and beverages.
A 16-pound turkey on your dinner table will cost only $17.66, a slight decrease from last year. It is the dairy items which are driving up the costs this year. Milks has gone up by 38 cents per gallon. The traditional pumpkin pie is also dearer this year. Veggies and ingredients that go into the making of the dinner will also be costly.
John Anderson, an AFBF economist says that despite retail price increases during the last year or so, American consumers have enjoyed relatively stable food costs over the years, particularly when adjusted for inflation.
But American consumers are not buying this. A housewife comments that the farm bureau's menu covers the bare minimum items and leaves out many traditional dishes like casseroles and drinks and appetizers, which add to the cost. That's kind of the bare minimum, but nobody does that for Thanksgiving, said Cynthia Schmidt, who typically spends about $100 to cook Thanksgiving dinner for about eight people, much higher than the farm bureau's estimate. Sure you could do it for that, but I think people sitting around the table would be pretty disappointed," she said in an interview to Businessweek magazine.
It also makes a big difference where you are buying your dinner from. Some places are offering the same items as the bureau at an average cost of $35 and others clock in $52 for the same. Others who do not want to take the coking route can buy ready-made meals from the supermarkets ranging from $50 to $75.
Farmers are advising consumers to buy their ingredients from local farmers' markets, this will reduce the cost considerably. Remarks one farmer, "the prices are pretty low this year for everything and my margins are thin, it is the packaging, transporting and advertising that is driving the costs ups."
When one adds the rising cost of fuel to this the Thanksgiving dinner may not be as cheerful for some. But the tradition is to be thankful for one's lot and we are for only the slight rise in prices.
© Copyright IBTimes 2023. All rights reserved.
FOLLOW MORE IBT NEWS ON THE BELOW CHANNELS