'There's Poop In My Soup' Sequel 'Pooping With Friends' Features, Locations And Mini-Games Explained
The sequel to "There's Poop In My Soup" will come with new features, new locations and mini-games. Check out everything you need to know about "Pooping With Friends."
The viral game from last year "There's Poop In My Soup" is getting a sequel, and developer K Bros Games has already set up the crowdfunding project for it on Kickstarter. Now all it needs is support from backers, so its development could smoothly continue until its estimated September 2017 release.
"There's Poop In My Soup" was such a hit following its launch in March of last year. The physics based game had this eccentric plot that centers on a boy who enjoys pooping on passersby and almost anything he stumbles upon. However, the outlandish element of the game is what made it garner attention from gamers. So it's not surprising that a sequel, called "Pooping With Friends," is in the works.
According to the makers of the game, Nik and Nemke, this new poop game is bigger, badder and messier (no pun intended). They even described it as a "'Mario Party' with Poop," and it's because players can now poop with their friends in either Online or Local Multiplayer mode. Plus, there is a variety of mini games to enjoy just like Shigeru Miyamoto's party video game with the Mario franchise characters.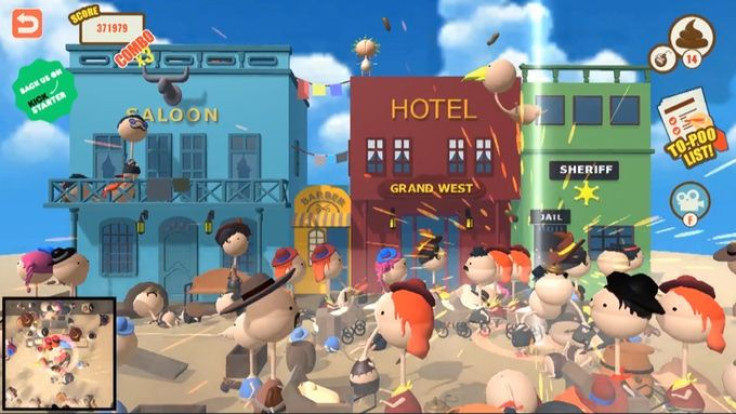 How Does 'Pooping With Friends' Work?
"Pooping With Friends" has the same mechanics as its predecessor's. Players should control the character Butty McButtface to aim at their targets — mostly people. There's a to-poo list to accomplish, which includes various items and specific characters like Little Jimmy. Players can only unlock power-ups when they accomplish to-poo list items. The power-ups range from farming wagons, poop bombs and even jet poop strikes.
New Features
K Bros Games is introducing new features in the second installment of its poop game series.
Slow Mo - Players can now stop or slow down time to catch even the tiniest detail that's unfolding in action scenes.
Fly Cam - Players can also fly around the scenes to view the destruction that's taking place from various angles.
Mini Map - This feature is designed to help players have maximum pooping accuracy.
New Locations
If fans loved the different locations in "There's Poop In My Soup," they'll certainly enjoy the new places where they can spread their poop in the sequel.
Pirate Ship - Players can poop on the faces of the pirates in this setting.
Zombie Land - They can also poop on Zombies while in this post apocalyptic world.
West World - This location will allow players to poop on Cowboys and Indians.
Backers Only - This is the special backer-exclusive level, which will only be available to fans who back the Kickstarter campaign.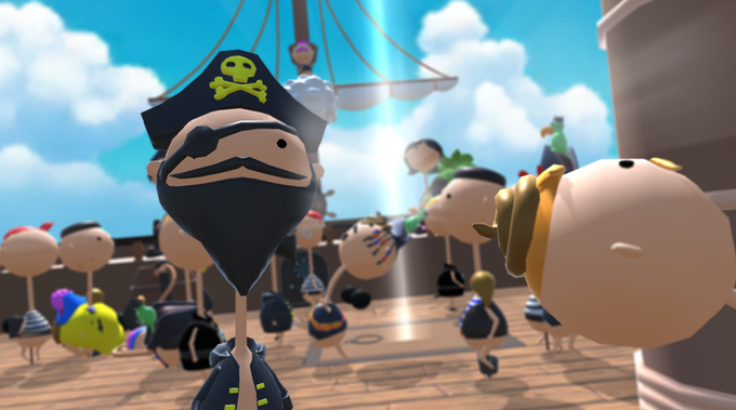 Mini Games
Just like what its title suggests, this game will make it possible for players to cooperate or go against their friends in the co-op and vs mode mini-games detailed below.
Mexican Standoff - This 2-player mini-game will pit players against each other in a duel, and the one who draws and poops first wins.
The Poop Off - This is a 2 to 4-player mini-game that involves running around to avoid getting pooped on.
Poop On Your Friends - This is also a 2 to 4-player mini-game, but instead of running away from poop players are tasked to pop on the heads of zombies to unlock power-ups.
Zombie Defense — This mini-game is being compared to "Splatoon," for it challenges players to outpoo their friends in co-op or vs modes. This also accommodates up to 4 players.
"There's Poop In My Soup — Pooping With Friends" is set for release on Mac and PC via Facebook Gameroom, Steam and Twitch. No specific release date has been announced yet.
© Copyright IBTimes 2023. All rights reserved.