Thousands Attend Anti-Austerity Protests In Greece, Other European Cities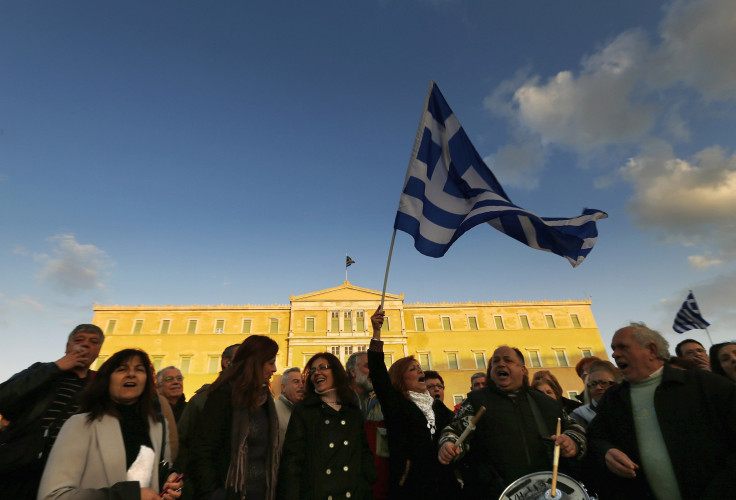 About 20,000 protesters rallied outside parliament in Athens Sunday ahead of talks in Brussels to renegotiate the country's bailout plan. Paris, Lisbon, Madrid and several Greek cities also participated in solidarity marches demanding Eurozone finance ministers in Brussels loosen their austerity policies, Agence France-Presse reports.
"We want justice here and now ... for all the suffering Greece has gone through the past five years," a woman named Theodora, 58, who has been unemployed for the last three years, told AFP. One banner in Athens read, "Stop austerity -- support Greece -- change Europe." Protesters on Greek television were chanted, "Let Greece breathe!"
Greece's current 240 billion-euro bailout expires at the end of February. Eurozone finance ministers are expected to meet Monday to consider Greece's proposed short-term "bridge financing" plan to be implemented until a longer-term solution is found to help Greece pay off its sizeable debt. Creditor representatives met Saturday to discuss technical details surrounding a bailout plan.
"We're looking at difficult negotiations on Monday," Greek Prime Minister Alexis Tsipras told Germany's Stern magazine. He has urged foreign creditors including the European Union, International Monetary Fund and European Central Bank to give Greece more time to establish economic reforms. "Nevertheless, I'm full of confidence."
While the newly elected Greek government has denied any involvement with the Sunday's protests, it welcomed the rallies, which promote its platform of ending austerity, audits and pushing for a debt writedown.
"We want to express our solidarity with the Greek people to defend their right to decide their own future," Paulo Coimbra, 46, an economist who organized the 300-person Lisbon march, told AFP. "We contest austerity in Portugal as well. It's time to say 'enough' to the grip financial power has on political power."
© Copyright IBTimes 2023. All rights reserved.