Thai Protest Leaders, In Hospital, Face Possible New Charges
Three Thai pro-democracy protest leaders -- all in hospital after chaotic scenes that erupted when they were released from prison -- were facing possible new charges late Saturday.
Panupong "Mike" Jadnok, Panusaya "Rung" Sithijirawattanakul and Parit "Penguin" Chiwarak are among the best known faces of Thailand's pro-democracy movement.
A criminal court on Friday ordered the release of the trio, who had been in custody since mid-October on sedition charges.
But during the trip from the prison to the police station late Friday, Panupong fainted in police custody -- local media said plainclothes officers had held him in a chokehold.
Shards of broken glass fell on Parit from a smashed vehicle window, and Panusaya had an unexplained foot injury.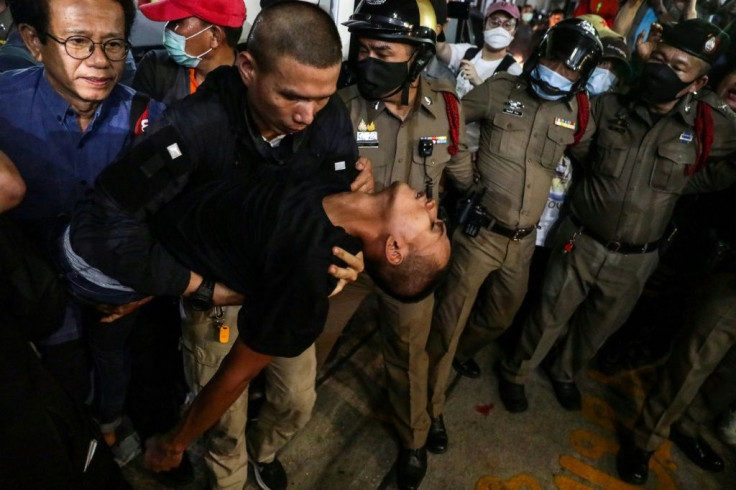 Authorities unsuccessfully sought a court order to have them re-arrested on Saturday.
But the Thai Lawyers for Human Rights, an organisation representing the trio, said police handed Panusaya an arrest warrant at her hospital bed over a June protest in Bangkok.
The document requires her to report for questioning.
Parit and Panupong are expected to receive arrest warrants from police based outside the Thai capital on Sunday.
Protesters have demanded reforms to the country's monarchy and for Prime Minister Prayut Chan-O-Cha -- the former military chief who staged a 2014 coup -- to resign.
The student-led demonstrators have also called for a new constitution and an end to alleged government harassment of political opponents.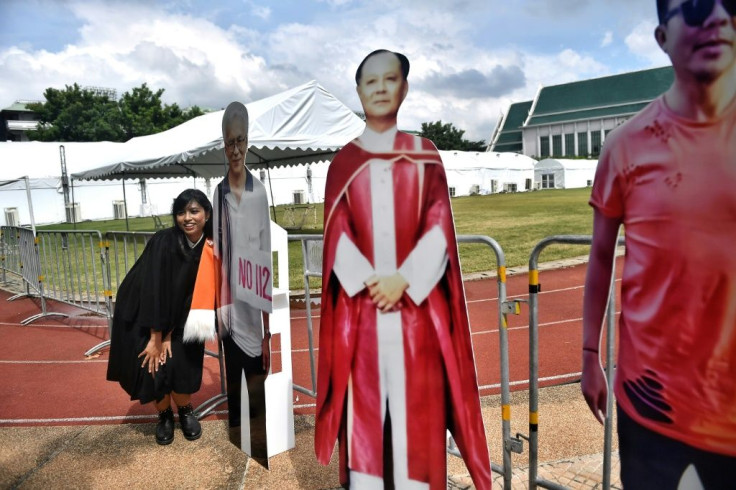 Among protesters' demands are the abolition of draconian royal defamation laws, a clear accounting of the palace's finances, and for King Maha Vajiralongkorn to stay out of politics.
Such calls are unprecedented in Thailand, where criticism of the royal family is taboo.
For a second day, scores of students at Thammasat University in Bangkok boycotted their graduation ceremony, where the king was handing out diplomas.
Many instead posed for photos in their graduation gowns, pretending to accept their degrees from cardboard cut-outs of prominent dissidents.
"I don't feel the need to join the ceremony -- for political reasons," Pitchaporn, 24, told AFP. "I decided to support a boycott of the graduation ceremony. To me, it's a waste of time."
Thammasat University has a history of liberalism, and was the scene of a bloody crackdown on pro-democracy protesters in 1976.
Dozens of royalist supporters turned out on campus to welcome the king, including 70-year-old retired professor Worawimon Na Ranong, who called for patience.
"Children have the right to think, choose the side they want, and call for the monarchy reform," he told AFP.
"We need to understand and educate them. Give (the) king a chance. Unlike his late father, who had worked for decades, this king has just ascended the throne."
© Copyright AFP 2023. All rights reserved.