Tim Cook's $390 Million Payday: Is it a Risky Gamble?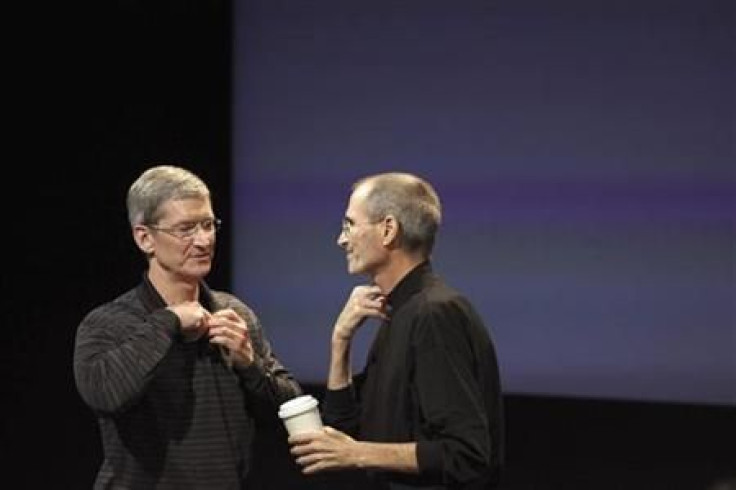 New Apple CEO Tim Cook now has an added incentive to execute: one million restricted shares of Apple, valued around $390 million, which vest over the next 10 years.
Cook, 50, has been with Apple since 1998 and is already a very rich man. Last year, Apple's board upped his salary from $800,000 to $900,000, gave him a $5 million bonus and then threw in restricted stock valued then around $52 million.
That wasn't the first time the Cupertino, Calif., computer and electronics company took care of Cook, either. By all accounts, especially that of new Apple Chairman Steve Jobs, Cook is the best person around to lead the company.
But Apple customers and investors still have a $390 million question: can Cook repeat the same magic as Jobs and boost the share price the same 9,000 percent as his predecessor?
Some are skeptical James Schrager, a professor at the Booth School of Business at the University of Chicago, said Apple's directors have shown Cook they love him, he said in an interview.
But there's great risk for Apple because Jobs was predominantly a creation CEO who left Apple's daily management in the hands of people like Cook and CFO Peter Oppenheimer.
Jobs was what Schrager termed a fashion-tech CEO in that he devised products that may not have been the first to market but were cutting-edge things you had to have yourself like the iPod and IPhone.
Cook, a former VP at Compaq Computer before joining Apple in 1998, has none of that reputation, Schrager continued. So it makes the company's strategy risky now. Compaq was known for its founding CEO, Rod Canion, and his successor, Eckhardt Pfeiffer, who built it into the world's No. 1 PC maker, dethroning IBM.
Apple shares Monday traded around $390, only slightly below their all-time high of $404.50. That makes it the most valuable company in the U.S.
That title can be a mixed blessing. First, companies from other sectors are very close in value, such as Exxon Mobil. But in technology, other stars have been the most valuable and then gone dark, or at least become less valuable.
Examples include Cisco Systems, now valued only around $85 billion; Microsoft, $214 billion; IBM, $205 billion and Google, $174 billion.
Outside of technology, Chicago's Schrager said other iconic companies have had trouble dealing with new strategy after their founders left the scene. Wal-Mart Stores, for example, is foundering now on international expansion. McDonald's, post Ray Kroc, had two CEOs who died suddenly and now has righted itself.
A third is Walt Disney Co., which foundered for years after Walt Disney died. Jobs is now its biggest individual shareholder and a director, a result of Disney's buying Pixar for $7.4 billion. His 7.3 percent Disney stake is worth $4.56 billion, more than twice as much as his stake in Apple.
But Wal-Mart, McDonalds and Disney aren't in the same position as Apple, with its fashion technology, Schrager said.
The reason Jobs, 56, stepped aside is because his body is breaking down. Previously, he'd taken medical leaves for treatment for cancer and a liver transplant. As usual, neither he nor Apple has specified his medical condition now.
That policy worried Apple investors because they knew so much of the stock's value hinged upon Jobs' special magic. Last year, Central Laborers Pension Fund, an Apple shareholder, tried to pass a resolution at the annual meeting to post a written and detailed succession plan.
Apple's directors, though, urged a no vote and said while they strongly support the concept, they believed the company has a highly talented and experienced management team, not just the CEO, [that] is critical to Apple's success.
The measure failed. But in giving Cook a salary hike and bonus, Apple's compensation committee said it had considered Mr. Jobs' recommendations in doing so. The compensation committee is headed by Andrea Jung, CEO of Avon Products, along with former Vice President Al Gore and Millard Drexler, CEO of J. Crew.
They had been generous with Cook in 2009, too. That's when they raised Cook, then COO, to $800,000 from $718,860 and handed him a $25.6 million bonus for standing in for Jobs the first time.
Wall Street analysts generally accepted the transition. We believe Steve Jobs has his fingerprints on Apple products for the next two years, Peter Misek of Jefferies wrote last week.
Chicago's Schrager said that's exactly why outsiders should worry because there is no clear successor with Jobs' innate genius. As to the share price, he said, that's subject to random variables.
© Copyright IBTimes 2022. All rights reserved.
FOLLOW MORE IBT NEWS ON THE BELOW CHANNELS