Today's US Drought, Tomorrow's Higher Grocery Store Tab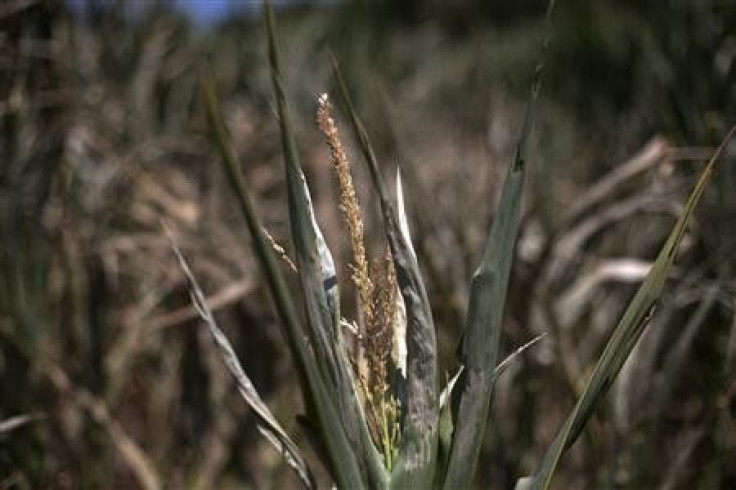 Your corn flakes are going to be more expensive in six to 12 months' time. As will your ketchup, carbonated drinks and sweets.
Your hamburgers and chicken will also cost more, and cost more sooner, thanks to the drought conditions that have parched the U.S. Corn Belt, forcing many farmers to cut their losses, plow their fields under and sell what they can for low-grade livestock feed.
The U.S. Department of Agriculture reduced Wednesday its forecast for this year's corn harvest thanks to a dry spell at an important time in the plant's pollination process. The corn is smaller, the kernels are underdeveloped and many farmers will be lucky to meet the latest forecast of as little as 140 bushels per acre, down from a near-record high of 166 bushels predicted just a month ago.
Without rain, I might be lucky to make 100 to 120 bushels, Scott Jorgensen, a farmer near Adair, Iowa, told the Des Moines Register.
The forecast calls for little or no rain in the near future in regions that grow the country's No. 1 crop, which was valued last year at $76.5 billion. But this year's conditions are the worst seen in more than two decades.
Food companies that depend on corn or corn-based sweetener, such as Kellogg Company (NYSE: K), General Mills, Inc. (NYSE: GIS) and The Coca-Cola Company (NYSE: KO), all opened modestly lower in Thursday trading, a day after the USDA forecast was released.
Corn for December delivery was up Thursday above $7.26 a bushel on the Chicago Board of Trade. On Monday the July-delivery price rose to $7.77, coming close to last year's peak of $7.99.
Barclays said in its note Thursday that it expects corn to end the year at $6.80 per bushel, up from $5.74, but that it would close the third quarter at $7.34.
Higher corn prices mean higher costs in livestock feed, processed foods and ethanol, which means food price inflation. But the effect is delayed because food and beverage companies hedge against unexpected price spikes by locking in commodity prices with futures.
The key question is just how hedged and protected these companies are, Jack Russo, an analyst at Edward Jones & Co. in St. Louis, said in an interview with Bloomberg. The packaged-food companies would be the most impacted.
It usually takes six to 12 months for grain prices to show up on grocery store shelves, Kenrick Jordan, senior economist at BMO Capital Markets in Toronto, told Bloomberg.
Meat products, especially beef, tend to be the first affected because ranchers, facing higher feed prices and lower-grade feed, tend to cut their losses and send their stock to slaughter earlier than they would like. Soon afterward, there is less fresh meat in the market.
If you can't feed cattle because the price of corn is too high, cattle go to slaughter, Scott Shellady of Trean Group, a Chicago-based brokerage, told USA Today. In six months' time, we won't have any cattle.
Beef prices have been increasing for months due to last year's drought in Texas. The national average retail price for ground beef has risen 12.6 percent to $2.99 a pound in the past 15 months, according to the U.S. Department of Agriculture.
Food prices usually climb about 1 percent for every 50-percent increase in the average price of a bushel of corn, Richard Volpe, a USDA food markets research economist, told the Guardian. But some items are more affected than others.
The state of the top U.S. crops -- corn and soybeans -- has implications that go beyond the country's borders. The commodities are shipped virtually everywhere, especially soybeans to China, and are a major part of U.S. food assistance programs overseas.
© Copyright IBTimes 2023. All rights reserved.