Top 10 features that make Apple Mac OS X Lion Gold Master a better choice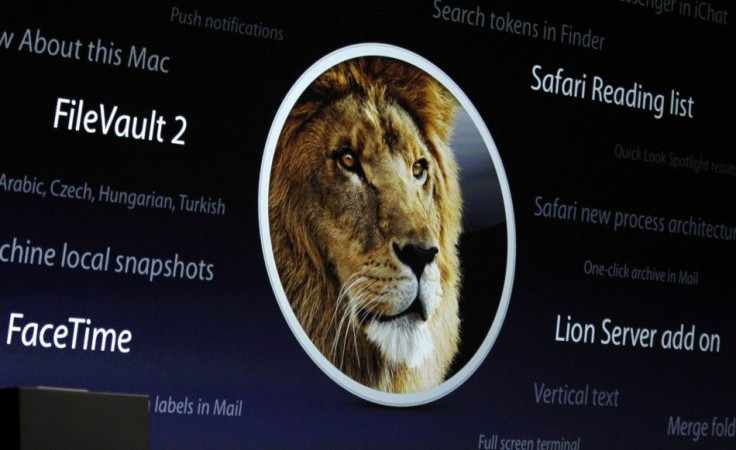 Apple has released the Mac OS X Lion Gold Master version to developers, with an indication that its latest operating system will hit the market within next few days.
The iPhone-maker announced during the World Wide Developer Conference last month that it will launch its newest operating system in July. To upgrade from Snow Leopard OS X 10.6 to OS X Lion Gold Master, the user needs to pay $29.99.
Here is our take on top 10 exciting features of Mac OS X Lion that make it a better choice for the customers.
Automatic Restoration
Mac OS X Lion Gold Master allows you to resume your application exactly as you left it. After quitting or shutting down the system when you come back again, you will find all the open windows, platters, panes, apps and even the cursor position and highlighted text as they were when you left. Mac OS X Lion merely pauses your system, and everything comes back when you restart the computer.
Reboot into Safari
This is a feature that turns your system into an internet kiosk. The Reboot into Safari can be found on the user lock screen. It allows unauthorized users to use the Mac only to browse the Web. In this mode, only a Safari window will appear and nothing else. When an unauthorized user browses web, the Safari browser will not show any of the bookmarks on the Mac.
Auto save
Mac OS X Lion Gold Master brings a complete auto save feature that keeps your data secure and version tracked. It automatically saves changes to your document. Auto Save in Lion adds the changes directly into the file so there's only one copy of the document on your Mac.
You can also easily lock a document at any time to avoid unintentional changes. Lion automatically locks the document two weeks after the last edit. When you try to make a change, it alerts you and asks if you want to unlock or duplicate the file.
AirDrop
AirDrop, a peer to peer Wi-Fi protocol between participating Mac computers, allows you to securely share your documents with others. To share a file you have to simply drag it onto a person's contact photo. After verifying that if you want to send the file, it sends a request to the recipient. When the recipient accepts the request, the file gets transferred to the person's Downloads folder.
AirDrop creates a firewall between you and the person you are sharing a file with, a feature that prevents anyone from accessing your computer over that connection. It doesn't require any special settings.
Multi-touch Gesture
Mac OS X Lion Gold Master has multi touch technology that allows you to swipe through files and web pages quickly using your Multi-Touch trackpad or Magic Mouse. Thanks to fluid animations, the gestures have become more responsive. Mac OS X Lion also comprises new animations like rubber-band scrolling, zooming, and swiping.
Mission Control
Mission Control feature allows you to arrange your open windows, full-screen apps, spaces, and Dashboard. While a row of thumbnails across the top of the screen signifies Dashboard, desktop spaces, and full-screen apps, you can see an exposed view of the open windows on the lower part of the screen.
Now, you can add and remove desktop spaces right from Mission Control. You can also attach an application to a particular space or make it available in all spaces right from the Dock.
LaunchPad
LaunchPad makes it easier for you to access your installed apps. While the new apps downloaded from the app store will be added directly to LaunchPad, the user can also create a folder on LaunchPad to organize the installed apps. Each folder can hold as many as 32 apps. It creates full-screen pages to house your apps and adds new pages as you add more apps. You can easily move between Launchpad pages with a three-finger swipe.
iCal
The new look of iCal provides more room to browse and edit your events. The calendars list reveals itself only when you click Calendars. You can now easily add an event to iCal by simply entering a regular-language phrase and iCal will add the event.
FileVault 2
FileVault 2 makes it easier for you to secure data on your Mac by encrypting the entire drive. It encrypts and decrypts your data on the fly. It's also designed to bow out processor cycles to higher-priority user tasks like copying files or browsing. FileVault 2 uses XTS-AES 128 encryption to secure the data on your Mac.
Internet Restore and Utilities
A built-in restore partition allows the user to repair or reinstall Mac OS X Lion without the need for discs. It can be reinstalled on the system from recovery mode through a Time Machine backup.
Don't Miss:
Mac Os X Lion Gold Master release triggers pre-sale frenzy
Smartphone battle unleashed: Apple iPhone 5, iPhone 4S combo vs. Galaxy S2 Plus, HTC Eternity
U.S. army man creates smartphone app to hunt down Taliban fighters
Hacked Fox News Twitter account says President Obama shot dead
Independence Day Fourth of July, 2011: Amazing Pictures of Firework Shows [PHOTOS]
Apple OS X Lion: Top 10 features that will blow you away

© Copyright IBTimes 2023. All rights reserved.