Track And Field: Tyson Gay Delivers Further Body Blow To Troubled Sport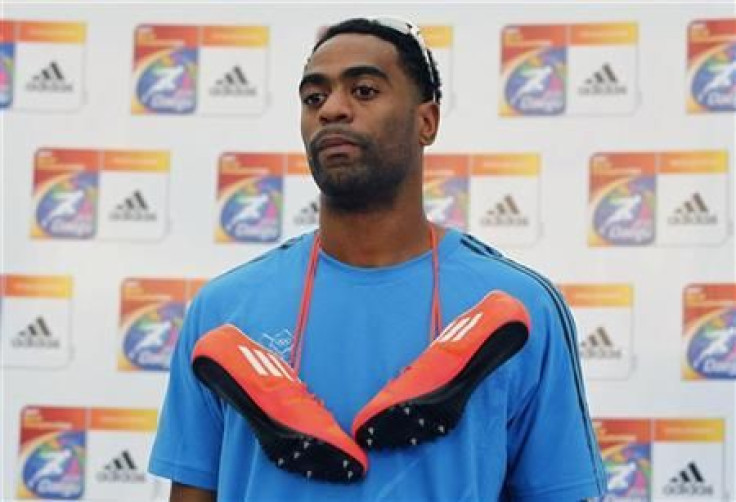 Former double world sprint champion Tyson Gay delivered a further body blow to his troubled sport on Sunday when he pulled out of next month's Moscow world championships after failing an out-of-competition dope test.
Tyson has run the fastest three 100 meters of the year and his clash with Jamaica's Olympic 100 and 200 champion Usain Bolt would have been the highlight of the championships.
Instead he has withdrawn from Friday's Diamond League meeting in Monaco and the world championships on the worst day of a bad week for the central sport of the Olympic Games.
Also on Sunday, former world 100 meters record holder Asafa Powell and Olympic 4x100 meters relay silver medalist Sherone Simpson said they had both tested positive for the stimulant oxilophrine at last month's Jamaican championships.
Oxilophrine has similar properties to ephedrine, although it has a different chemical structure, and both are on the World Anti-Doping Agency banned list.
Powell, 30, who has been in good form recently said he had not wilfully taken supplements or substances that broke any rules.
"I am not now, nor have I ever been, a cheat," he said in a statement.
Simpson, 28, who finished equal second in the 100 meters at the 2008 Beijing Games and won a gold medal in the 2004 Athens 4x100 meters relay, also denied knowingly taking a banned substance.
"This is a very difficult time for me," she said in a statement.
"As an athlete, I know I am responsible for whatever that goes into my body. I would not intentionally take an illegal substance of any form into my system."
Earlier sources close to Jamaican athletics said five athletes, including two Olympic medalists, had tested positive for banned performance-enhancing drugs at the championships.
The managers for Bolt and world 100 meters champion Yohan Blake said their athletes were not involved. Blake did not compete at the championships because of injury while Bolt won the 100 meters.
Jamaica, the sunlit Caribbean island which currently dominates world sprinting, was hit by another doping scandal last month when twice Olympic 200 meters gold medallist Veronica Campbell-Brown was suspended by her national federation after a positive test for a banned diuretic.
TURKS TARGETED
Gay's admission came in a week when media reports said that up to 30 Turkish athletes faced doping bans after the International Association of Athletics Federations (IAAF) confirmed the country had been targeted over concerns about abnormal biological passport values.
Biological passports track changes in athletes' blood profiles which could be caused by doping.
Gay, 30, told two reporters in a telephone conference call that he had been notified by the U.S. Anti-Doping Agency (USADA) on Friday that his A sample from an out-of-competition test on May 16 had returned a positive.
"I don't have a sabotage story. I don't have lies ... I basically put my trust in someone and I was let down," said Gay, who added he had never knowingly taken a performance-enhancing drug.
Gay, the 2007 world 100 and 200 champion, said he could not reveal the substance or how the positive occurred.
USA Track & Field, the sport's U.S. governing body, said in a statement: "It is not the news anyone wanted to hear, at any time, about any athlete.
"As we approach the world championships, we will remain focused on the competition at hand and winning the right way."
Gay's announcement comes a quarter of a century after Ben Johnson tested positive for a steroid following his victory in the Seoul Olympics 100 meters, still the biggest scandal to hit the Olympic Games.
The 100 meters has been particularly afflicted by dope busts with eight of the fastest 14 men ever having served, or about to serve drug, suspensions.
The IAAF said Sunday's announcements showed its anti-doping procedures were working.
"The IAAF's commitment to anti-doping in athletics is unwavering because we have an ethical obligation to the majority of athletes who believe in clean sport," it said in a statement.
"It is for them that we have built a program that is well resourced, far reaching and sophisticated. The fact that we are able to detect and remove from the sport athletes who have breached our anti-doping rules should be seen in this context.
"The credibility of our anti-doping program, and the sport of athletics, is enhanced, not diminished, each time we are able to uncover a new case and we have the committed support of every athlete, coach or official who believes in clean sport."
However, Paul Swangard, the marketing director at the Warsaw Sports Marketing Centre at the University of Oregon, told Reuters that the positive tests were a blow to the sport's image.
"For our sport, this is the only time we get into the headlines and that negative publicity can't help the sport in the long term," he said.
"From a marketing standpoint, it is another case where the only time mainstream sports audiences are going to hear about this sport is in a negative context. That just sets the sport back."
(Reporting by Kayon Raynor in Kingston, Jamaica and Gene Cherry in Raleigh, North Carolina; Editing by Gene Cherry)
© Copyright IBTimes 2023. All rights reserved.