Trans-Pacific Partnership Won't Deliver On Promise To Advance U.S. Interests Against China: AFL-CIO Report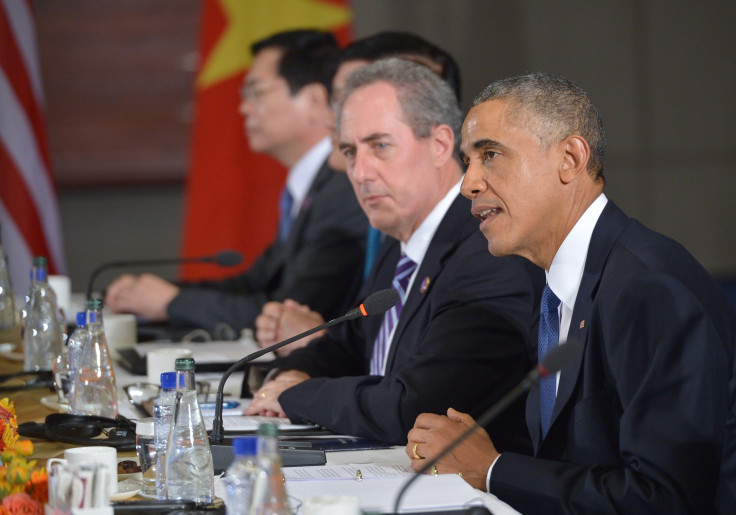 The Trans-Pacific Partnership (TPP) trade agreement will do little to advance United States economic interests against China, according to one of the treaty's fiercest critics. A report released Wednesday by the AFL-CIO labor federation takes on one of the Obama administration's main claims in support of the pact, which, if approved, would link the United States with regional economic heavyweights like Australia, Japan, Malaysia, Singapore and Vietnam.
"There is no reason to believe that drawing the Pacific Rim countries away from China is a realistic goal, so long as China continues to offer mutually beneficial trade, investment and supply chain opportunities to those countries," the report reads. "It seems reckless to ask Congress to enter into a deal that has a high probability of undermining U.S. wages, jobs and labor rights--as previous trade agreements have done--especially given that the deal has no real chance of diminishing China's existing economic influence."
In its report, the labor federation argues the current version of the TPP will not pressure China to conform to new high global trading standards, as some proponents suggest. It says the treaty's rules are not as strong or as progressive as advertised and suggests China can still reap major economic benefits from the TPP without formally joining. For instance, the deal's weak "rules of origin," according to the report, would effectively allow Chinese manufacturing exports to receive preferential treatment intended for TPP countries.
The report charges trade deal backers are confusing U.S. national interests with corporate interests, which benefit from provisions like those allowing investors to sue governments in special third-party trade tribunals. It also criticizes the absence of measures to promote labor rights and environmental protections and rules that crack down on "unfair trade practices" like currency manipulation and state subsidies for exports.
Congress is soon expected to vote on so-called fast track legislation, a bill backed by the White House that would prevent federal legislators from amending the version of the Trans-Pacific Partnership that is finalized by international trade negotiators. Fast-track is considered vital for the deal's success.
© Copyright IBTimes 2023. All rights reserved.
FOLLOW MORE IBT NEWS ON THE BELOW CHANNELS