Tropical Storm Isaac's Path Causes GOP To Delay Convention And Vote To Nominate Mitt Romney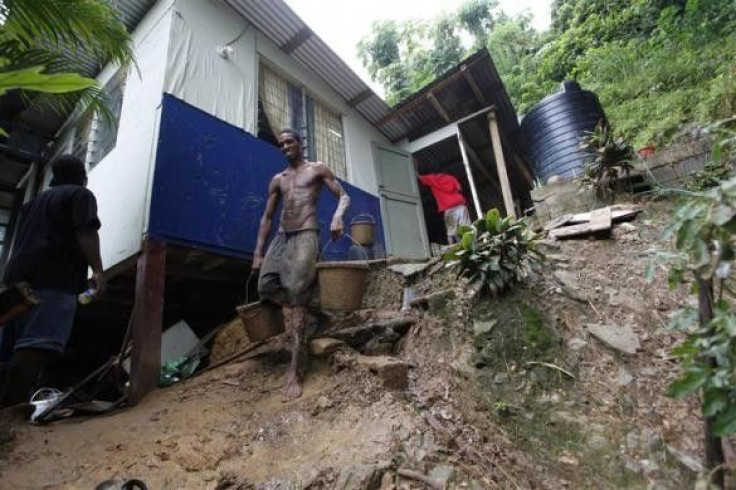 Tropical Storm Isaac hasn't landed in Florida yet, but it's already causing damage to the Republican Party. Almost all Republican National Convention events on Monday have been canceled because of the storm, according to Republican National Committee Chairman Reince Priebus.
Isaac, a tropical storm picking up steam around Cuba, is expected to mature into a hurricane during the next two days. The National Hurricane Center projects the system will move up Florida's Gulf Coast, bringing severe weather to the region surrounding Tampa, where the convention is being held.
Republican Party officials believe it will be unsafe to hold convention events on Monday under the anticipated conditions. And the party's presumptive presidential nominee agrees with them. "The safety of those in Isaac's path is of the utmost importance. I applaud those in Tampa making appropriate schedule changes," Mitt Romney said on Twitter Saturday.
"Due to the severe weather reports for the Tampa Bay area, the Republican National Convention will convene on Monday August 27th and immediately recess until Tuesday afternoon, August 28th," Priebus said in a memo to convention attendees appearing on multiple media sites, such as Yahoo! News. "After consulting with [Florida] Governor [Rick] Scott, NOAA and local emergency management officials, we are optimistic that we will begin an exciting, robust convention that will nominate the Romney-Ryan ticket."
Monday was the day that the RNC had planned to officially nominate Romney as the Republican candidate for president. The formal vote has thus been postponed.
Thousands of GOP officials are headed to Tampa over the weekend, and Isaac poses a threat to all of the delegates, alternates, and guests attending the convention. Priebus said the most important concern for the party is safety in the face of Isaac.
"Our first priority is ensuring the safety of delegates, alternates, guests, members of the media attending the Republican National Convention, and citizens of the Tampa Bay area," Priebus said.
© Copyright IBTimes 2023. All rights reserved.