Tropical Storm Isaac Expected To Be Upgraded To Hurricane Before Hitting Florida: Report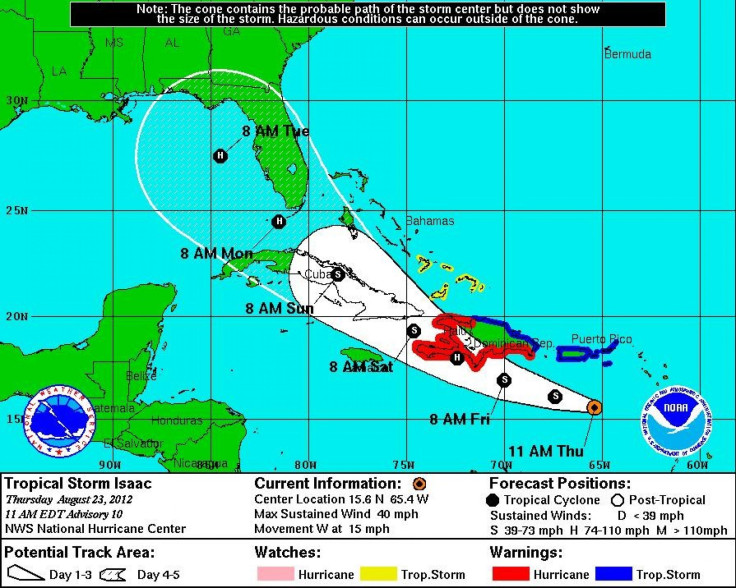 Residents in Florida and Cuba have been preparing for Tropical Storm Isaac after it dumped rain and heavy winds on Haiti Friday night. The storm is expected to be upgraded to hurricane status by the time it hits the Florida Keys region on Sunday evening, The Weather Channel reported. It remains unknown how the winds will affect the northern Gulf coast due to the lack of land interaction Isaac has had with Cuba, the nearest island to the region, so far.
As of Saturday morning, winds topped out at 60 mph as the storm traveled northwest. Isaac's wind strength is expected to intensify, however, as the storm moves up the coast.
Isaac could reach the Florida's west coast by Monday night or early Tuesday morning, according to CBS News. A second landfall could hit Tampa on Wednesday or Thursday, which has made organizers of the Republican National Convention pay close attention to the storm's progress. However, convention planners said the event will not be cancelled due to the storm.
Residents of Central Florida and Tampa are expected to be hit hardest Sunday night into Monday while the northern Gulf Coast could see a surge between Tuesday night and Wednesday morning.
A hurricane watch is in effect across Florida, meaning severe conditions are possible within the next 24 to 36 hours. Fox News noted that Governor Rick Scott declared a state of emergency on Saturday, although the Tampa airport remained open. As of early Saturday afternoon, Isaac appeared to be headed toward the Florida panhandle.
The Weather Channel has provided a detailed time line of the events that are expected to take place, which can be found by clicking here.
According to the Weather Channel, the National Hurricane Center warns that if the strongest part of the storm hits at high tide, peak water levels above ground could spell trouble for unprepared Florida residents. The southwest Florida Coast could rise by 5-7 feet, the southeast Fla. coast by 1-3 feet.
The storm, which has already hit Haiti, could deposit a total rainfall for Haiti and the Dominican Republic of 8-12 inches.
The storm killed three people in Haiti as Isaac's rains there led to mudslides and flooding, NBC reported. A 10-year-old girl was killed in Port-au-Prince, where over 300,000 people are still living in shantytowns resulting from a devastating 2010 earthquake, when a wall collapsed onto her.
© Copyright IBTimes 2023. All rights reserved.
FOLLOW MORE IBT NEWS ON THE BELOW CHANNELS