Tropical Storm Leslie Officially Becomes A Hurricane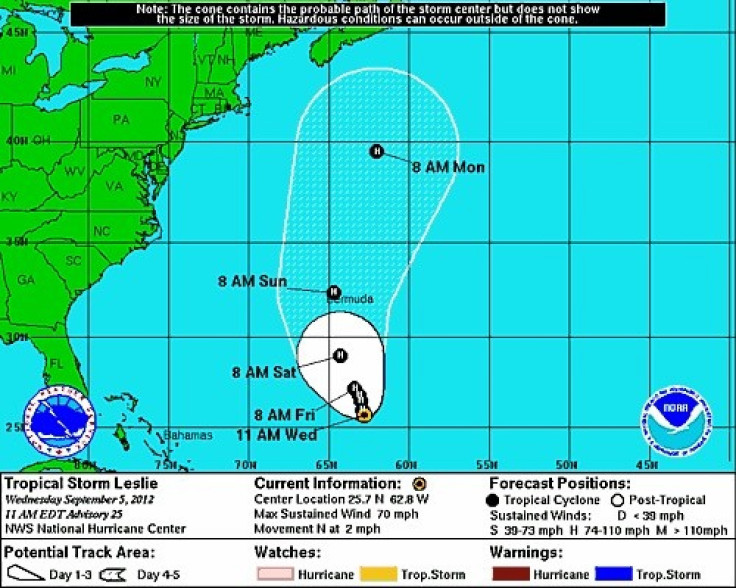 Tropical Storm Leslie has strengthened into a hurricane, according to the National Weather Service. The storm, currently sitting east of Florida and the Bahamas, is not expected to make landfall in the United States, and no hurricane watches have been issues along the Atlantic coast.
On Wednesday, Tropical Storm Leslie began sustaining winds as high as 75 miles per hour, officially upgrading the storm to a hurricane, according to the National Hurricane Center in Miami.
Currently, Hurricane Leslie's forecast path is set to continue north up the Atlantic coast. The storm is not expected to hit the United States before being downgraded back to a tropical storm. The NHC expects Leslie will largely dissipate by Monday.
However, Hurricane Leslie could still cause some damage to Bermuda. Currently, it is roughly 465 miles southeast of the island, and some projections see the storm making landfall in Bermuda early this weekend.
"Surf, swells generated by Leslie will continue to affect Bermuda, the U.S. East Coast from Central Florida northward, the northern Leeward Islands, Puerto Rico and the Virgin Islands for the next several days," according to a public advisory from the National Hurricane Center.
"These swells could cause life-threatening surf and rip current conditions. Please consult products from your local weather office for more information."
Hurricane Leslie is the sixth hurricane of the 2012 season, with the most destructive of the season being Hurricane Isaac.
© Copyright IBTimes 2023. All rights reserved.