Turkey Bans Syrian Civilian Flights; Assad Forces Accused Of Using Russian-Made Cluster Bombs [VIDEO]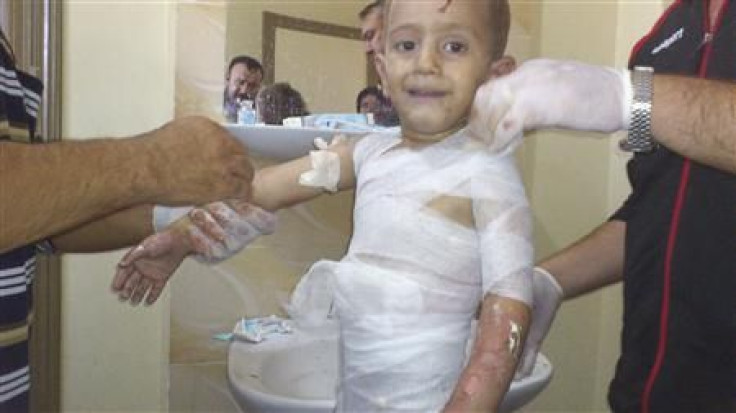 Turkey banned all Syrian passenger planes from entering its airspace on Sunday, following Syria's move to do the same, and days after intercepting a Syrian airliner carrying what it said were Russian-made munitions for the Syrian army.
Turkish Foreign Minister Ahmet Davutoglu said the decision was made because the Syrian regime, which is battling an insurgency, was "abusing" civilian flights by transporting Russian military gears destined for the Syrian ministry of defense, the Associated Press reports. Syria's government was notified of the decision on Saturday, Davutoglu said.
Meanwhile, Human Rights Watch said Sunday new evidence has emerged that Syrian government forces have dropped Russian-made cluster bombs over civilian areas in the past week. Many of the strikes were near the main highway that runs through Ma`arat al-Nu`man, the site of a major confrontation between the government and rebel forces.
At least 18 videos have been posted on YouTube by Syrian activists showing the aftermath of the cluster munition strikes in recent days.
Eliot Higgins, who blogs on military hardware and tactics used in Syria under the pseudonym "Brown Moses," compiled a list of the videos showing cluster munition remnants in several provinces.
Last week, Turkey forced down a Syrian Airlines passenger aircraft on suspicion of transporting weapons from Russia to the Assad regime and said it had seized illicit cargo. Russia said the plane was carrying spare radar parts, while Syria accused Turkey of piracy.
The interception of the Damascus-bound Airbus A-320, which was carrying around 30 passengers from Moscow, came hours after Turkey's chief of staff warned that his troops would respond with greater force if shells from Syria continued to hit Turkish territory.
Syria said late Saturday that it was barring Turkish civilian flights over its territory in a retaliatory move. But Davutoglu said the Syrian announcement "has no value for us."
A Syrian state-run newspaper said Sunday that Turkey's grounding of a Syrian civilian plane last week was a "stupid and reckless" action.
"Regardless of their intents, what the Turkish authorities have recently done regarding the Syrian civilian plane has no other synonym in the international political dictionary but a stupid and reckless action," Tishreen daily, a mouthpiece of the Syrian government, editorialized Sunday.
Tensions between Damascus and Ankara escalated in October after an artillery shell fired in Syria landed in a Turkish border village, killing five. In response, Turkey's parliament authorized the government to launch cross-border military operations as a deterrent against potential attacks from Syria.
"Turkey will retaliate if Syria violates its border again," Davutoglu said at a news conference on Saturday in Istanbul. "We will do what's necessary."
In the continuing face-off between Ankara and Damascus, Turkey has increased its military presence along its border with Syria, the Financial Times reports. Two fighter aircraft flew along a stretch of the border after a Syrian helicopter bombed the nearby Syrian village of Azmarin, while Turkish media reported that up to 250 tanks were in the border area.
Turkey's Prime Minister Recep Tayyip Erdogan criticized the United Nations Security Council on Saturday for its failure to agree on decisive steps to end the 19-month civil war in Syria, the AP reports.
More than 30,000 people have died nationwide during the 19- month civil war, according to opposition groups. President Bashar al- Assad's forces are using cluster bombs, which detonate and then disperse smaller bomblets, according to a Human Rights Watch report.
"Syria's disregard for its civilian population is all too evident in its air campaign, which now apparently includes dropping these deadly cluster bombs into populated areas," Steve Goose, arms director at Human Rights Watch, said in a report.
© Copyright IBTimes 2023. All rights reserved.