Turkey's 'War On Terror' Against ISIS And The Kurds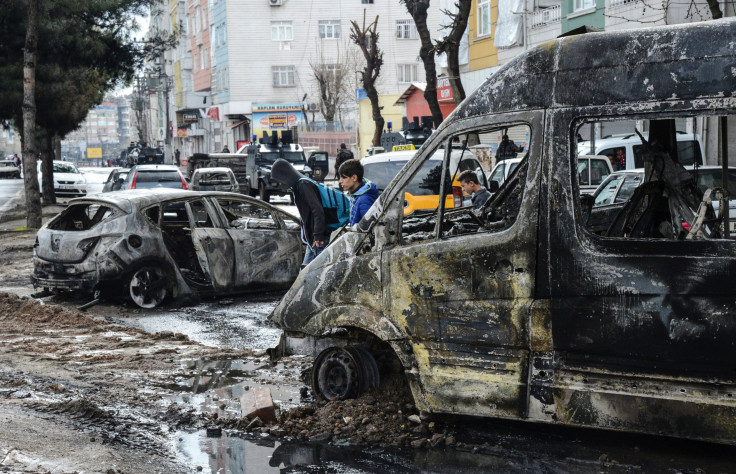 BEIRUT — For the last year, Turkey has been fighting wars on two fronts: In the first, the NATO member country is part of an international U.S.-led coalition of countries and groups fighting the Islamic State group, and in the second, Turkey is fighting a quieter but no less public battle against Kurdish militants within its borders.
While Turkey has loudly vocalized its desire to play an active role in the fight against the group also known as ISIS, it has not strayed from its previous terror target, the Kurdistan Workers Party, or PKK, a group that is listed as a foreign terrorist organization by Turkey, the United States and the European Union.
"It is true that terrorists have been hitting many cities not only in our region, not only in Turkey and Brussels, but also in Africa in Pakistan and in other parts of the world," Turkish Foreign Minister Mevlüt Çavuşoğlu said at a press conference in the U.S. on Monday. "We have the full determination to defeat the terrorist group in our neighborhood and all over the world."
But Turkey's main focus has been on the militants in the country's Kurdish neighborhoods. Since the end of a two-year ceasefire between Turkish nationalists and the Kurds last July, Turkish security forces have killed more than 5,000 Kurdish militants, President Recep Tayyip Erdoğan announced Monday. Clashes between the two groups have resulted in the deaths of some 350 security forces, according to the Daily Sabah.
By comparison, since the beginning of the year, Turkey has detained fewer than 700 people who are suspected of affiliation with the Islamic State group, data compiled by Andalou Agency reveals. Turkey has also carried out out cross-border air operations in Syria and in Iraq where it has killed "hundreds" of suspected ISIS militants, the report said.
As the Turkish president made his remarks, clashes between Turkish security forces and Kurdish militants in the southeast provinces were ongoing. Turkish security forces killed 23 alleged PKK members across southeast Turkey — in the provinces of Mardin, Şırnak and Hakkari — Tuesday.
"The Turkish government is determined to suppress Kurdish resistance and declarations of self-rule," Mehmet, a professor at a university in Turkey's capital Ankara, who asked that his name be changed out of fear of a government backlash, recently told International Business Times. "It is a message to the PKK that says, 'I am determined to suppress you. You have no choice or I will eliminate you.' "
Kurds constitute roughly one-fifth of Turkey's population, but their relationship with Turkish nationalists has long been a rocky one: The PKK insurgency has continued for more than 30 years. After the two-year ceasefire agreement between the two groups collapsed last summer, the conflict has reached new lows. Turkish security forces have cracked down hard on Kurdish areas, placing several predominantly Kurdish cities in Turkey's southeast provinces under 24-hour martial law and curfew on the premise of "restoring public order."
The spate of recent clashes has increased the PKK's popularity among the Kurdish population, who regard the group as the only one to protect its interests.
"What can people do? If they defend themselves they are terrorists [and] if they don't, this continues for another 30 years," Tara Fatehi, a Kurdish activist living outside Turkey, told IBT.
Despite the Turkish government's crackdown, Kurdish militias in Turkey have showed no signs of pulling back their operations. Last month, senior PKK leader Duran Kalkan warned that March would be the beginning of a "Kurdish Spring" that would see an increase in attacks.
"We have seen this rage in Ankara. This might be [the start of] a thousand [bombings], not a single one," Kalkan said in an interview with Firat News Agency (ANF).
As the winter months have faded, militants have followed through on Kalkan's threat. In mid-March, a car bomb exploded in the Turkish capital of Ankara killing at least 37 people and injuring dozens more. One of the two attackers was suspected to be a 23-year-old female PKK member. Last week, another suspected PKK car bomb exploded in Diyarbakir province, a predominantly Kurdish area in Turkey's southeast, killing at least three military police officers and injuring at least 20 others.
But the multiplying spasms of violence within Turkey has garnered less attention than the fight against ISIS, which continues to dominate the front pages of international news. This is in part because of the West's complicated relationship with Kurdish groups in the region: While the PKK is considered a terrorist group by the EU and the U.S., the group is also aligned with Syrian Kurdish militias who have been some of the most successful forces on the ground fighting ISIS. The result, Kurdish activists say, is that their suffering is largely ignored.
"No international government has come out in support of the [Kurdish] people ... who are literally being massacred; even just to bring some light to the situation," Fatehi said. "Of course Turkey will continue to do what it does while there is absolutely no backlash or consequences."
© Copyright IBTimes 2023. All rights reserved.