Turkish Opposition Parties Boycott Opening of New Parliament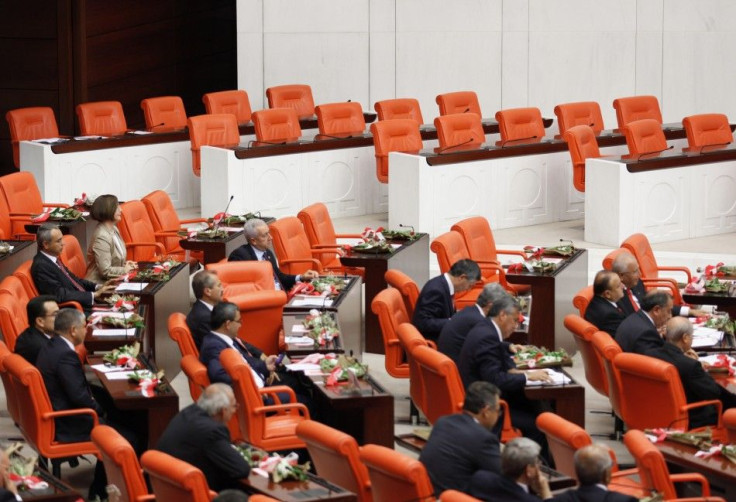 Two of Turkey's biggest opposition parties have decided to boycott the swearing-in ceremony of the new parliament in a protest against colleagues who were jailed after winning seats in the recent elections.
With the absence of members of The Republican People's Party (CHP) and the pro-Kurdish Peace and Democracy Party (BDP), almost one-third of elected candidates skipped the ceremony, dealing a blow of Prime Minister Recep Erdogan's vision of a unified parliament.
Only the ruling Justice and Development Party (AK Party) and the Nationalist Movement Party (MHP) attended the ceremony.
On June 12, Erdogan's AK Party won an unprecedented third straight electoral victory, buoyed largely by Turkey's economic resurgence.
We will not take the oath unless the way is open for all our deputies to take the oath, Kemal Kilicdaroglu, the CHP leader, said.
The BDP party members, who have six of their colleagues in jail, are holding their own ceremonies and meetings in Diyarbakir, in Turkey's heavily Kurdish southeast.
"We will hold our parliamentary group meetings every week in Diyarbak?r and we will not go to Parliament unless solutions to the problem emerge," said Gülten K??anak, one of the elected BDP deputies, in a statement.
AK Party officials have sharply criticized the boycotters.
AK Party's Deputy Chairman Salih Kapusuz warned that the CHP leader Kemal K?l?çdaro?lu was committing a "constitutional crime" by his actions.
"This is an open threat by K?l?çdaro?lu against courts that made these decisions. This is a breach of the Constitution by a political party," he told Turkey's Today's Zaman newspaper.
Also, Suat K?l?ç, deputy chairman of the AK Party parliamentary group, told Today's Zaman: "Erdo?an cannot order judges to issue verdicts to the liking of the CHP and the BDP. "They should put out in the open what exactly they want instead of putting the ball in our court with vague demands."
Still another AK Party official, Mehmet Dömaç, called the CHP and the BDP hypocrites.
"They triggered this crisis, and now they want us to fix it for them," he said, according to Today's Zaman.
"It is up to them whether they swear in or not. It is not the end of the world."
© Copyright IBTimes 2023. All rights reserved.