Twitter Inc. Q4 2015 Earnings: Active User Growth Actually Dropped, Revenue Expectations Simply Met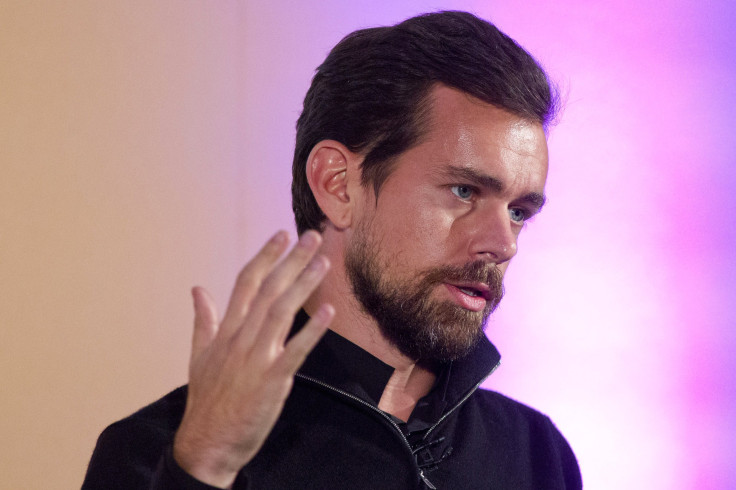 Twitter has simply stopped growing. That was the bombshell dropped, for the first time, in a filing with the Securities and Exchange Commission along with earnings on Wednesday, a revelation that casts a darker pall over the future of the short messaging service and renders all other numbers mostly irrelevant.
Twitter remained squarely at 320 million monthly active users in the quarter that ended in December, and if that sounds familiar, that's because it is: It's the same number of users Twitter reported in October.
But it gets worse: When you exclude the SMS users — those who use the service on feature phones — Twitter's numbers were at 305 million. That's a drop from 307 million monthly actives announced in October. The stock, which has been setting record lows all week, initially dropped by 11 percent after the earnings release in after-hours trading on the New York Stock Exchange, before rebounding and climbing higher.
It was almost as if admitting the problem is the first step toward trying to fix it.
"We saw a decline in monthly active usage in Q4, but we've already seen January monthly actives bounce back to Q3 levels. We're confident that, with disciplined execution, this growth trend will continue over time," the company said in the SEC filing.
Aside from dismal user numbers, Twitter did fine from a financial standpoint, reporting a net loss of $90 million and $710 million in revenue, a 48 percent increase from last year, primarily driven by a boost in mobile advertising. Both numbers met or beat average estimates of a $118 million loss and $709.9 million revenue, according to analysts polled by Thomson Reuters.
But the story with Twitter, as always, is user growth or lack thereof, and that's why Twitter has made such significant changes in the last quarter. Most notably, on Wednesday morning, Twitter released an update that allows users to see personalized tweets first rather than a reverse chronological stream. The change is intended to draw more light users into the Twitter world more arbitrated by algorithms, like Facebook.
In the future, Twitter plans to iron out all the little idiosyncrasies that power users have mastered but are insrutable to newbies. "Twitter is an iconic service and a globally recognized brand. We are going to fix the broken windows and confusing parts, like the .@name syntax and @reply rules, that we know inhibit usage and drive people away," the SEC filing reads. "Relentlessly refining Twitter will enable more people to get more out of Twitter faster."
"I don't know how they're going to spin this unless they have a solid concrete plan that will make this a more vibrant product so that the monthly users start to climb. The hardcore users you don't care about them really. It's those people at the margin," said Kim Forrest, vice president and senior equity analyst at Fort Pitt Capital Group.
Twitter highlighted that some of the drop of users was driven by those who were not as engaged in the social network. The number of daily active users was stagnant over the quarter, noted Chief Financial Officer Anthony Noto. "Users that we lost are not as high quality," he said.
But overall for Twitter, it's not just about issuing clarification on statistics. Dorsey rolled out a five-point plan: iterating on the main product, live-streaming video, supporting creators, prioritizing safety and its relations with developers.
Dorsey told investors that he sees Twitter as a leader in live video. "We're focused now on what Twitter does best. Live. Twitter is live," Dorsey said. "Twitter has always been considered a second screen for what's happening in the world, and we believe we can become the first screen for everything that's happening right now."
In part of that effort, Twitter brought Periscope CEO Kayvon Beykpour to the executive team. Twitter has been working to better integrate the main app and Periscope, most recently by showing auto-play videos of Periscope streams on the Twitter feed.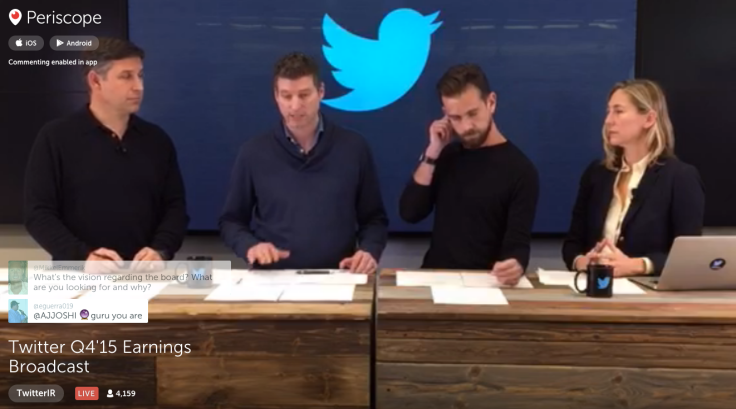 Making big changes the day of or just prior to an earnings call isn't uncommon for Twitter. On the day of first-quarter earnings last year, Twitter announced its acquisition of TellApart, a marketing technology company, and a deal with Google's DoubleClick.
And Twitter is still building off those technologies to grow its ad businesses. In 2016, Twitter also added new ad products, such as conversational ads (videos with a call to action) and first view (takeover of homescreen).
Mobile advertising is now 86 percent of Twitter's total ad revenue. The company is also seeing more use of video, with 33 percent of its currently managed clients releasing video ads, noted Chief Operating Officer Adam Bain.
Dorsey has been attempting a turnaround at the company since he took the CEO role on an interim basis back in June. Yet, in that time, the stock has fallen to $15 from $35 per share, far below its $26 IPO price.
Twitter Inc. (TWTR) Stock Price | FindTheCompany
Still, advertisers may not be convinced to use Twitter anymore without an audience. Facebook offers a much larger group of 1.59 billion monthly active users. Facebook's Instagram, Messenger and WhatsApp also outshine Twitter with 400 million, 800 million and 1 billion monthly active users, respectively.
Growth and revenue across Twitter's products, Periscope, six-second-video app Vine and Moments, the human curation of tweets for live events within the main Twitter site, are also in question. Mark Mahaney, an analyst of RBC Capital Group, asked about the usage of Moments on the earnings calls.
Moments has seen significant traction when they were shared as tweets, but Dorsey admitted some disappointment in the core experience. "On the Moments tab, specifically, we think we can do a lot more work there," he said.
Twitter is also looking to do more recruiting in the next year. For now, Chief Technology Officer Adam Messinger is overseeing engineering, design and consumer products, and Dorsey said they are looking to hire more people in leadership roles under him.
Additionally, Twitter has plans to recruit new members to its board of directors. According to a Re/code report, TV producer Shonda Rhimes, media personality Oprah Winfrey and rapper Kendrick Lamar have been suggested. Dorsey did not share names but said, "We want a board that continues to represent the best of Twitter.|"
© Copyright IBTimes 2023. All rights reserved.