Twitter Shares Slump As Stock Lock-Up Expires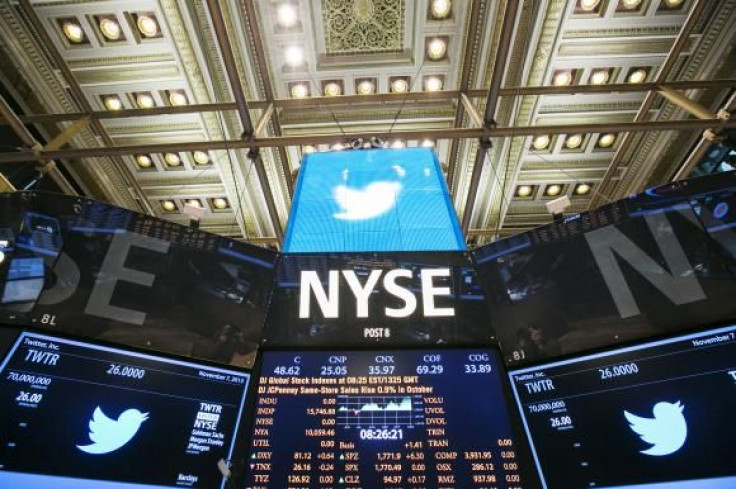 (Reuters) - Shares of Twitter Inc. fell more than 12 percent in morning trading on Tuesday after the expiration of a six-month "lock-up" period for early investors that had restricted the sale of about 82 percent of the company's equity.
Twitter's shares hit a low of $34 on the New York Stock Exchange, the first time they have fallen below $37 since they started trading on Nov. 7. Over 6 million shares had changed hands by midday - four times the average daily volume.
Twitter's IPO was priced at $26 per share.
The reaction to Twitter's lock-up expiry was in sharp contrast to that of Facebook Inc in late 2012.
Facebook shares jumped 13 percent on November 14, 2012 when its lock-up expiry of roughly 800 million shares did not trigger an immediate wave of insider selling.
Twitter's lock-up involves about 470 million shares.
"The move is bigger than expected and is indicative of the negative investor sentiment towards Twitter right now," Atlantic Equities analyst James Cordwell told Reuters.
Twitter's shares have been trading an all-time lows since April 29 when the company disclosed sagging usage metrics.
Twitter has comfortably hit its revenue targets in the two quarters since it went public. But concerns about user growth and engagement levels have wiped out about half of the company's market value - or more than $18 billion - since late December.
Before Tuesday's drop, the company's shares were trading at 323 times forward earnings per share, according to Thomson Reuters StarMine. Facebook trades at about 39 times.
"I am starting to think that sentiment might have got too negative, but I don't see anything that can turn this around in the near term," Cordwell said.
The largest holder of Twitter shares, private equity firm Rizvi Traverse, has no intention to sell upon the expiration of the lockup, a person familiar with the matter said on Friday.
Rizvi Traverse, which owns about 85.2 million Twitter shares, could not be reached for comment on Tuesday.
Twitter co-founders Jack Dorsey and Evan Williams and Chief Executive Dick Costolo said in April that they did not plan to sell shares after the restrictions were lifted.
Venture capital firm Benchmark, which holds a roughly 6 percent stake, has also said it would not sell its stake.
But other major shareholders could see an opportunity to cash out, given that none of Twitter's insiders sold their shares during the IPO.
Large shareholders include venture capital firms Lowercase Capital, Union Square Ventures and Spark Capital. Spark declined to comment, while the others could not be reached.
Many tech companies have a lock-up clause to prevent holders from flooding the market as soon as the company goes public.
Twitter allowed one batch of shares to be sold in February, but that lockup governed only about 10 million shares, most of which were held by non-executive employees.
© Copyright IBTimes 2023. All rights reserved.
FOLLOW MORE IBT NEWS ON THE BELOW CHANNELS