Uber Banned In Germany: Cab-Hailing Service Could Face Fines Of $328K Per 'UberPop' Trip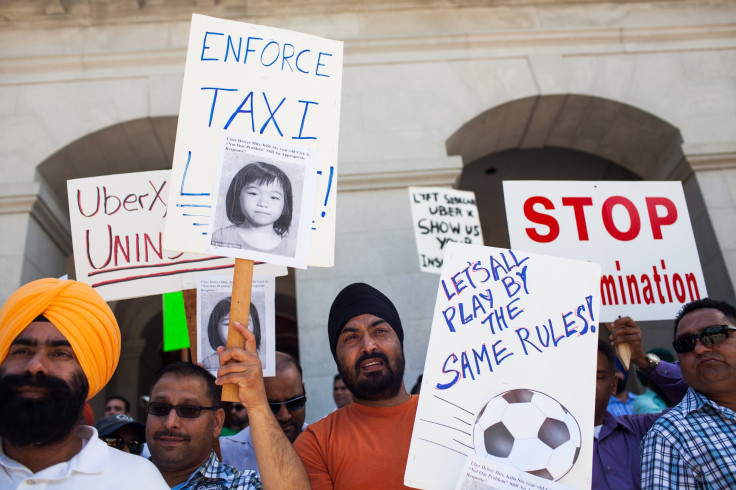 A German court on Tuesday imposed a nationwide ban on UberPop, Uber Technologies Inc.'s cab-hailing app. The San Francisco company could face massive fines if it attempts to continue to operate in opposition to a court-imposed temporary injunction.
Frankfurt regional court ruled that Uber lacked the necessary licenses to continue to operate its UberPop app in Germany. If Uber continues to operate, it could face fines of up to €250,000 ($328,225) per trip, the Wall Street Journal reports. UberBlack, the company's chauffeured limousine service, will not be affected by the ruling.
The German court acted in response to pleas from Germany's domestic taxi industry, the Financial Times reports. Officials within the industry alleged that Uber operates in violation of national passenger transport legislation.
"The Passenger Transport Act regulates the protection of drivers and consumers," Taxi Deutschland chairman Dieter Schlenker said in a statement. "That can't easily be overturned no matter how neoliberal the company… Uber operates with billions in cash from Goldman Sachs and Google, wraps itself in a start-up look, and sells itself as a new economy savior."
Taxi Deutschland claimed that UberPop, which facilitates a process by which any licensed driver over 21 can use his/her car to transport passengers, represented a "form of locust share economy" that could place customers in danger, the BBC reports.
"In Germany there's insurance that applies to private drivers," Taxi Deutschland spokeswoman Anja Floentenmeyer said in a statement. "But if your insurer learns that you are driving for an app and you want to make money on that, they say this is a multiple risk and refuse to [pay] insurance on that."
Germany's nationwide ban on Uber was announced after similar measures were taken against the company in the cities of Berlin and Hamburg. However, an Uber spokesperson said on Tuesday that the company plans to continue its cab-hailing service, stating that the ban – and any potential fines – cannot be enforced while an appeal is underway.
"Germany is one of the fastest-growing markets for Uber in Europe," the spokesperson said in a statement. "We will continue to operate in Germany and will appeal the recent lawsuit filed by Taxi Deutschland in Frankfurt."
"You cannot put the brakes on progress. Uber will continue its operations and will offer UberPop ridesharing services via its app throughout Germany," the spokesperson added.
© Copyright IBTimes 2023. All rights reserved.
FOLLOW MORE IBT NEWS ON THE BELOW CHANNELS