Ukraine Accuses Russia Of Invading Country While Putin Adviser Says Russia's Action Amounts To 'Invasion'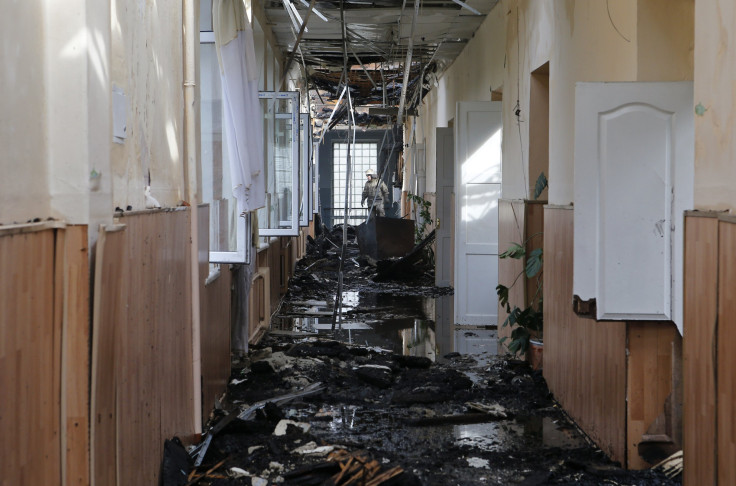 Update as of 8 a.m. EDT: A senior NATO official has said that there are over 1,000 Russian troops operating inside Ukrainian borders, BBC reported.
Update as of 7:15 a.m. EDT: Russia is carrying out an invasion in Ukraine, Ella Polyakova, a member of Vladimir Putin's advisory council on human rights, reportedly said.
"When masses of people, under commanders' orders, on tanks and troop carriers, and with the use of heavy weapons, [are] on the territory of another country and cross the border, I consider this an invasion," she told Reuters.
Meanwhile, Ihor Prokopchuk, Ukraine's ambassador to the Organization for Security and Cooperation in Europe, or OSCE, accused Russia of a "direct invasion" in eastern Ukraine, BBC reported. Russia's permanent representative to OSCE, Andrey Kelin, however, denied that Russia was involved in "Ukraine hostilities," Russian news agency ITAR-TASS reported.
The United States also reacted to reports of Russian troops entering Ukraine, calling Moscow's denial "offensive and absurd."
"Despite the international community's calls for peace, Russia continues to escalate tensions with activity that is extremely dangerous and provocative," Daniel Baer, the U.S. Ambassador to the OSCE reportedly said.
The Russian military has invaded and seized control of the strategically located Ukrainian port town of Novoazovsk, Ukraine's National Security and Defense Council, or NSDC, reportedly said on Thursday. "A counter-offensive by Russian troops and separatist units is continuing in south-east Ukraine," the council reportedly said, in a post on Twitter.
Novoazovsk, which lies along the road connecting Russia to the Black Sea peninsula of Crimea, has reportedly been under intense shelling for three days, and pro-Moscow rebels are said to have entered the town late on Wednesday. Ukrainian President Petro Poroshenko, meanwhile, canceled his scheduled trip to Turkey and convened an emergency meeting of the NSDC to discuss the deployment of Russian troops in Ukraine.
"I have made a decision to cancel my working visit to the Republic of Turkey due to sharp aggravation of the situation in Donetsk region, particularly in Amvrosiivka and Starobeshevo, as Russian troops were actually brought into Ukraine," Poroshenko said, on the presidential website.
Andriy Lysenko, a spokesperson for the Ukrainian military, told The Washington Post that government forces were battling forces made up of separatists as well as Russian troops around the border of the town. He also added that Russian troops were increasing surveillance of the region from their base in northern Crimea.
The reports of the alleged Russian invasion come just two days after talks between Ukrainian President Petro Poroshenko and his Russian counterpart Vladimir Putin in Minsk. The rebels are now reportedly advancing toward Mariupol in the west and have vowed to "liberate" it, BBC reported Thursday.
If successful, it would give pro-Moscow separatists control over the entire Sea of Azov as well as access to the gas and mineral riches that energy experts believe it contains, Associated Press, or AP, reported. Ukraine has already lost about half of its coastline and significant Black Sea mineral rights when Russia annexed Crimea in March.
Earlier on Thursday, a pro-Russian rebel leader belonging to the self-proclaimed Donetsk People's Republic reportedly admitted in an interview to a Russian TV news network that 3,000 to 4,000 Russian "volunteers" are fighting alongside the rebels in eastern Ukraine.
"Many former high-ranking military officers have volunteered to join us. They are fighting with us, considering it to be their duty," the rebel commander named Alexander Zakharchenko reportedly said. "There are also many serving soldiers in the Russian military who would rather take their vacation not on a beach but with us, among brothers, who are fighting for their freedom."
© Copyright IBTimes 2023. All rights reserved.