Ukraine Set For New Cabinet Amid Growing Infighting, Stymied Reform Agenda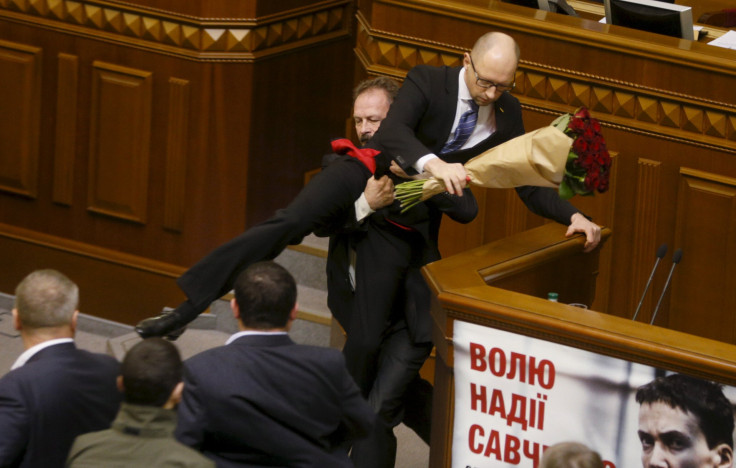 MOSCOW — On Sunday, Ukrainian Prime Minister Arseny Yatsenyuk announced on television that he would formally submit his resignation Tuesday and the parliament would ratify it. Two days later, this didn't happen. Yatsenyuk remained in the prime minister's job.
It was the latest stay of execution for Yatsenyuk, who has twisted and turned in the face of intense political pressure from his partners in Ukraine's fragile coalition.
Two months ago, the bespectacled premier survived a no-confidence vote in the Ukrainian parliament, the Verkhovna Rada, after President Petro Poroshenko publicly called for him to step down.
The battle for Yatsenyuk's position has highlighted rising levels of infighting within the Kiev government, whose recent backsliding on its reform agenda and anti-corruption efforts has contributed to faltering economic growth, further delays to crucial loans from the International Monetary Fund and swelling popular anger.
"There is huge frustration. ... Ukraine has achieved so much in the last year and a half, but it looks like the politicians are prepared to throw it all away," said Timothy Ash, an emerging markets strategist at Japanese financial holding Nomura International in London.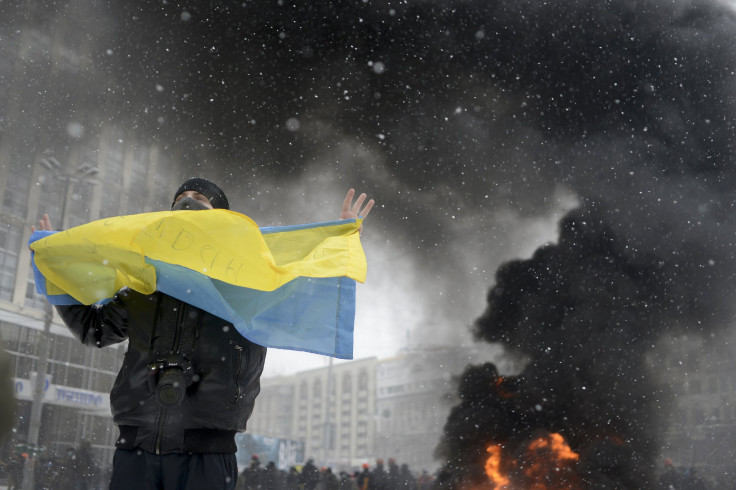 As negotiations over a new prime minister and Cabinet appeared to near conclusion Wednesday, Yatsenyuk's days in Ukraine's second most important political position are almost certainly numbered. Prosecutors confirmed Tuesday the existence of a criminal case over a $3 million bribe he allegedly received in return for a state media company appointment.
Yatsenyuk's fall is a watershed moment in the two years since bloody street demonstrations toppled the pro-Russian regime of Viktor Yanukovych, leading to the Kremlin's annexation of Crimea and a Russian-backed insurgency in the east of the ex-Soviet country. One of the leaders of the 2013-2014 protest movement, Yatsenyuk, a fluent English speaker, was swept to the head of the country's pro-European government and has worked as a key interlocutor with the West.
U.S. Vice President Joseph Biden spoke to Yatsenyuk on Sunday to thank him for his "partnership during a historic time for Ukraine."
But reform in recent months has foundered as persistent allegations that influential billionaires are calling the shots has stoked criticism from foreign donors and undermined popular support for Yatsenyuk in particular, and the government in general.
Leading reformer Aivaras Abromavicius, a Lithuanian-born former fund manager, resigned as economy minister in February, accusing officials of blocking changes and pressuring him to appoint cronies to lucrative government positions. Prosecutor General Viktor Shokin, criticized as symbol of Ukraine's culture of corruption, was finally pushed out last month after a long period of foot-dragging from Poroshenko — but was replaced by a loyal deputy.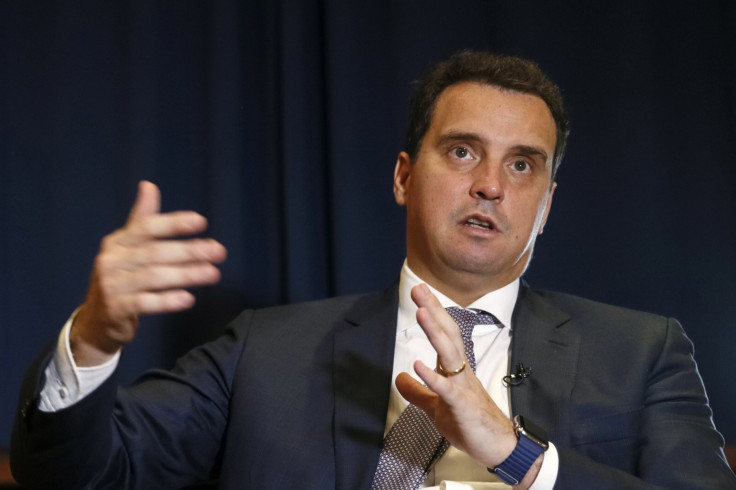 While the IMF has pledged more than $35 billion of loans to Ukraine to help avoid bankruptcy, only about $11 billion has been transferred and more money is conditional on unpopular reforms, including a tax system overhaul. Ukraine has received no money from the IMF since August.
The political paralysis appears to be damaging a recovery that many had hoped would gather pace this year after the economy collapsed by 9.9 percent in 2015. The IMF said Tuesday in its World Economic Outlook that Ukraine's gross domestic product will expand 1.5 percent this year, down from the 2 percent growth it forecast in October. The Ukrainian currency, the hryvnia, has dropped 6 percent against the U.S. dollar so far this year.
The leading contender to replace Yatsenyuk is Volodymyr Hroisman, currently speaker of the Rada and a close ally of Poroshenko.
Yatsenyuk's leadership of the People's Front party, the second biggest in parliament, gave him some political independence — but Hroisman is more directly dependent on the president. Not only is Hroisman a member of Poroshenko's party, but he is also a former mayor of the city of Vinnitsia, where Poroshenko's confectionary business empire is based.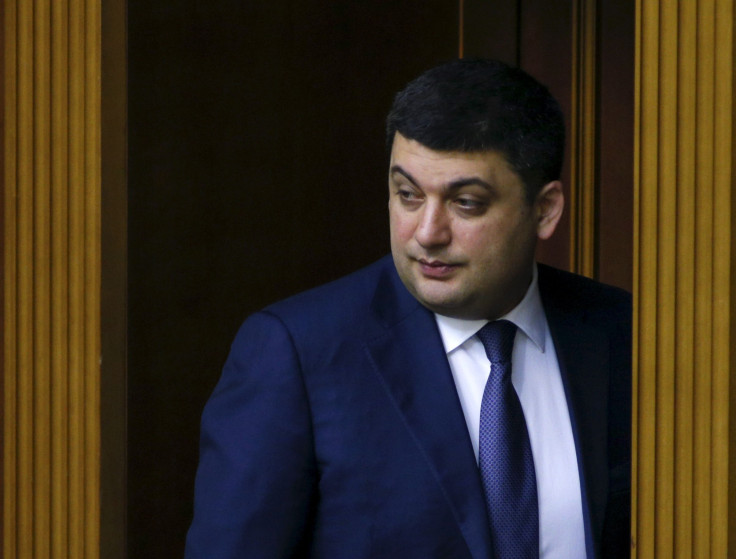 "He is a more manageable figure for the president," said political analyst Vadym Karasyov, head of Kiev's Global Strategies Institute. "Reforms will be done very slowly. … He [Hroisman] wants to build a political career and will look closely at his popularity rating."
Some Ukrainian officials voiced fears that neither Hroisman, nor the politicians being floated for his cabinet, would be capable of pushing through unpopular measures.
"The new government will probably have six months to a year in power. I don't believe in the reformist abilities of these people," Serhiy Leshchenko, an activist and parliamentary deputy from Poroshenko's party, tweeted Tuesday.
Hroisman's candidacy evoked a guardedly positive response in Moscow. Alexei Pushkov, the head of the State Duma's foreign affairs committee, said Wednesday the appointment could remove "several irritating elements," according to the Russian RIA Novosti news agency.
Relations between Moscow and Kiev crashed to a post-Soviet low in 2014 and have remained at rock bottom. Despite a ceasefire agreed last year, there are regular reports of violence in eastern Ukraine between Russian-backed separatists and troops loyal to Kiev.
Other experts warned that the elevation of Hroisman was a gamble for Poroshenko as it could focus public dissatisfaction on the president himself.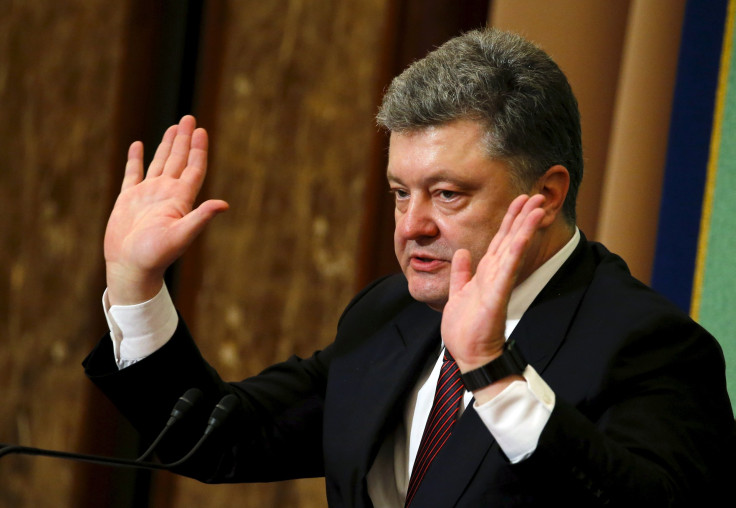 Poroshenko's international standing was knocked when the Netherlands rejected closer Ukrainian integration with the European Union in an April 6 vote. And the president faced a wave of criticism last week when documents from the Panama Papers leak suggested that he set up an offshore fund for his business at the height of the fighting in the country's east last year.
There are plenty of Ukrainian officials who do not hide their political ambitions, and who might back snap elections. The next presidential elections are scheduled for 2019. Poroshenko has been publicly challenged by the charismatic, former Georgian president Mikheil Saakashvili, who was made head of the Odessa region last year. Former Prime Minister Yulia Tymoshenko is also rumored to be seeking a return to power.
"Previously he [Poroshenko] could blame Yatsenyuk for the lack of reform, but now the buck stops with him," Ash said.
FOR FREE to continue reading
✔️ Unlock the full content of International Business Times UK for free
offer available for a limited time only
✔️ Easily manage your Newsletters subscriptions and save your favourite articles
✔️ No payment method required
Already have an account?
Log in
© Copyright IBTimes 2023. All rights reserved.