Ukrainian Woman, 59, Says Russian Officer Forced Her To Remove Top At 'Filtration Camp'
A 59-year-old Ukrainian woman recounted the harrowing ordeal of spending weeks in a "filtration camp" after leaving her home in war-ravaged Mariupol.
Identified as Olena, the woman said a Russian officer ordered her to take her top off while she was at the filtration camp in Nikolske, a town in the self-proclaimed Donetsk people's republic (DNR).
Olena was horrified when the Russian officer claimed the bruises on her shoulders could mean she was a sniper.
"I told him, I'm turning 60 years old this August. How could I be a sniper?" she told The Guardian.
The officer didn't seem to care what Olena had to say.
"I'm not wearing my glasses anyway," he reportedly told her. "Take your top off now."
After fleeing Mariupol, Olena had to spend three weeks, hungry and cold, sleeping on the floor at the camp before her turn came to be interrogated by the Russian officers, according to Business Insider. She is currently in Georgia, like thousands of other Ukrainians who had to first arrive in Russia before traveling to Georgia.
These Ukrainians could not escape Russian-occupied cities by going westward into territories still under Ukrainian control. So, having no other choice, they had to go east and enter Russia to escape the fighting. In order to enter the country, they first had to be processed at these filtration camps and were scrutinized for any links to Ukrainian nationalist groups.
Russian officers reportedly photograph the Ukrainians, interrogate them, take their fingerprints and analyze the contents of their phones. The Ukrainians are also questioned on whether they or anybody they know has served the Ukrainian army.
The filtration process ends if one can "pass" the interrogation. They are then reportedly given a stamped piece of paper with the date of their filtration. If they do not "pass," they have to undergo further interrogation.
Men at the filtration camps are also ordered to strip down to their underwear for any Ukrainian insignia.
Olena recalled how, during her interrogation, a man at the table next to her was questioned for a keyring with the image of the Ukrainian coat of arms. The man was then brutally beaten with batons by four guards, who kicked him in the head before dumping him outside. The man had no coat or hat as he was thrown outdoors in the freezing cold.
Olena, who was traveling with her 65-year-old sister Tamara and 70-year-old brother-in-law, said they were given one meal a day at the canteen for the first few days. The Russians later shut down the canteen and ordered them to find their own way to feed themselves.
While Olena is now safely in Tbilisi, Georgia, she said her goddaughter is still in Mariupol.
She "sent me photos with crosses stuck into the ground everywhere. The graves are even in our courtyards," Olena told The Guardian. "I want to go home, but that means somewhere in Ukraine not occupied by Russians."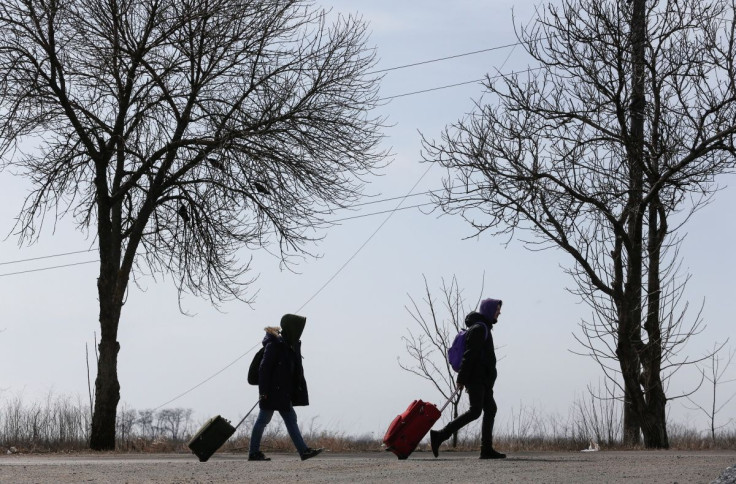 © Copyright IBTimes 2023. All rights reserved.