UN Condemns Yemen Bombing: 'Terrorists Must Be Held Accountable'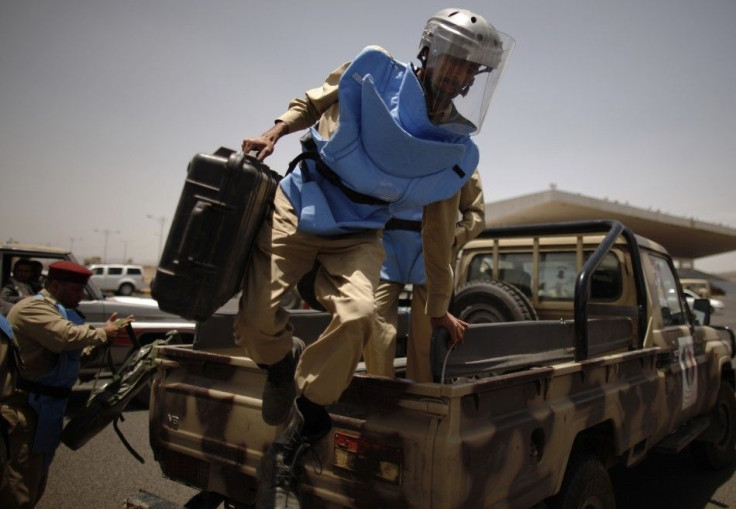 The United Nations strongly condemned Monday's suicide bombing in Sanaa, Yemen, that killed close to 100 people.
This criminal act cannot be justified by any cause, Secretary-General Ban Ki-moon stated on Monday.
Its perpetrators must be held accountable.
During rehearsals for a National Day parade, a rogue soldier detonated a bomb hidden under his uniform, killing at least 96 members of the military and injuring more than 200 others. Islamic radical groups Al Qaeda in the Arabian Peninsula (AQAP) and its affiliate Ansar al-Sharia both quickly claimed responsibility for the attack, calling it retribution for the 11-day-old military partnership between the United States and the Yemeni military in the south of the country.
"The members of the Security Council reaffirmed that terrorism in all its forms and manifestations constitutes one of the most serious threats to international peace and security, and that any acts of terrorism are criminal and unjustifiable, regardless of their motivation, wherever, whenever and by whomsoever committed," stated the council president for May, Ambassador Agshin Mehdiyev of Azerbaijan.
"The members of the Security Council reminded [member] states that they must ensure that measures taken to combat terrorism comply with all their obligations under international law, in particular international human rights, refugee and humanitarian law.
National Day is the annual commemoration the unification of North and South Yemen in 1990. But this year, Yemen has been slowly sliding toward division; taking advantage of the political instability following the resignation of President Ali Abdullah Saleh in November, an al Qaeda insurgency has laid claim to large swaths of land in the southeast, while posing a threat to the rest of the nation.
We are sad for our comrades, but al Qaeda will not scare us, Khaled al-Ansi, a soldier stationed at a street corner in central Sanaa, told Reuters. We will confront it and defeat it.
Yemen's new president, Abdrabbuh Mansour Hadi, has mobilized the army and conscripted a number of local militias to combat the threat, and the United States has joined the fight against al Qaeda, sending out regular drone strikes against military targets.
We are very concerned about al Qaeda and extremist activity in Yemen, U.S. President Barack Obama told reporters at the Chicago NATO summit Monday.
We're going to continue to work with the Yemeni government to try to identify AQAP leadership and operations and try to thwart them.
The war on terrorism will continue until it is uprooted and annihilated completely, regardless of the sacrifices, Hadi said from Sanaa on Monday.
© Copyright IBTimes 2023. All rights reserved.