Underneath Ohio
Thanks to fracking, America is the world's No. 1 oil and gas producer. But the economic bounty it delivers to small communities across the nation comes at a price. Now it's dividing friends and neighbors in one Ohio county.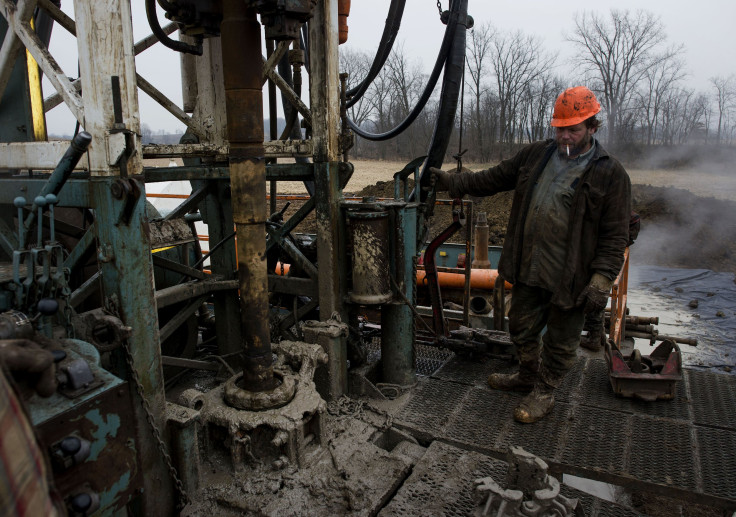 Elizabeth and John Neider's home sits on hundreds of acres of sprawling grasses and tightly clustered trees in Carroll County, Ohio. Dozens of black and brown cattle lazily roam the property, and a large white barn with green trim holds the family's dairy farm. But the view is hardly bucolic.
Just up a hill, on the same land, flat swaths of concrete house six active shale oil and gas wells. Heavy-duty trucks, burners, chimneys and oil tanks linger on the well pads, which often fill the air with "a chemical-type odor," as Elizabeth describes it. "It's sort of a stench. It burns your eyes, even."
The couple, who are in their 60s, lives in the heart of Ohio's hydraulic fracturing boom, which in recent years has transformed this quiet northeastern county into a hub of industrial activity. Amid the soybean crops and grazing cattle, 150-foot-high drilling rigs occasionally slice through the sky. Well pads as wide as superstore parking lots cut the landscape like a gray-and-green checkerboard. While many residents here champion the recent development, the Neiders say they regret the decision to allow fracking on their land.
Their financial gains from royalty checks haven't trumped their concerns that foul air is putting them at risk of illnesses like bronchitis and pneumonia, or long-term threats like cancer. They lament the industrial scars on their farmland, and worry that shale drilling and its byproducts could cause earthquake swarms and dirty drinking water in a community that faced few of these issues just a decade ago.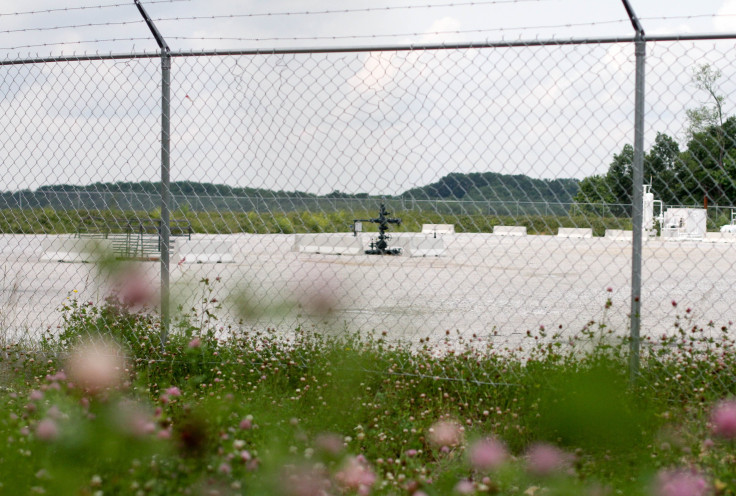 The Neiders' experience is becoming more common across vast swaths of the United States.
In the past decade, U.S. oil and gas production has exploded thanks to advances in fracking technologies and the discoveries of large oil and gas deposits in shale formations, including the Utica and the Marcellus, which run underneath Ohio and other Eastern states. Shale gas production alone surged nearly 800 percent from 2007 to 2013, from about 1.3 trillion cubic feet to 11.4 trillion cubic feet, the U.S. Energy Information Administration found in its most recent estimates.
Shale production has helped position the U.S. as the world's largest producer of both crude and natural gas -- even beating out Russia in 2014. This year, a global oversupply of oil caused prices to plunge and has slowed new production, but the fracking wave is expected to roll for decades. In Ohio, the industry is pressing ahead with billions of dollars in investments for pipelines and natural gas compressor stations despite the temporary lapse in new drilling.
As shale production spreads into new communities, more citizens and policymakers are forced to choose between two competing narratives: fracking as an economic godsend whose downsides are being hyped by anti-business agitators, and fracking as a threat to health and environment.
Many of the Neiders' neighbors have welcomed the surge of shale drilling in Carroll and surrounding counties. In an area where farms, schools and hospitals supply the bulk of employment, the energy boom delivered an unexpected boost in the midst of the recent economic downturn. Landowners earning generous royalty checks for leasing to fracking operators are renovating their homes, paying off debt and buying new farming equipment. Municipalities are repairing roads and upgrading equipment.
Ohio regulators insist their stringent rules and frequent monitoring efforts have limited harmful air emissions and potential groundwater contamination from fracking and related activities, including wastewater disposal wells. Industry groups say producers are safely developing the fossil fuel reserves, and they note that research on fracking's environmental and public health impact is still early.
"Our primary job is to protect public safety and the environment, while also allowing a balance of energy production and jobs created here in Ohio," says Eric Heis, a spokesman for the Ohio Department of Natural Resources, which regulates the oil and gas industry. "We're doing a very good job."
Natural gas production is more than an economic driver; it's also a central part of President Barack Obama's strategy for tackling climate change.
Natural gas produces half as much carbon dioxide as coal when burned in a power plant, and about one-fourth fewer carbon emissions than gasoline per unit of energy. But the fuel is also a major source of methane, a greenhouse gas even more potent than carbon. When methane escapes from leaky drilling wells and pipelines, it can actually be worse for the climate than coal, researchers say.
Environmental groups say fracking may also pose a threat of toxic air pollution, which can lead to the kinds of health hazards that Elizabeth Neider says she fears. "Breathing is sort of important to me," she adds, with a hint of sarcasm.
Her concerns aren't unfounded. Scientists in May said people who live and work near Carroll County's gas wells are potentially exposed to toxic pollutants at levels higher than the U.S. EPA considers safe for long-term exposure. The pollutants, known as polycyclic aromatic hydrocarbons, include some that are linked with increased risk of cancer and respiratory ailments, researchers from the University of Cincinnati and Oregon State University found.
Their research is ongoing, and the scientists continue gathering samples. "I'll be real interested to see what they find," Neider says. "The air quality here is not the pure country air that most of the residents think it is."
The Ohio Environmental Protection Agency did not respond to questions about the findings.
Fracker's Remorse
The Neiders say they hadn't given much thought to oil and gas drilling until they found themselves in the middle of a bonanza.
The couple initially leased nearly 600 acres in 2006 to Anschutz Exploration Corp. under a five-year contract for $30 an acre. Energy companies had scouted the region before, but little drilling activity actually ever occurred. At one point, Chesapeake Energy Corp. took over the lease, and in April 2011, a month before it was set to expire, the company notified the couple it would renew the contract, at a higher per-acre price. The Neiders pushed to limit fracking activity on their land to 160 acres.
Since fracking began on their land four years ago, monthly royalty payments have totaled in the thousands of dollars, though the amount varies widely from check to check, Elizabeth Neider says.
"The landmen always said, 'Everything that troubles you will all disappear when you receive that first royalty check,'" she recalls. "For a lot of people in the county, it did. For us, it didn't. I will never forget the pit in the bottom of my stomach when they dropped that bulldozer blade and cut the first well pad."
The first few months of drilling saw an endless stream of trucks and tankers arrive on the Neiders' property. Low whitish clouds hung over the well sites, and the ground rumbled. In the fracking process, millions of gallons of water, sand and a proprietary mix of chemicals are blasted into shale formations to crack open rocks and free up the oil and natural gas reserves. Once the wells are tapped, much of the bustle subsides, save for the occasional fumes and remaining equipment on the well pads.
The experience hasn't been all negative for the Neiders. The royalty checks have allowed the couple to downsize their dairy operation from around 60 cows to about 40, meaning less arduous work for the couple. "We're not planting as much corn because we don't have as many cows to feed," Neider says. The couple also donates more to the local Future Farmers of America program and youth camps. "That's been the one good thing. We've donated a lot," she says.
Yet in hindsight, she says she wishes they had fought to break the lease with Chesapeake. On top of air-quality fears, the welcome sense of isolation the farm once gave them is gone. Landmen sporadically show up scouting for new shale reserves or places to bury natural gas pipelines. The dense forests and fields her son hunted on in his youth transformed into a semi-industrial landscape in his early adulthood.
"A lot of our government officials, they're just happy with all the tax money that's rolling in because of the oil and gas," she says. "But I don't think they're looking down the line to what it's going to be like here in the future."
Waiting For 'Christmas Morning'
In Columbiana County, some 30 miles northeast of the Neiders' farm, landowner Tom Blocksom says he's eagerly waiting for fracking to begin on his property.
Blocksom, 63, raises beef cattle with his wife in the village of Columbiana, an area similarly characterized by soybean crops, hardwood forests and undulating pastures. The Blocksoms and dozens of other landowners in the area have leased their land to energy companies for between $1,500 and $5,800 an acre; Blocksom says his lease is in the middle of that range.
Plans to drill on his property have stalled amid the nationwide slowdown in fracking activity. Plunging U.S. oil prices, which dropped to almost $40 a barrel in August from $100 a barrel last year, are forcing producers to hit pause on expensive shale projects. Ohio's industry will likely rebound once oil prices recover, energy experts say.
When drilling picks up again, a well pad will go directly on the Blocksoms' property, and the couple will earn monthly royalty checks until the reserves run dry.
"Nobody wants to act giddy, but I think everybody is pretty darn excited," Blocksom says. "It's like we're waiting for Christmas morning."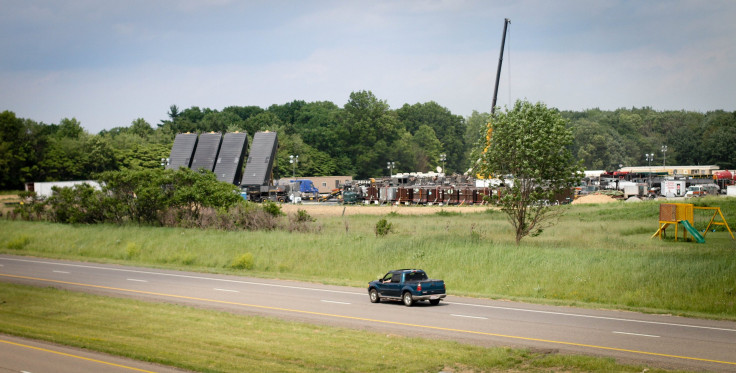 The Blocksoms have already used their initial lease payments to add a garage and sunroom to their house. The town is bustling with fixer-upper projects, shiny new trucks and upgraded tractors and tillers -- signs that residents are spending their extra income. The spending surge has meant more work for local craftsmen and supply store owners.
"The oil and gas industry has been one of the most effective economic drivers helping Ohio recover from the Great Recession," says Shawn Bennett, executive vice president of the Ohio Oil and Gas Association in Columbus, the state's capital.
Nearly 200,000 Ohioans work in the oil and gas sector and related industries, although the fracking boom hasn't dramatically expanded the state's permanent workforce. Many rig workers here hail from Texas, Oklahoma and Louisiana, and they leave when projects are done.
"Everybody thought this was going to bring large employment to the area," says Mike Mancuso, the executive director of a business development center in Salem, a town in Columbiana County. "At the end of the day, it's a wildcat industry."
Even so, the rise of shale drilling is "putting money into the economy," he adds. Salem's utility department, which is leasing land to developers, used some of the oil-and-gas money to finance a new firetruck. Salem's city center packs warehouses, big-box retailers and shopping strips, but its largest employer is the regional hospital.
"We run a very tight budget, and when you get those windfalls, you can go down your wish list and do the things you normally wouldn't do," Mancuso says. "Most communities are doing the same thing."
Across the state, shale leases have generated more than $1 billion in royalty payments to Ohio landowners. In the last four years alone, energy companies have attracted more than $24 billion in planned investment for new drilling projects and related infrastructure, including natural gas compressor stations, processing plants and intrastate pipelines.
Blocksom argues the economic benefits of Ohio's shale industry outweigh any potential damage to the environment. He says the industry's critics are exaggerating the threat. Still, the cattleman acknowledges that a spill or leak could potentially happen on his own property in a complex operation like fracking.
"It's a business; things happen. It's a risk that we all take," Blocksom says. "And I think it's a worthwhile risk."
Troubled Waters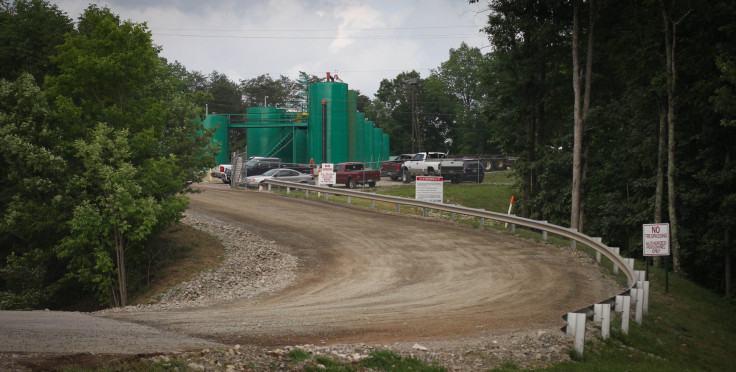 Ohio's growing fracking debate extends beyond the drilling rigs and gas wells.
In the rolling hills of Athens County, along Ohio's southeast border with West Virginia, the main energy-related fight is over wastewater injection wells -- the underground chambers that store millions of gallons of fluid from oil and gas production.
Loran Conley, 61, lives about a mile from a large injection well in the town of Torch. Her house is nestled deep in the woods on her 100-acre property, which is surrounded by horse ranches and farms. Every day, beyond the sanctuary of her land, dozens of rumbling red and silver tanker trucks bring wastewater from drill sites in northern Ohio, West Virginia and Pennsylvania to a row of towering green storage tanks owned by K&H Partners LLC.
Most of the fluid here comes from fracking operations, which involve blasting shale rocks with somewhere between 2 million and 8 million gallons of water, much of which flows up to the surface. Conventional drilling also produces wastewater, a salty brine that naturally surges up with oil and gas. Companies say the cheapest and easiest way to dispose of the water is by injecting it deep underground.
Injection wells contain harmful substances -- including benzene, heavy metals and radioactive compounds -- that are known to cause cancer and other illnesses if consumed in large quantities or for long periods of time. Federal and state officials and geologists say the dumping poses a minimal risk to human health. A recent report by the federal EPA found the fracking process itself has, in some cases, contaminated drinking water, although the report didn't examine injection wells.
Water pollution isn't the only environmental concern. Wastewater disposal is largely to blame for dozens of recent earthquakes in Ohio, as well as hundreds of temblors in Arkansas, Oklahoma, Texas and other energy-rich states, multiple studies have confirmed.
The K&H site near Torch is the largest in Athens County. The property -- which gives off an acrid stench, like gas station fumes -- sits just off Route 50, a four-lane highway that residents take to get to work or run errands. Once a thriving farm hub, Torch shrank after the railroad closed decades ago. Now it's a quiet community of far-flung houses, with only a mobile trailer for a post office, and no ZIP code of its own.
Conley says she's worried that chemicals from the injection wells could seep into her drinking water supplies, exposing her to cancer-causing compounds with every sip or shower. She's already filtering out C8, a material in Teflon that a nearby Dupont chemical plant dumped into the Ohio River, poisoning her groundwater wells.
Conley recently retired after working 30 years at the Verizon Corp. office in Parkersburg, West Virginia, and spends much of her time in her makeshift artist studio and vegetable garden.
"I don't think it's going to take much to get their contaminants into my well water," she says, seated in her airy living room. "If there's benzene and all this other stuff in there … I'll have to pay to have water pumped in, or brought in cisterns and vats."
Unlike in Ohio's drilling-rich counties, landowners here aren't flush with royalty payments. Only the state, which collects revenues from each wastewater injection, and the well operators benefit directly from the practice -- a distinction that angers some residents.
"If the governor or the oil magnates in Cleveland would like to put it [wastewater] in their yard, that would at least be fair," says Dick McGinn, a retired Ohio University professor, who was attending a recent climate change rally on OU's tree-filled red brick campus. "What's not fair is to send it all down here and give it to us."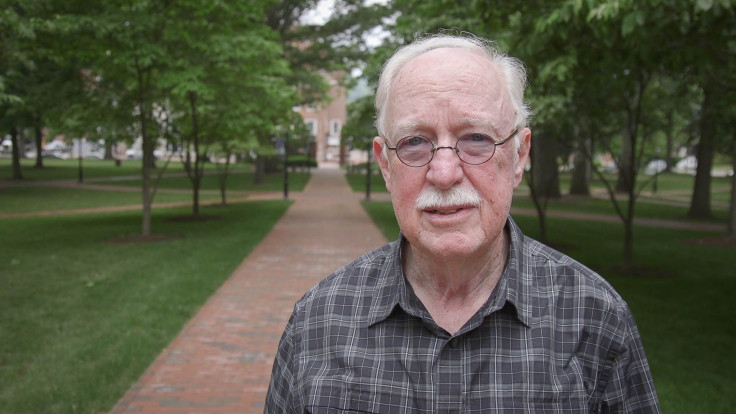 Ohio regulators say the wells are securely built and regularly inspected to prevent leaks like the ones Conley fears. Injection wells have never contaminated the groundwater in Ohio, said Eric Heis, the spokesman for the Department of Natural Resources. However, a handful of surface-water spills have occurred around the wells in recent years, Heis noted.
Jeff Harper of K&H Partners LLC did not return requests for comment.
Jim Rodgers, who lives in Little Hocking, near Athens County, says he's confident K&H is safely maintaining its injection wells. "If they hold up to the standards they say they are, then I would want to believe that what's going back in would be good stuff," he says.
Rodgers works at the Dupont plant in West Virginia. On a recent afternoon, he was tearing up floorboards and ripping out door frames at a four-pew chapel near a highway rest stop in Torch. Around the corner stood the cluster of green K&H storage tanks. As tanker trucks whizzed along an adjacent road, Rodgers explained his church congregation is restoring the Healing Chapel, which claims to be Ohio's smallest church.
He believes fracking "is a good thing, especially for this area," he adds. "We're the Appalachia, and everybody sees us as the poor, barefoot and pregnant people that can't afford anything. And that's not really the case."
Conley, the Athens County homeowner, says she's skeptical the injection wells are as safe as advertised. So far, she's spent $1,000 out of pocket to have her water wells analyzed. That way, if chemicals do seep into her aquifers, she'll have the proof. A recent test confirmed that hasn't happened yet.
A Fight For Rights
Spurred by her concerns, Conley has joined with other local activists to fight against what they call the encroachment of oil and gas companies into the Appalachian region. Their group helped put an initiative on this November's ballot to ban future disposal of oil-and-gas wastewater in Athens County. Voters in Meigs and Medina Counties in Northeast Ohio will take up similar measures this fall.
The pushback mirrors a broader movement growing in California, Texas, Oklahoma and other states where residents and city officials say they feel powerless to stop the spread of fracking activity in their communities.
The Ohio ballot measures involve adopting a "Community Bill of Rights" -- a government charter that asserts citizens' rights to clean air and water. Activists argue the risks of water pollution, dirty air and earthquakes from fracking activity imperil the quality of life for Ohio residents.
"All the people that are initiating these things, they feel like the [state] government is no longer protecting their community, their right to life. So they're doing it themselves," says Tish O'Dell, who heads the Ohio chapter of the Community Legal Environmental Defense Fund, the organization driving similar campaigns nationwide.
Activists are facing an uphill battle with the measures.
The Ohio Supreme Court ruled in February that the Department of Natural Resources – not municipalities -- has "exclusive authority" over decisions about how to approve, permit and regulate oil and gas activities. In March, a Cuyahoga County judge overturned a voter-approved fracking ban in Broadview Heights, a Cleveland suburb that adopted the Bill of Rights strategy in 2012.
Conley says the clampdown on local anti-fracking measures has had a chilling effect among activists in Athens County. "A lot of people here either burned out or got scared," she says.
She recalls how last year, around three-dozen people met regularly to discuss injection wells at the public library in Coolville, a nearby village whose main street is lined with blighted homes with cracked windows, faded red-brick churches and quiet school buildings. "If the state's against us, what are you going to do?" Conley asks, frustrated.
McGinn, the retired OU professor, says he's more optimistic about the anti-fracking and injection well campaign.
He hopes the emphasis on citizens' rights to clean air and water will encourage residents and politicians to reconsider the state's top-down regulatory approach. Throughout the summer and fall, campaigners will canvas tens of thousands of homes and community centers to secure votes for their countywide initiatives.
"Either we live in a free country or we don't," McGinn says. "As we keep making that point, doors open, things change."
Update, 8/14/15: Residents in Athens, Fulton and Medina counties will not be voting this November to amend their county charters to ban fracking or wastewater disposal inside their borders, Ohio Secretary of State Jon Husted said. In a letter to the boards of elections in the three counties, Husted said the Ohio courts already decided that only the state has authority to regulate oil and gas activity.
© Copyright IBTimes 2023. All rights reserved.