Unsafe At Any Speed: Railroad industry says 85% Of Tank Cars Carrying Flammable Liquids Are Unsafe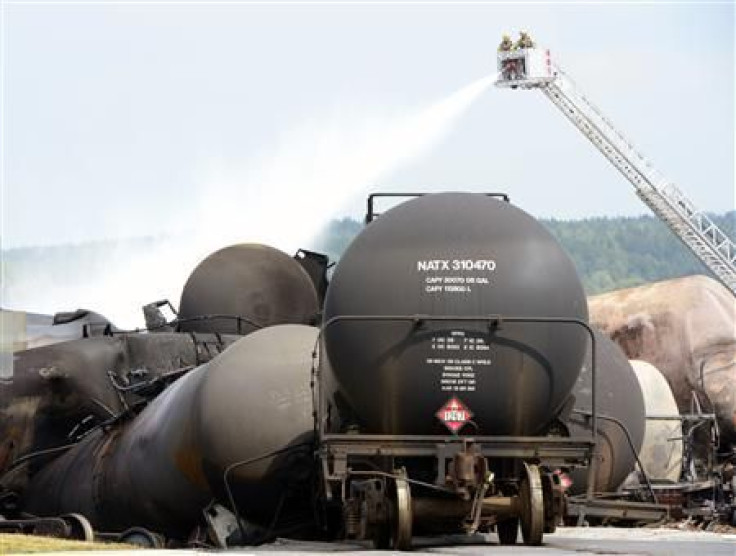 The Association of American Railroads (AAR) urged the U.S. Department of Transportation (DOT) to tighten federal tank car regulations for petroleum product shipments and said 85 percent of tank cars currently in North American service are unsafe.
The AAR suggested retrofitting or phasing out current tanker cars and urged stricter standards for new cars being built.
The industry recomendation comes as crude sullies transported by rail have reached an all-time high. A high-profile July 6 train derailment and explosion in Lac-Mégantic, Quebec, Canada, that killed 47 people also weighed on the move.
"We believe it's time for a thorough review of the U.S. tank car fleet that moves flammable liquids, particularly considering the recent increase in crude oil traffic," Edward R. Hamberger, the AAR President and CEO, said. "Our goal is to ensure that what we move, and how we move it, is done as safely as possible."
Here is a look at what AAR is recommending to the Pipeline and Hazardous Materials Safety Administration:
• Increase federal tank car design standards for new cars to include an outer steel jacket around the tank car and thermal protection, full-height head shields and high-flow capacity pressure relief valves
• Require additional safety upgrades to tank cars built since October 2011, when the rail industry instituted its latest design standards that today exceed federal requirements, including installation of high-flow-capacity relief valves and design modifications to prevent bottom outlets from opening in the case of an accident
• Aggressively phase out older-model tank cars used to move flammable liquids that are not retrofitted to meet new federal requirements
• Eliminate the current option for rail shippers to classify a flammable liquid with a flash point between 100 and 140 degrees Fahrenheit as a combustible liquid.
In September the DOT granted millions of dollars to 50 states to train and improve the nation's response to hazardous materials transportation incidents.
"Hazardous materials are transported throughout our nation every day, and most shipments arrive without incident," said Anthony Foxx, secretary of the DOT, in a statement. "But we have to be prepared for those rare instances when something goes wrong, and these grants do just that, by funding training and drills for our first responders so they can protect our families and communities."
Since 1993 more than 2.8 million emergency responders across the country have received training assistance using Hazardous Materials Emergency Preparedness grants.
The grants from the U.S. DOT's Pipeline and Hazardous Materials Safety Administration (PHMSA) are funded by annual user fees paid by shippers and carriers of certain types of hazardous materials.
© Copyright IBTimes 2022. All rights reserved.
FOLLOW MORE IBT NEWS ON THE BELOW CHANNELS