US, China Smooth The Way For APEC Meeting In November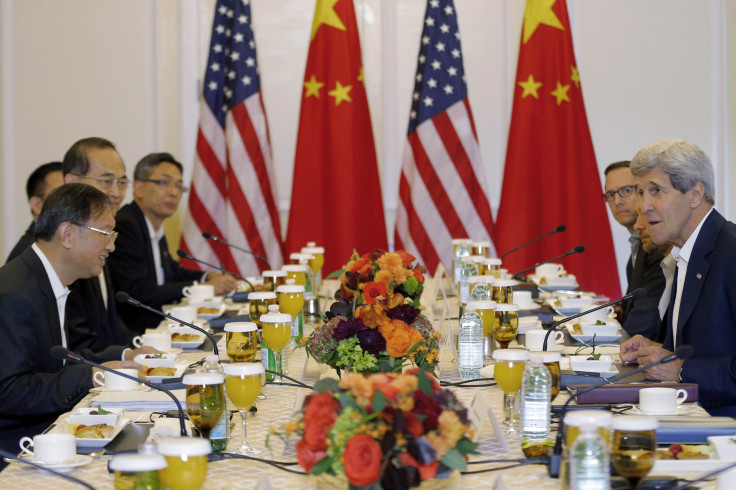 BOSTON (Reuters) -- Top American and Chinese diplomats stressed the need to manage differences and cooperate on global threats such as the Islamic State group and Ebola virus disease Saturday, as they sought to warm the mood between their countries ahead of a summit next month.
"There are many areas that the United States and China are cooperating on, even as we have some differences that we try to manage effectively," U.S. Secretary of State John Kerry told reporters in Boston before a second day of talks with China's State Councilor Yang Jiechi. Kerry listed areas of cooperation encompassing Afghanistan, the North Korea nuclear situation, Iran, climate change and counterterrorism, including the effort against the militant group formerly known as ISIS.
Yang said the aim of his visit was prepare the way for a meeting between China's President Xi Jinping and U.S. President Barack Obama in Beijing Nov. 12 after an Asia-Pacific Economic Cooperation, or APEC, gathering there. "We believe that we should continue to work together to deepen our mutual trust and to put our efforts into major areas of cooperation, while on the basis of mutual respect we can properly handle any kind of difference between us," Yang said.
Shared concern about the Islamic State group offers a rare convergence of security interests for Beijing and Washington, and a break from their more typical enmity on sensitive geopolitical issues, notably in the South China Sea and on matters such as cyberspying.
Kerry hosted a dinner for Yang at his Boston townhouse Friday and a senior State Department official said they spoke "frankly" about ways to manage differences while improving cooperation on global and regional issues.
Kerry is to attend the inauguration of Indonesia's newly elected President Joko Widodo in Jakarta Monday, when he is expected to hold bilateral meetings with regional counterparts who share concerns about China's territorial assertiveness in East Asia.
Yang said it was important to cooperate in the Asia-Pacific area. "The Asia-Pacific region is a very important region," he told reporters. "We need to work together to build up even more cooperation between China and the United States in the area because this is the area that has experienced robust economic development."
Analysts familiar with U.S. thinking expect the Boston talks to include discussion of intelligence cooperation, including the tracking of militant financing and movements.
China has significant energy interests in Iraq, and it is also troubled by what it says are domestic Islamist militants. Its state media has reported that militants from the western region of Xinjiang, which abuts Pakistan and Afghanistan, have sought training from Islamic State fighters for attacks at home.
However, Beijing has responded cautiously to a call by Washington for a broad coalition to root out Islamic State militants in Iraq and Syria, saying the world should fight terror, but that the sovereignty of countries must be respected.
(Reporting by David Brunnstrom; Editing by Crispian Balmer)
© Copyright Thomson Reuters 2023. All rights reserved.