US-Colombia Free Trade Agreement's Labor Safeguards Are Failing To Keep Trade Unionists Alive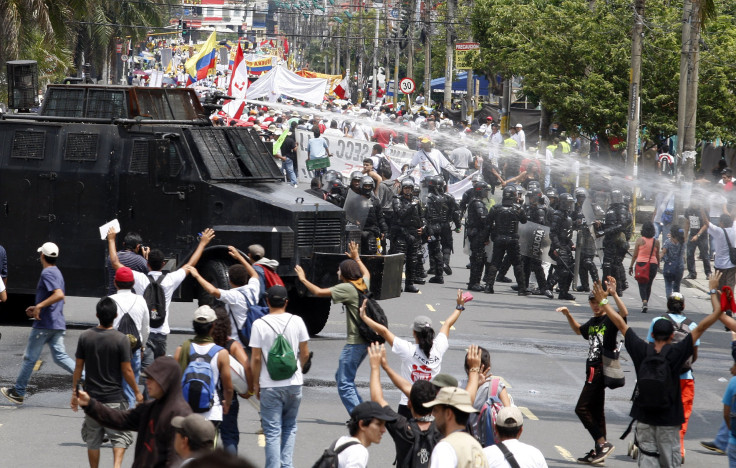 Ever Luis Marín Rolong kicked off a macabre annual body count in January when he became 2014's first labor activist assassinated in one of the most dangerous places in the world to be one: Colombia.
Six bullets ripped through the 46-year-old's body as he stepped off a bus for his afternoon shift at a brewery in the northern Colombian city of Soledad. Though no suspects were ever captured or positively identified by police, his death fits a pattern of targeted killings of union activists here. Just a month after Sinaltraceba, the union representing workers of Bavaria S.A., a local subsidiary of London-based multinational beverage and brewing company SABMiller plc. (LON:SAB), won a collective bargaining agreement, one of the union's key local organizers joined the grim tally of 51 confirmed hits against trade unionists since the start of 2011.
"Bavaria for years had been without a union. They had a strong union, and it was decimated," said Daniel Hawkins, researcher at the Escuela Nacional Sindical (ENS) in Medellín, an organization that tracks violence and threats against union activists in Colombia. "Then they only just got the union back to negotiating a collective bargaining agreement. There was a lot of pressure, a lot of tension and a lot of threats. And then we had this killing."
Like many others, Marín Rolong's death underscores what labor rights groups say is a defect of free trade agreements in general: They have clear enforcement mechanisms to deal with trade violations, but when it comes to labor rights enforcement, these pacts lack teeth. If a country is unfairly dumping goods on another, the dispute can go to the World Trade Organization, which can impose specific, binding punitive measures such as tariffs on certain goods.. But if a country has a persistent climate of violence against freedom of association or the right to collective bargaining, as Colombia has, free trade agreements don't stipulate arbitration or punitive measures.
Monday marked the third anniversary of the so-called Colombian Action Plan Related to Labor Rights, an attempt by the administrations of U.S. President Barack Obama and his Colombian counterpart Juan Manuel Santos to strengthen protections ahead of the implementation of the U.S.-Colombia Trade Promotion Agreement that was signed in 2006 during the previous administrations of both countries and went into effect in May 2012. The agreement immediately dropped tariffs on 80 percent of U.S. manufactured goods to Colombia, and it gave Latin America's third-largest economy preferential access to the U.S. market for many of its key exports in agriculture and mining. Bilateral trade between the two partners stands at $41 billion, up from $14 billion in 2005, according to the U.S. Trade Representative. The U.S. has a $3 billion trade imbalance in this deal.
Meanwhile, 73 Colombian labor activists have been executed in the last three years, and nearly 1,000 death threats were registered in 2013 by the ENS. And labor rights groups say other forms of coercion persist, including intimidations, death threats and kidnappings that have an overall chilling effect on workers rights to freely associate and demand higher pay and more benefits. In the impoverished port city of Buenaventura, a sketchy subcontracting system of third-party labor recruiters has led to the elimination of most collective bargaining agreements, plummeting wages, and poor living conditions. In December, the U.N. said 2,800 people were internally displaced in the first half of November alone. Ironically, many of these people were fleeing organized crime violence in the countryside only to find themselves confronting more of the same hostility in Buenaventura even as billions of dollars worth of goods flow through Colombia's main gateway. If free trade floats all boats, these people are treading water with no life jackets.

Colombian Ambassador to the U.S. Luis Carlos Villegas said Monday that his country has made "great strides in protecting and promoting workers' rights." And to some extent he's right. The numbers of killings have declined from the late 1990s and early 2000s in the wake of the fall of the vicious Cali and Medellin drug cartels that unleashed a countrywide wave of violence amid bloody turf wars similar to what we're seeing in Mexico today. Between 2001 and 2003, 502 trade unionists were murdered, according to Colombia's Ministry of Social Protection. Hawkins says union-affiliated teachers are particularly vulnerable to violent retribution because they act as community leaders and can fall out of the good graces of corrupt local officials.
The situation has improved from the late 1990s and early 2000s, but Colombia continues to be one of the most hostile environments for workers' right to free association and collective bargaining, and the Colombia Action Plan has done little to fix the problem according to rights groups. Nearly nine out of 10 murders of trade unionists in Colombia are unsolved, according to the ENS.
"Right now the labor action plan has absolutely no element of enforcement," said Brian Finnegan, the AFL-CIO's global worker rights coordinator. "All it means the two countries will continue with another year of the Labor Action Plan. They're going to have two technical-level meetings and they're have a third high-level meeting, and that's it. Not even an attempt to measure the progress, let alone say, 'we're going to take something away if you don't have benchmarks and measures,' and the possibility of something being take away, someone being fined, or losing access to a market at the country level or in a particular industry that's a problem."

U.S. Sen. Robert Menendez, D-N.J., chairman of the Senate Foreign Relations Committee, issued a statement on Monday afternoon on the third-year anniversary of the Labor Action Plan, praising Colombia for hiring more labor inspectors and launching almost 400 investigations that led to nearly 70 sanctions.
Menendez went on to point to loopholes in the labor law, however, particularly the increasing use of alternate hiring practices, "like simplified joint stock companies that keep workers from being directly hired and being entitled to benefits and collective bargaining rights." "So, there has been progress, but clearly more needs to be done," he added.

Watch Menendez's remarks here:
To read the AFL-CIO's report looking back at three years under the U.S.-Colombian Labor Action Plan, click here.
For the online database that ENS offers to track violence against Colombian trade unionists and their supporters, click here. Or click here for the list of murders in the year the plan went into effect.
FOR FREE to continue reading
✔️ Unlock the full content of International Business Times UK for free
offer available for a limited time only
✔️ Easily manage your Newsletters subscriptions and save your favourite articles
✔️ No payment method required
Already have an account?
Log in
© Copyright IBTimes 2023. All rights reserved.