US drone kills 17 militants, 7 foreigners dead in latest attacks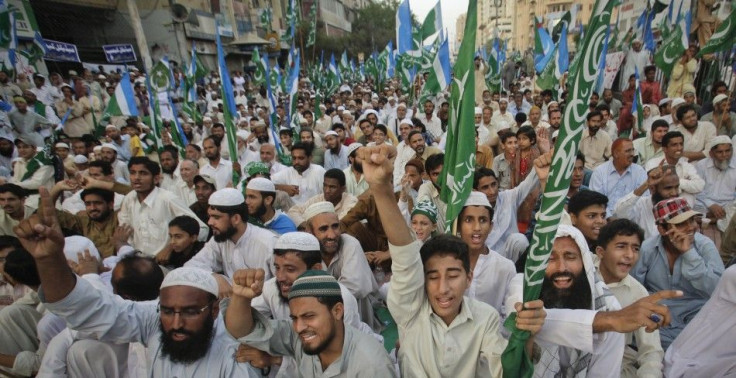 17 militants in Pakistan's South Waziristan were killed in a missile strike by a suspected U.S. drone aircraft on Monday, said intelligence officials, following reports that a top Al Qaeda operative was killed in the region last week.
Monday's drone attack near the Afghan border, the biggest since March, may signal that the CIA identified high-value Al Qaeda or Taliban targets in South Waziristan. Drone missile strikes usually focus on North Waziristan, reported Reuters.
A Pakistani security official said, he believed the drone strikes have escalated in South Waziristan due to speculations that the Pakistani army planned to mount an offensive in North Waziristan. This prompted the militants to head south.
Local intelligence officials said that the missiles hit a militant compound in the mountains near Wana, referring to the main town of the ethnic Pashtun South Waziristan region. They also said that two drone strikes in one operation hit the compound and a nearby Islamic seminary, killing 14 people, including seven foreigners.
In another drone strike on the border between North and South Waziristan, a missile hit a vehicle, killing three militants about 50 km (30 miles) away from the first assault.
The death toll could not be verified independently. Official casualty tolls are always disputed by militants.
U.S. drone attacks along the frontier, seen as a global hub for militants, have come into sharper focus since the Pakistani officials declared the death of senior Al Qaeda operative Ilyas Kashmiri in South Waziristan late on Friday.
American officials in Washington expressed high skepticism on the reports of Kashmiri's death.
The intensity (in drone strikes) is all because many militants have begun moving to the south after reports of a military operation in North Waziristan, a senior security official told Reuters.
Pakistan's The News newspaper has reported that the military would launch an offensive against militant safe havens in North Waziristan. One of Pakistan's top military commanders later ruled out an imminent assault according to reports.
The United States has been pressing Pakistan to launch a major operation in North Waziristan to go after the Haqqani network, which is based there. That group is perhaps the most feared of the Taliban-allied insurgent factions fighting U.S.-led NATO and Afghan troops in Afghanistan.
According to analysts, Pakistan has been reluctant because it sees the Haqqanis as a counterweight against the growing influence of rival India in Afghanistan.
The CIA may have stepped up drone strikes in South Waziristan after receiving information that the Haqqanis or other militants,high on its hit list, had fled there.
Militant leaders will now be moving from North to South Waziristan -- that is why the drone strikes are taking place - suddenly the momentum has shifted, said Abdul Basit, a senior researcher at the Pakistan Institute for Peace.
Drone strikes are highly unpopular in Pakistan because they sometimes kill civilians and are seen as a violation of the South Asian nation's sovereignty.
Pakistani officials have criticized them, saying the strikes anger the public and play into the hands of militants. But strikes that kill high-profile militants would not be possible without Pakistani intelligence, analysts say.
The United States reiterated its call on Pakistan to become a more reliable partner in its fight against militancy since it was discovered that Al Qaeda leader Osama bin Laden had apparently been living in Pakistan.
© Copyright IBTimes 2023. All rights reserved.