US, European Stocks And Commodities Plunging On Greek Uncertainty
"Greece is basically a zombie state right now"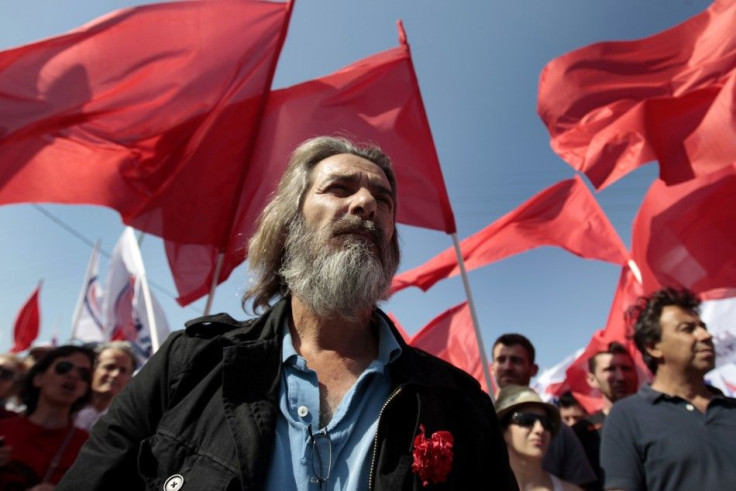 U.S. and European stocks as well as commodities fell hard Tuesday on uncertainty about the effect of a possible Greek departure from the euro zone.
Contributing to the risk-off sentiment was concern on whether Germany and France's new socialist government could agree on how best to respond to the Greek crisis, not to mention on how to pull the continent out of recession.
On Sunday Greek voters soundly rejected the latest round of austerity measures that are the condition of more financial aid. On Monday the leading center-right party, which supports the imposition of another round of government budget cuts, failed to get a leftist party to join it in a coalition.
If the No. 2 militant left party Syriza now fails to form a government, that means Greece, which recently defaulted on its sovereign debt despite a second massive bailout, may have to hold another national election within weeks. That could result in a government dead set against the latest round of government budget cuts, which total about $14.9 billion -- and therefore deadlocked.
Greece is basically a zombie state right now, Rick Fier, director of trading at Conifer Securities in New York, told Reuters.
Investors sold off risky assets like stocks and commodities on the uncertainty about what happens if Greece leaves the 17-nation euro zone or perhaps defaults again.
Even if the pro-bailout parties retain a slim majority in a second election, Greece's worsening finances could prompt euro zone policy makers to withdraw the bailout and push Greek out of the monetary union as a way of finally resolving a more-than two-year-old problem.
The uncertainty sapped investors' appetite for risk. All major U.S. stock indexes were down more than 1 percent, and the Standard & Poor's 500 stock index plunged to a two-month low.
Shortly before closing, Britain's FTSE 100 was off 1.37 percent, Germany's DAX fell 1.68 percent and France's CAC 40 dropped 3.18 percent.
All in all, Greece is unlikely to have a strong stable government any time soon, raising political uncertainty and potentially putting its bailout at risk, Wolfango Piccolo, analyst at Eurasia Group, told the Financial Times.
The single currency also fell hard and the greenback climbed on the ICE Dollar Index by 0.44 percent to 80.07. The yield on the 10-year Treasury, which moves in the opposite direction of its price, fell to 1.83 percent.
The euro remains extremely vulnerable to political risk, and if we close below yesterday's low of $1.2955, that would potentially shift the technicals into bear territory, Camilla Sutton, chief currency strategist at Scotia Capital in Toronto, told Reuters.
Gold plummeted more than 2 percent to fall below the psychologically significant $1,600 per ounce level. Crude oil slumped to $96 per barrel in New York trading.
The S&P's GSCI Spot Index, which tracks 24 raw materials, dropped for a fifth straight session, its worst run since August, losing as much as 1.4 percent to 643.37, the lowest level since Dec. 30, Bloomberg News said.
© Copyright IBTimes 2023. All rights reserved.