US Farmland Appears Dangerously Overpriced, Analysts Say, And Small Community Banks Could Suffer In Any Abrupt Downturn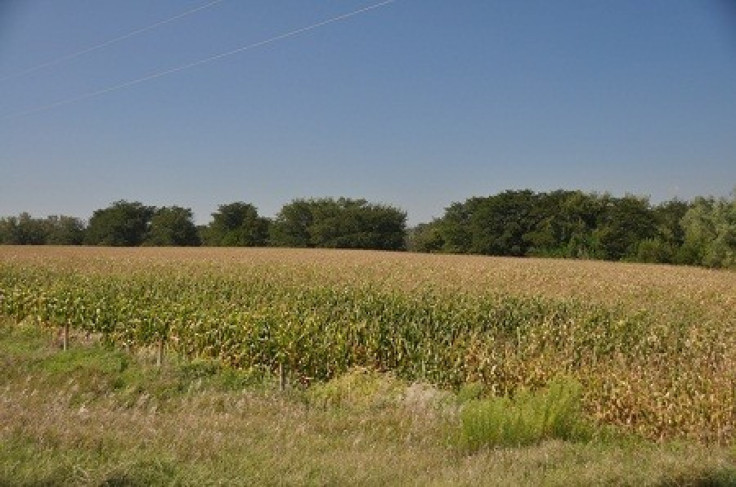 The decade-long surge in the price of corn and wheat has finally trickled down to U.S. farmland prices, lifting the value of agricultural land that grows the two grains to dangerously high levels, analysts say.
There has been a massive geographical disparity, however, with the price of prime Midwest cropland surging, while the Southeast has actually seen prices fall, said economist Paul Ashworth of Capital Economics. Between 2009 and 2012, only 11 states saw price gains above the national average. Most worryingly, Nebraska has seen farmland prices nearly double over the past three years, while prices have increased by more than 80 percent in Iowa. Land in that state may now be overvalued by 40 percent to 100 percent.
"The states with the biggest gains in farmland values are notable for also being the nation's largest producers of corn and wheat. To some extent, the rise in farmland values in the Corn Belt and across the Northern Plains is a natural response to the prolonged rise in agricultural selling prices," said Ashworth.
The Federal Reserve Bank of Chicago said last month that its survey of 219 bankers revealed that the price of farmland in its area, which includes Wisconsin, Michigan and northern Indiana and Illinois plus nearly all of Iowa, jumped 15 percent in the first quarter of this year from a year earlier. And the Agriculture Department estimates that the value of U.S. farmland will top $2.4 trillion this year.
"Between 2009 and 2012, corn prices nearly doubled while wheat prices increased by one-third. The increase in prices and rising yields have together resulted in a sustained period of strong growth in the annual value of farm production. Between 2009 and 2012, the overall value of national crop production increased by 25 percent," said Ashworth.
He said near-zero interest rates have undoubtedly played some role in this, but the bigger factor has been the surge in corn and wheat prices over the past decade.
If the bubble in farmland values in the Corn Belt were to burst, it could hit small community banks hard as well as devastate the farmers involved.
© Copyright IBTimes 2023. All rights reserved.