US Has Second-Highest Rate Of Childhood Poverty In Developed World, Only Romania Is Worse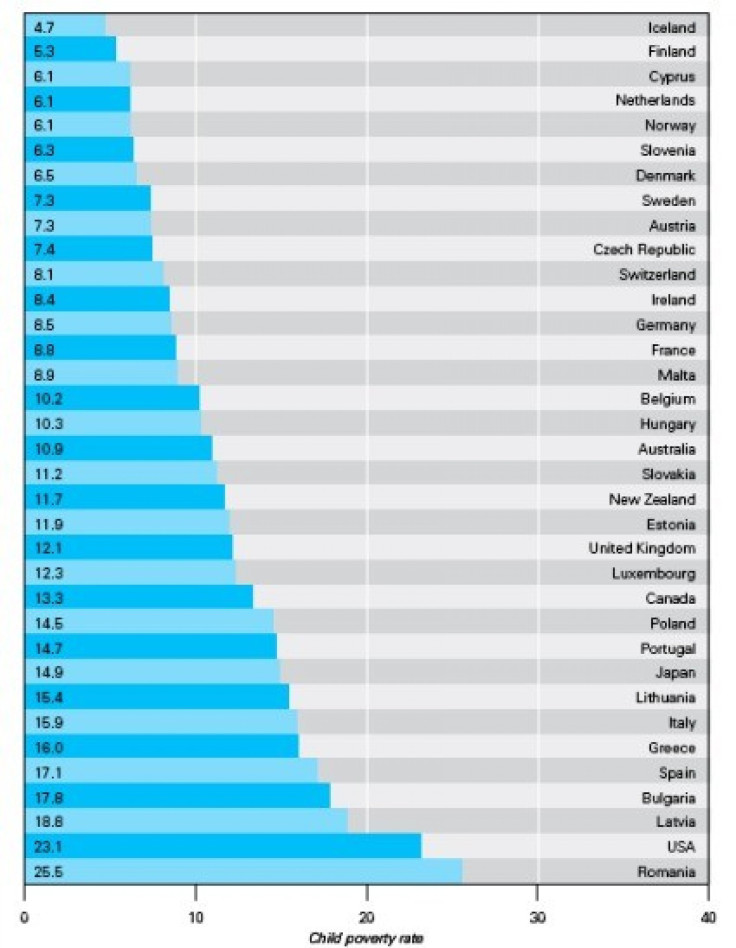 The United States has the second-highest rate of childhood poverty in the developed world, according to a new report from the United Nations Children's Fund (UNICEF), which concluded that nations with comprehensive government programs designed to protect vulnerable children had the lowest rates of child poverty and deprivation.
Out of the 35 wealthiest countries analyzed by UNICEF, only one, Romania, had a child poverty rate above the 23 percent rate recorded in the U.S. The rate is based on the definition of relative poverty used by the Organization for Economic Co-operation and Development (OECD), which states a child is living in poverty if he or she is growing up in a household where disposable income, when adjusted for family size and compensation, is less than 50 percent of the median disposable income for the country in question.
By this standard, more than 15 percent -- about 30 million -- of the 200 million children across the 35 countries studied are seen to be living in relative poverty.
The data reinforces that far too many children continue to go without the basics in countries that have the means to provide, said Gordon Alexander, director of UNICEF's Office of Research. The report also shows that some countries performed well -- when looking at what is largely pre-crisis data -- due to the social protection systems that were in place. The risk is that in the current crisis we won't see the consequences of poor decisions until much later.
Nordic Counties, The Netherlands Have Lowest Rates
Iceland has the lowest rate of relative childhood poverty in the developed world at 4.7 percent, closely followed by Finland (5.3 percent), Cyprus (6.1 percent), the Netherlands (6.1 percent ), Slovenia (6.3 percent) and Denmark (6.5 percent).
Another eight countries -- including France and Germany -- have relative poverty rates between 7 percent and 10 percent, while a third group, including Australia, Canada and the United Kingdom, post rates between 10 percent and 15 percent.
There are only two countries where more than 20 percent of children were found to be living in relative poverty: Romania and the United States.
Interestingly, the report concluded that nations with higher rates of economic development and per capita income did not necessarily have lower rates of childhood poverty and deprivation (the latter defined as when children are lacking two or more of a list of 14 basic items, such as three meals a day, educational books at home, an Internet connection, etc.). For instance, the report found that children living in Denmark and Sweden are less likely to live in relative poverty than those in Belgium and or Germany, even though all four countries have roughly similar levels of economic development and per capita income.
The best performers show it is possible to address poverty within the current fiscal space. On the flip side, failure to protect children from today's economic crisis is one of the most costly mistakes a society can make, Alexander said.
15 Million Poor Children in America, And Growing
The UNICEF report is far from the first to highlight the growing rate of childhood poverty within the U.S. The National Center for Children in Poverty reports that in 2010, the most recent statistics available, 15 million U.S. children were living in families with incomes below the federal poverty level of $22,050 a year for a family of four.
Although children only compose 24 percent of the population, the organization reports they comprise nearly 34 percent of all people living in poverty. The proportion of children in poverty has been on the rise. For instance, the percentage of children living in low-income families (both poor and near poor) increased from 40 percent to 44 percent between 2005 and 2010, including an 11 percent increase among low-income children and a 17 percent rise among those living below the federal poverty rate.
In November, the U.S. Census reported that children who live in poverty during their developmental years are more likely than their peers to have cognitive and behavioral difficulties, are less likely to complete a high school education, and statistically will experience more years of unemployment as an adult.
© Copyright IBTimes 2023. All rights reserved.