US Initial Jobless Claims Unchanged At 372,000, Higher Than Expected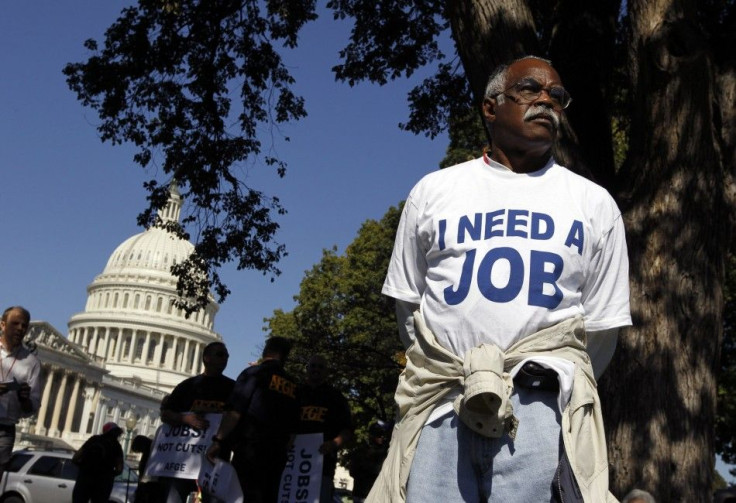 More Americans than forecast filed applications for new jobless benefits last week, the Labor Dept. said Thursday, suggesting that the labor market is barely healing.
In the week ending Aug. 25, applications for unemployment insurance payments came in flat at 374,000, matching the upwardly revised figure from the prior week. Economists polled by Reuters had forecast claims would dip to 370,000 last week.
The four-week moving average, which normally provides a better indication of the underlying trend in labor markets than the weekly number of jobless claims, increased by 1,500 to 370,250 for first-time benefit applicants. That was the highest level in six weeks.
The number of people filing for benefits after an initial week of aid dropped by 5,000 to 3.32 million in the week ending Aug. 18. The continuing claims figure does not include the number of Americans receiving extended benefits under federal programs.
Job gains are of great importance, because they lead to income growth, and that supports consumer spending, which accounts for more than 70 percent of the U.S. economy.
July's jobs report showed that employers added 163,000 jobs in the month, a figure that was much better than the 95,000 jobs economists had called for. But unemployment unexpectedly rose to 8.3 percent, from 8.2 percent in June.
The U.S. economy expanded slightly faster than initially thought in the second quarter, but the pace of growth is still too slow to create enough jobs to cut the unemployment rate.
Gross domestic product, the value of all goods and services produced, grew at a 1.7 percent annual pace after advancing 2 percent in the first three month of the year, the Commerce Dept. said in its second estimate, which was released Wednesday. That was up from the 1.5 percent initial estimate and in line with economists' estimates.
The revisions largely reflected higher consumer spending and fewer imports than initially reported.
Consumer spending, which drives more than 70 percent of GDP, rose 1.7 percent instead of a prior reading of 1.5 percent. However, that was still slower than the 2.4 percent pace recorded in the first quarter.
Stock futures fell. The S&P 500 futures are currently down 0.38 percent, at 1,401.80, while the Dow Jones Industrial Average futures shed 0.22 percent, trading at 13,055.00.
© Copyright IBTimes 2023. All rights reserved.