US Military F-16 Jet Crashes In Arizona, Sparks 'Massive Fire'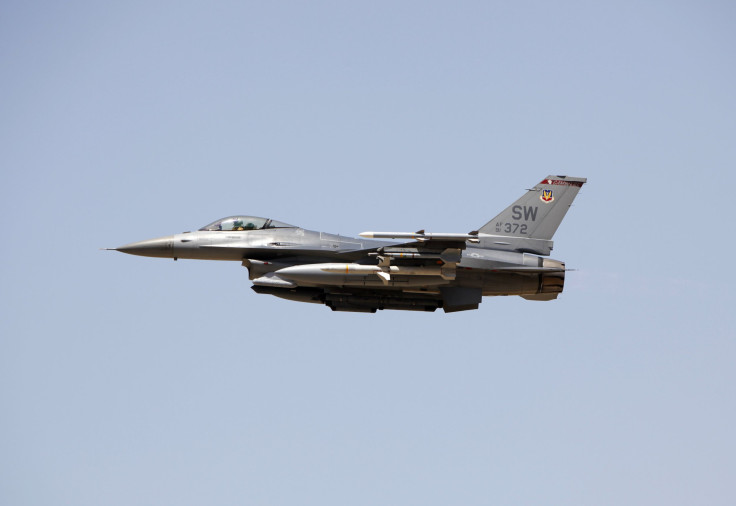 An F-16 jet from the 162nd Fighter Wing of the U.S. Air National Guard crashed in Douglas, Arizona, Wednesday night, reports said, citing officials. The crash, which occurred in the Davis Road area, ruptured a gas line and sparked a "massive fire," according to federal aviation and Cochise County officials, the Arizona Republic reported.
The crash happened at about 8 p.m. Wednesday (11 p.m. EDT), five miles east of Douglas Municipal Airport, according to the official Facebook page of the 162nd Fighter Wing, which added that the aircraft was on a night-training mission with one person on board. The status of the pilot was unknown.
According to Davis-Monthan Air Force Base spokeswoman Lt. Erin Ranaweera, the Tucson Air Force Reserve plane crashed north of the border town of Douglas, about 230 miles southeast of Phoenix, NBC News reported.
Emergency personnel were deployed to the area, however, the Douglas Fire Department pulled them back due to the ruptured gas line, Tucson News Now reported. Raymond Candell, a witness, reportedly called 911 after he saw the crash, which he described as fireball explosions lighting up the night sky.
Tanja Linton, a spokesperson for Fort Huachuca told NBC News that U.S. Army personnel from the army base reached the scene to secure the crash site until Air Force officials arrived.
According to AZFamily.com, the 162nd Fighter Wing is the largest Air National Guard fighter wing in the U.S. It has been training pilots since 1969 and has three flying squadrons of more than 170 F-16 planes.
© Copyright IBTimes 2023. All rights reserved.