US Paratroopers Arrive In Ukraine, Train National Guard Soldiers To Fight Pro-Russian Rebels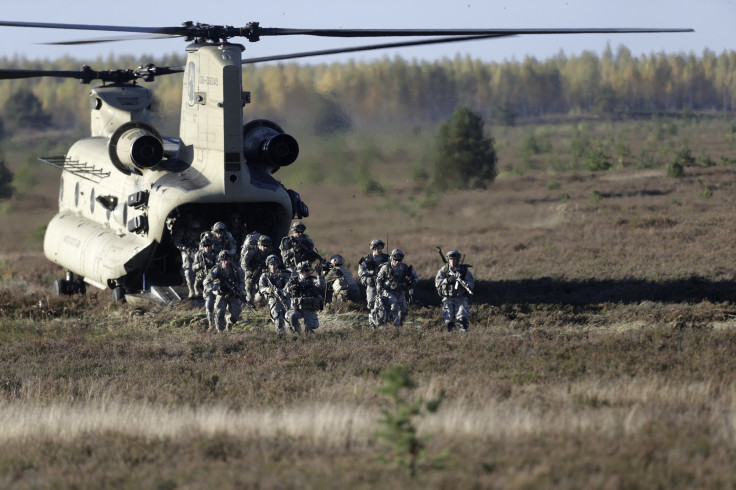 Around 290 U.S. paratroopers have arrived in Ukraine Friday ahead of exercises designed to train nearly 1,000 Ukrainian national guard soldiers to fight against pro-Russian rebels in the eastern Ukraine war. The soldiers from the 173rd Airborne Brigade, who flew into Lviv airport in western Ukraine, will now spend eight weeks training three streams of 300 men before moving on to military exercises.

The troops came from U.S. Army Garrison Bavaria in Grafenwoehr, Germany, as part of an operation code-named Fearless Guardian, tweeted Geoffrey R. Pyatt, the U.S. ambassador to Ukraine, who met the soldiers at the airport.
The training will begin April 20 at the Yavorivskiy training ground near Lviv, Ukrainian Interior Minister Arsen Avakov said.
"There will be three streams of 300 fighters of the national guard. Three streams of eight weeks. Then joint exercises," Avakov said. "After completing the exercises, the U.S. partners will provide the national guard units with a special ammunition and communications equipment."
Ukrainian troops will be taught battlefield first aid, tactics and how to defend against pro-Russian artillery and mortar strikes. The exercises will involve Ukrainian national guard units including the Azov, Kulchytskiy, Jaguar, Omega battalions and others.
Despite the Minsk II ceasefire that took effect Feb. 15, fighting has continued around the de-facto rebel capital of Donetsk and clashes have begun around the port city of Mariupol.
The Organization for Security and Co-operation in Europe, charged with monitoring the ceasefire, observed Sunday more than 1,100 explosions in Donetsk and hundreds of instances of shelling in Mariupol, but could not verify which side was firing or if both were. The leader of the self-proclaimed Donetsk People's Republic, Aleksandr Zakharchenko, said Thursday that he would take Mariupol if Ukrainian forces continued to attack his troops.
Foreign ministers from the Normandy Four, a group including Germany, France, Ukraine and Russia, met in Berlin on Monday to discuss the war. While discussions were heated, the ministers agreed to form four security groups to facilitate peace on the ground.
© Copyright IBTimes 2022. All rights reserved.
FOLLOW MORE IBT NEWS ON THE BELOW CHANNELS