Hillary Clinton Calls For Greater Military Assistance And Financial Aid For Ukraine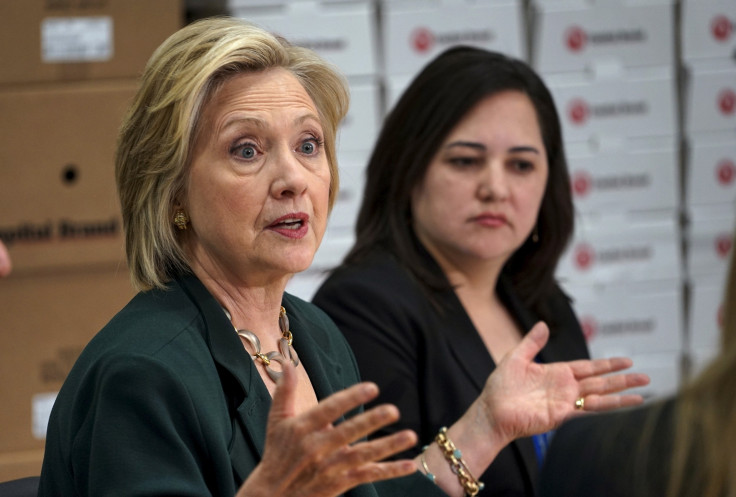 Hillary Clinton has diverged from President Barack Obama's Ukraine policy by calling for more military assistance and greater financial aid for the partially war-torn former Soviet country. Clinton, who announced her run for U.S. president on Sunday, said that if Ukraine was to succeed against Russian-supported separatists, it would need better support from the U.S.
"I think we need to provide more financial assistance for the government of Ukraine, as it is trying to make the transition from a nonprofessional, corrupt system to a system that operates according to the global rules," Clinton told Voice of America in an interview Wednesday.
While the U.S. has provided basic equipment and training for Ukraine's military, Obama has been reluctant to offer more help and has ruled out giving lethal assistance, despite overwhelming pressure from Congress prompting him to do so. A resolution calling for lethal aid passed 348-48 in Congress in March. However, Obama, who admitted to being influenced by German Chancellor Angela Merkel when making his decision, said that he would prefer to give February's Minsk II agreement a chance to bring peace to the region before resorting to alternative measures.
So far that peace has been elusive.

While fighting across the contested region of Donbas has been relatively quiet compared to the 10 months before the Minsk II agreement came into force Feb. 15, the situation has begun to deteriorate in recent weeks. More than 1,100 explosions were recorded in Donetsk on Sunday by the Organization for Security and Co-operation in Europe, the group charged with overseeing the ceasefire in Ukraine. It was later reported that six Ukrainian soldiers and one separatist soldier had been killed in the attacks, the highest death toll since mid-February.
Clinton has made her feelings on Ukraine public in the past. Speaking at an event in March she said that Ukraine needed "new equipment" and "more training."
"The United States and NATO are still very reluctant to do it, and I understand why," Clinton said. "It's a difficult, potentially dangerous situation, but the Ukrainian army and ordinary Ukrainians who are fighting against the separatists have proved that they deserve stronger support than we have provided so far."
© Copyright IBTimes 2023. All rights reserved.