US Pledges Nearly $300 Million Security Funding For Southeast Asia
U.S Secretary of State Mike Pompeo pledged on Saturday to provide nearly $300 million in new security funding for Southeast Asia, as China forges ahead with plans to bolster its engagement in the region.
Pompeo unveiled the figure to reporters on the sidelines of a meeting of foreign ministers from the 10-member Association of Southeast Asian Nations (ASEAN) and other officials from around the world in Singapore.
"As part of our commitment to advancing regional security in the Indo-Pacific, the United States is excited to announce nearly $300 million in new funding to reinforce security cooperation throughout the entire region," he said.
The new security assistance will strengthen maritime security, develop humanitarian assistance, peacekeeping capabilities and counter "transnational threats", he added.
The United States said earlier this week it would invest $113 million in technology, energy and infrastructure initiatives in emerging Asia which he called "a downpayment on a new era of U.S. economic commitment to the region".
The United States' developing vision for a "free and open Indo-Pacific" comes at the same time as China ramps up its influence as part of is Belt and Road plan to bolster trade ties with nations in Southeast Asia and beyond.
Analysts have said that a spiraling trade dispute between Beijing and Washington could also ratchet up tensions over other regional hotspot issues, such as the South China Sea, claimed in whole by China and in part by some Southeast Asian nations.
China and the ASEAN bloc on Thursday hailed a "milestone" agreement on a single working text to kick off what will likely be protracted negotiations toward a code of conduct for behavior the disputed waters.
But critics have said that this enthusiasm for talks is a means for China to buy time and solidify its position during a period of relative dominance in the region.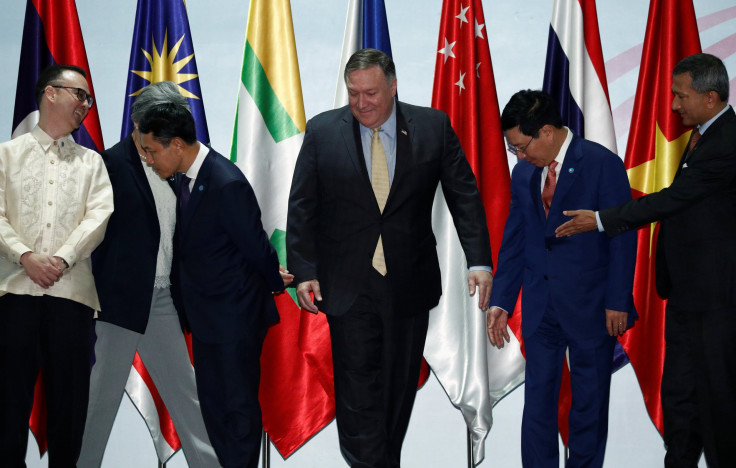 Pompeo told reporters that he had raised concerns at the meeting about Chinese militarization of the South China Sea and the importance of maintaining a rules-based order in the region.
Progress toward resolving the continuing humanitarian in crisis in Myanmar's troubled Rakhine state and other security issues were also essential to a free and open Indo-Pacific, he said.
The use of "Indo-Pacific" has grown among diplomats from Japan, Australia, India and the Untied States in recent years, a shorthand for a democratic-led region, as opposed to an "Asia-Pacific" with China at its center.
China says that its Belt and Road plan is about promoting the common prosperity of all nations involved, but critics see the signature policy of President Xi Jinping as a bid for greater political clout.
© Copyright Thomson Reuters 2023. All rights reserved.